Retired Educators Impacting Students with a Creative Planned Gift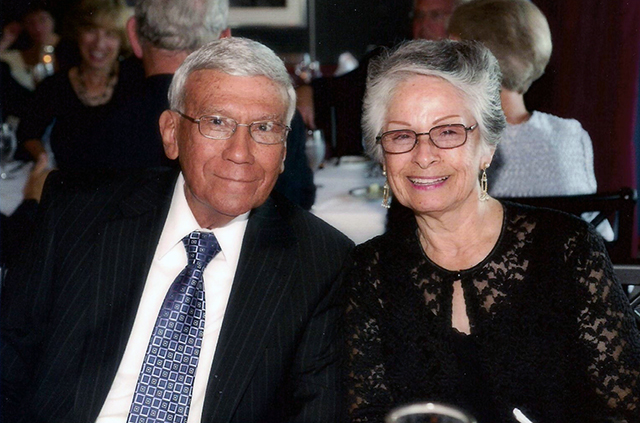 By Lisa Peña

RIO GRANDE VALLEY, TEXAS – MAY 23, 2018 – Retired Rio Grande Valley educators Alejandro L. and Gloria Mora Estrada no longer spend their days in the classroom, but they are still passionate about enriching the lives of students. Through a planned gift, they are investing in scholars at The University of Texas Rio Grande Valley. A planned gift is a donation made through a will, estate plan, charitable trust or life insurance policy.

Twelve years ago, the Estradas' had decided that they wanted to give back to the University that gave so much to them. They made a plan to provide a future cash gift of $300,000 through an IRA account, but after attending a financial seminar, they learned that they could donate land to the University. This is when the Estradas' planned giving journey started. After careful consideration, they decided that making a gift to UTRGV with a piece of land that they had considered selling was a better option. While selling the land would result in a profit, they would bear the burden of paying heavy taxes as a result of the sale. Working with their attorney, they discovered a way the land could do so much more and benefit students in a meaningful way. The Estradas turned to UTRGV because a UTRGV legacy institution made their educations and careers possible.

"We would not have been able to get a degree if Pan American College had not been here in the Valley back then, when both of us graduated from high school," said Alejandro Estrada. "Because of that opportunity, we are now able to give to the university and help students fulfill their dreams of a college education."

The Mercedes couple transferred the land to a charitable remainder unitrust and once they sold the land, distributed the sale proceeds of $316,000 to the UT Board of Regents for the purpose of funding initiatives at UTRGV. By choosing this gift option, the Estradas receive a partial income tax deduction, a quarterly percentage of the trust interest, and avoid capital gains tax.

The trust principal will go untouched and will eventually become an endowment in perpetuity, providing scholarships for UTRGV sophomore, junior or senior students who have a minimum 2.5 grade point average and demonstrate financial need. The trust will also provide unrestricted funds to the School of Medicine and UTRGV Athletics. Unrestricted funds allow the departments to decide where the donated dollars are needed most.

"We are hoping that the UTRGV students we help will get a degree in whatever field they desire and will be able to provide their families with a good life," said Gloria Estrada.

Alejandro Estrada received his Bachelor of Arts from Pan American College. He went on to earn his Master of Education from East Texas State University. He taught most of his life in the Mercedes Independent School District, working as a teacher, coach and principal. After he retired from education, he embarked on a new career journey as a financial broker for 10 years.

Gloria Estrada received her Bachelor of Arts from Pan American College and Master of Education from Pan American University, also a UTRGV legacy institution. During her career, she taught mathematics in the Pharr-San Juan-Alamo Independent School District and the Weslaco Independent School District.

Through their planned gift, these proud alumni are now making sure future UTRGV students have the financial support they need to be successful. Vice President for Institutional Advancement Dr. Kelly Scrivner commends the Estradas' unique idea of turning land in to funding for the university and students.

"This is a great example of planned giving at its best. So many students will benefit from Mr. and Mrs. Estrada's creative approach of starting with a piece of property and using it to expand educational opportunities at UTRGV," said Scrivner. "We are grateful for their ingenuity and for their thoughtful decision to support our students."

These retired educators are now giving their greatest lesson, a lesson in generosity and philanthropy. They will change lives and impact UTRGV students for generations to come.

If you want to learn more about planned giving at UTRGV and explore planned giving options, please contact Director of Planned Giving Serena Putegnat at (956) 882-4326 or serena.putegnat@utrgv.edu.