Mothers and Friends Create Lasting Legacy at UTRGV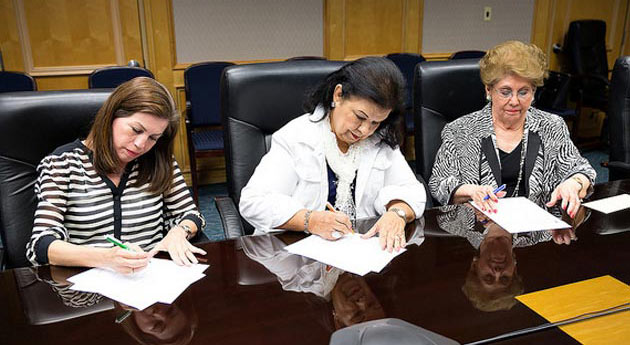 By Lisa Peña
RIO GRANDE VALLEY, TEXAS - MAY 19, 2016 - It was 1938 when a group of McAllen mothers started gathering in their homes and bringing their children along for some family fun. They worked on crafts and built a strong circle of friendship. They called themselves the McAllen Child Study Club. "It started with a group of ladies whose husbands went away to the war. They decided to stay here at home and work and send items to their husbands," said Rosie Longoria, current president of the club. "They were single moms basically. They got together with their children. It was a family affair."
The comradery continued for decades and their purpose, "to guard the physical, intellectual, and moral character of childhood and youth and to promote their development through education and knowledge," grew stronger. The club started raising funds and began awarding scholarships to high school students in McAllen. Over the years, they continued to meet at each other's homes or restaurants. They often invited speakers to their meetings who enlightened them on childhood-related topics.
Over time though, interest in the club faded. Nearly 80 years after their first gathering, membership dwindled and the current members decided it was time to dissolve their beloved club. They wanted a way to preserve their name and continue their work of awarding scholarships to deserving students. They still had a significant amount of money in the club's treasury. They turned to The University of Texas Rio Grande Valley to continue their mission.
On May 19, 2016, three leaders of the McAllen Child Study Club signed three endowment agreements, totaling $100,000, permanently memorializing their club name and providing scholarship funds that will forever be available for UTRGV students. The women established the McAllen Child Study Endowed Scholarship for the College of Education, the McAllen Child Study Endowed Scholarship for the School of Medicine and the McAllen Child Study Endowed Scholarship for Experimental Psychology. The UTRGV Foundation is matching their gift, dollar for dollar, for a total of $200,000 going toward scholarships.
Dr. Francisco Fernandez, dean of the School of Medicine, says the club's scholarship for the medical school will have a lasting impact. "Embarking on a medical career is a costly commitment. Thanks to the generosity of the McAllen Child Study Scholarship we can invest in the future of an RGV physician-to-be," said Fernandez.
Dr. Patricia McHatton, dean of the College of Education and P-16 Integration, says the endowed scholarship in her college will go to dedicated students, "…those individuals who have a strong desire and who have the ability and the passion to become the type of teacher that all of our students deserve," said McHatton. "We're very thankful for this wonderful gift and look forward to identifying students who can be worthy recipients of it."
Dr. Walter Diaz, dean of the College of Liberal Arts, was also happy a vital program in his college will benefit. "We are delighted to receive this gift. It will support students in, what I think, is one of our most important and successful programs, the experimental psychology program," said Diaz.
Dr. Fred Ernst, professor and associate dean for research and faculty diversity, explained the experimental psychology program the club chose to support, offers therapy to children on the autism spectrum. "With this program, the amount of change that has been accomplished, they will not only have friends and be able to socialize, but are likely to be mainstreamed in classrooms and in the educational system. It is now the treatment of choice," said Ernst.
While the McAllen Child Study Club will no longer meet, make crafts, or provide a place for mothers to mingle, their dedication to education will continue. Their name and their purpose will live on. "This will continue forever and ever, even after we're all gone," said Longoria. An act of generosity has sealed their place in UTRGV history.
To make a contribution to one of the McAllen Child Study Endowments listed above or if you are interested in establishing an endowment, please contact Kelly Scrivner at (956) 665-5301 or kelly.scrivner@utrgv.edu.