Magic Valley Electric Cooperative Powering Student Success with Endowment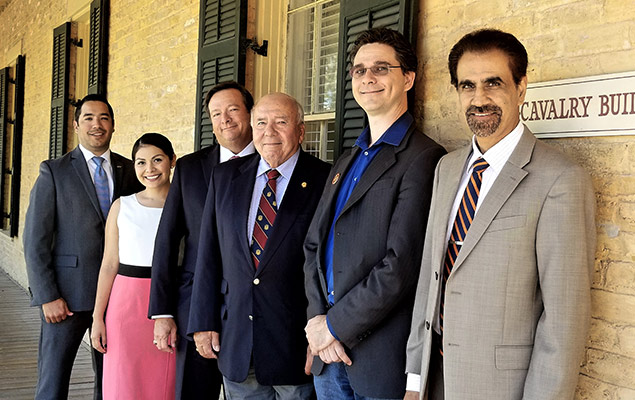 Pictured left to right, Abraham Quiroga, MVEC Business & Employee Development Division Manager, Brenda Enriquez, UTRGV Director of Development, John W. Herrera, MVEC General Manager, Dr. Martin E. Garcia, MVEC Board President, Dr. Fredrick Jenet, Director of STARGATE, and Dr. Parwinder Grewal, Dean of the UTRGV College of Sciences. The group celebrated the creation of the Magic Valley Electric Cooperative, Inc. Endowed Scholarship at a luncheon on November 6, 2017.
By Lisa Peña
RIO GRANDE VALLEY, TEXAS – Dec. 14, 2017 – Electric provider Magic Valley Electric Cooperative (MVEC) is harnessing the power of generosity to make a difference at The University of Texas Rio Grande Valley. The Mercedes, Texas-based electric cooperative is lighting up the path of higher education for UTRGV students with the Magic Valley Electric Cooperative, Inc. Endowed Scholarship established in September 2017. "We understand that we must invest in our community in order to enhance the lives of those that we serve," said MVEC Business and Employee Development Division Manager Abraham Quiroga. "Investing in our community through promoting education is one of the many ways that we practice cooperative principle No. 7, concern for community." Quiroga says MVEC has operated under the seven cooperative principles for the last 80 years. Concern for community is one of the cornerstones of their business practices.
The endowment will support students pursuing a major in the College of Sciences, the College of Engineering and Computer Science or the Robert C. Vackar College of Business and Entrepreneurship. These areas of study funnel quality employees to MVEC. "We wanted to continue to support these fields, and possibly in the future hire a student that has benefited from our endowment," said Quiroga. Students who are part of the UTRGV STARGATE Student Group mentoring program will be considered frontrunners for the scholarship.
The STARGATE or Spacecraft Tracking and Astronomical Research into Gigahertz Astrophysical Transient Emission Program was founded by UTRGV Associate Professor Dr. Fredrick Jenet. STARGATE student groups are engaged in the development of new technology for space exploration and are mentored by STARGATE faculty and staff and industry partners. Jenet says STARGATE aims to foster the spirit of California's Silicon Valley in the Rio Grande Valley. "Our students are advancing space exploration and are contributing to the future of space technology," said Jenet. "We are grateful to Magic Valley Electric Cooperative for choosing to support the important and monumental research and discoveries happening through the STARGATE program."
Quiroga says, while MVEC will be providing power to the UTRGV STARGATE facilities at Boca Chica Beach, they hope their endowment empowers UTRGV students to succeed. "Our hope is that our endowment continues to allow local students to achieve their dream of a higher education," said Quiroga. "If MVEC can play even a small role in the accomplishment of that dream, then we have stayed true to our mission, which is to enhance the lives of our members."