UTRGV Researchers Studying the Valley's Natural Resources with the Help of Anonymous Donor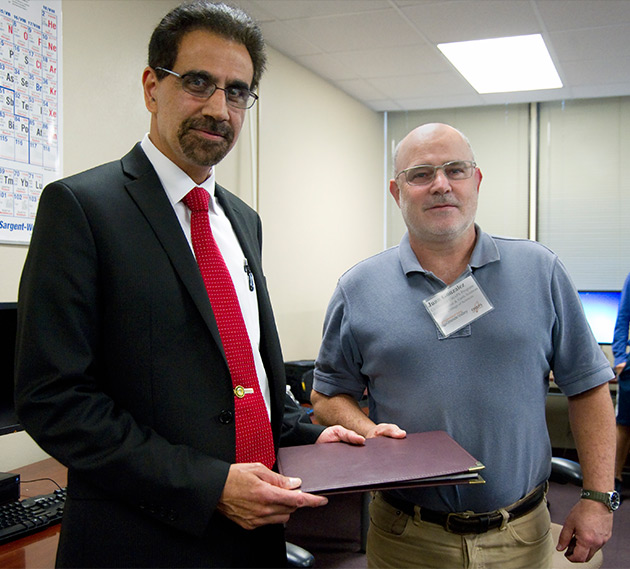 By Lisa Peña
Geosciences researchers at The University of Texas Rio Grande Valley are digging into soil, analyzing ground water and other local resources, and studying the Valley's geologic history.  It's playing in the dirt with a purpose.  "This kind of research is very important when we look at sustainability of the world as a whole…These resources help us produce our crops. These resources are also important for the oil and gas industry because they generate power," said Dr. Parwinder Grewal, dean of the College of Sciences.
One of their ongoing projects has uncovered a geological treasure in Starr County, a volcanic ash deposit estimated to be more than 27 million years old.  Scientists are now learning the ash may have originated from a volcanic center in Mexico and traveled hundreds of miles to settle here.
An anonymous donor certainly knows the significance of this underground work.  The donor gave a considerable gift to support researchers in the Earth and Environmental Sciences Program.  The funds will be used for salaries for student researchers, research materials and supplies, and travel expenses for students to attend conferences and present their work.  Because of his track record of success, Earth and Environmental Sciences Associate Professor Dr. Juan González has been designated to oversee the use of this gift.
González calls South Texas a geological tabula rasa, a blank slate that needs to be explored and understood.  "This donation is big news for the geosciences because we'll spend every penny of it here locally in various areas impacting undergraduate students and producing results to generate basic knowledge," said González.  That basic knowledge of our geology is key for the future growth of our region. 
While students don't know the name of the generous donor supporting their research they will certainly feel the donor's impact.  Grewal says, "I am truly, truly indebted to this individual.  This individual has done such a great thing for our students that there are no words for it." The anonymous donor is bringing the rock sciences to the surface, shining some light on this important field and the UTRGV researchers making new discoveries.