Generous Austin Couple Invests in Texas Students and Inspires Philanthropy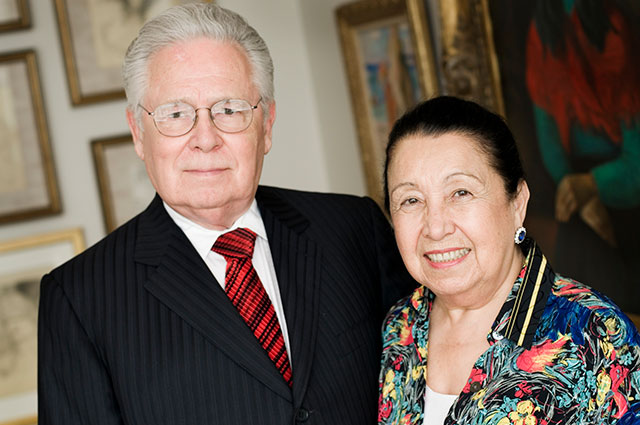 By Lisa Peña
RIO GRANDE VALLEY, TEXAS – SEPTEMBER 26, 2017 - Their generosity and heart for education is as big as Texas. Joe and Teresa Lozano Long fund scholarships across the Lone Star state. Through their Austin-based Long Foundation, established in 1999, the couple offers students the opportunity to thrive and reach their full potential. "Education is everything. It opens so many doors," said Mrs. Long. "It's life, really." The Longs enrich the lives of students from North Texas to the border with their gifts. "We have enjoyed a lot of prosperity as a result of our education," Mr. Long said. "That has enabled us to give back."
The Austin couple is making a significant impact at The University of Texas Rio Grande Valley with the Joe R. and Teresa Lozano Long Distinguished Professorship in Neurosciences, benefiting faculty and research, and the Long Foundation UTRGV School of Medicine Inaugural Class Scholarship, supporting medical education. "The Longs are pioneers in building the future of medicine in Texas," said UTRGV School of Medicine Dean John Krouse. "Their gifts empower our faculty and students to advance health care in our region and beyond." Border health is particularly important to these dedicated philanthropists.
When Teresa Lozano Long was growing up in Premont, Texas, 75 miles north of the Rio Grande Valley, getting quality medical care was a challenge. "There really were not opportunities to go to a doctor or a hospital," said Mrs. Long. "My parents had to go from Premont to San Antonio for health care." She remembers the exhausting, one-day trips to San Antonio and back just to see a qualified physician. She calls the UTRGV medical school "a dream come true." "Traditionally, there's a shortage of doctors down there," said Mr. Long. He hopes their contributions to the School of Medicine will help solve a longtime disparity.
While supporting medicine and health care is a priority for the Longs, they have also established the Joe R. and Teresa Lozano Long Endowed Scholarship at UTRGV for top-performing students university-wide, regardless of major. The Longs enjoy funding scholarships in a variety of disciplines, from the arts to engineering. It's part of their overall goal to make education accessible to as many students, in as many fields, as possible. "I hope it helps educate young people who otherwise wouldn't go to college," said Mr. Long.
Education opened an entire world of possibilities for these big-hearted philanthropists. Mr. Long practiced law and later, became a bank chairman and chief executive officer. Mrs. Long was appointed by Texas Governor John Connally to the Governor's Committee on Public School Education. She also served as a consultant for the U.S. Office of Education. The Longs are world travelers and enthusiastic art collectors. Cities and museums across the globe are their favorite classrooms. "Every country has something special about it. Traveling changes your life," said Mrs. Long. They believe education is at the root of many of their fulfilling life experiences. They invest in education to give others similar opportunities.
The Longs' gifts to UTRGV encourage the progress of the Rio Grande Valley. "Their philanthropic spirit will have a positive impact on the well-being of our community for generations to come," said Krouse. At UTRGV and throughout Texas, Joe and Teresa Lozano Long are planting the seeds of not only health and knowledge, but generosity. "We give many scholarships and I get a lot of letters from our scholarship recipients. The thing that pleases me the most are the recipients that say, 'one of my goals in life is to give back a scholarship,'" said Mr. Long. "To me, that is the gift that keeps on giving."