Generosity and Love Blossom at UTRGV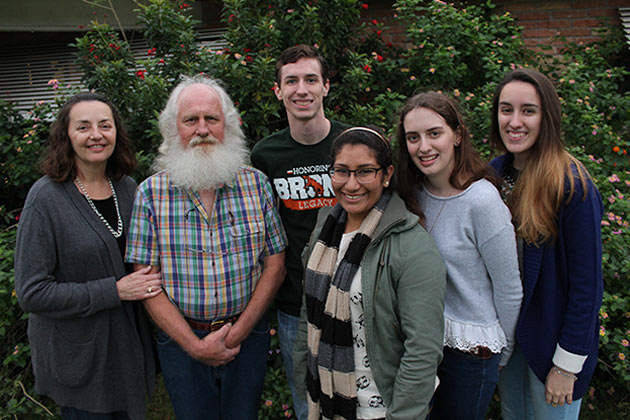 By Lisa Peña
For Evan Brough, life has a way of unfolding at The University of Texas Rio Grande Valley. Growing up just a block away from the University, he learned how to ride a bike on campus grounds and later, learned to drive in university parking lots. As a student, he was voted homecoming king, earned his business degree and met the love of his life on campus. Big things happen here for Brough.
So it's no surprise, he chose the UTRGV campus to usher in the next monumental phase in his life. He arrived on campus, January 30, 2016 with a question in his heart and a ring in his pocket. "I surprised her at the garden by the flag pole with 'Eunice, will you marry me?' written in chalk on the concrete in front of the bench." Brough got down on one knee and proposed to Eunice Santana, his girlfriend of three years. She said yes.
That bench is the only place Brough could imagine popping the question. "I asked her to be my girlfriend…while sitting with her on the bench in the middle of the garden…UTPA was a cornerstone of our friendship and relationship and that specific spot was where our relationship started."
The University has been woven into every phase of Brough's life. Now, he wants to make sure his connection with UTRGV lasts forever. At just 23 years old, he is the University's youngest President's Circle member. Membership requires a gift of $1,000 or more. He donated to the UTRGV School of Medicine. He also established the Evan C. Brough -Brough Family Legacy Endowed Scholarship. The endowed scholarship honors his family's strong ties to the University.
Those ties started with his paternal grandparents. His grandfather taught at the University when it was known as Pan American College and later when it became Pan American University. His grandmother also taught at Pan American University. His father graduated from Pan American University. He also taught at Pan American University and continued teaching after it became The University of Texas Pan American. "I remember going on walks with my babysitter at UTPA when my dad was teaching and visiting his classroom and showing his class my toy truck," said Brough. His mother, several aunts and an uncle also attended the University. Naturally, his fiancé is also a UTPA graduate. One of his sisters is a current UTRGV student and his other sister will begin classes at UTRGV in fall 2016.
Brough joined in on the family tradition when he graduated from UTPA in 2014 with his Bachelor of Business Administration in management and computer information systems. It was a scholarship at UTPA that sealed the deal for Brough. "I was accepted at UT Austin and UTPA. The decision came down to the University Scholars Presidential Award (at UTPA), which would heavily fund my degree." The scholarship allowed Brough to graduate debt free and now he wants to do his part to ensure other students have the same experience. "I really wanted to give back to future UTRGV students so they can have the same opportunity for scholarships that I had," said Brough.
Brough is now an IT Business Analyst at Chevron in Houston. He says the opportunities he had as a student lead him to his current career – a career that has provided the resources to give back. "Now I need to pass it on to those who need it more than I do," he said. Brough has some words of advice for other young people. "If there is a cause you believe in, give to it. Even if it is only a few dollars, anything can help. In the Bible in Mark 12, a widow gives only two coins after several others threw in large sums of money, but she is revered more highly by Jesus…Although the sum was small, she cared more for the cause, and proportionally gave more than all the others."
At 23 years-old, Evan Brough is wise beyond his years and knows the value of investing in higher education. He will forever honor his family with the endowment established at UTRGV, while helping students pay for college. From childhood to early adulthood and beyond, the University will always be part of his life story. He may have graduated, but the campus is his home and the milestones he marks at UTRGV keep getting bigger and better.