Doctor, Retired Professor Support Students and Research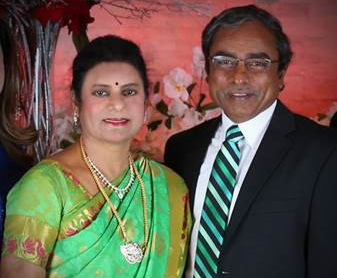 By Lisa Peña
RIO GRANDE VALLEY, TEXAS – MAY 25, 2018 – Drs. Subhash and Sarojini Bose hold multiple titles and degrees between them, but one of their most rewarding accomplishments is being mentors to their students and patients.
Dr. Sarojini Bose is a pediatrician and owner of Ashley Pediatrics Day and Night Clinics named after the Boses' daughter, Ashley.  Dr. Bose runs 12 pediatric clinics, 2 family clinics and a mobile medical clinic employing 200 people. Dr. Bose serves as chief executive officer of two non-profit organizations. 
Dr. Subhash Bose is a retired professor of Manufacturing Engineering from The University of Texas Rio Grande Valley.  Dr. Bose worked at the university from 1993 to 2017. He now serves as the chief administrative officer for Ashley Pediatrics and two non-profit organizations.
In her practice, Dr. Sarojini Bose sees children and families who need support and are in difficult situations reminding her of her background. 
"I strive to bring resources to families and help them with their needs. Not only am I a doctor, I have become a mentor for many children," she said.  "I encourage them to break the cycle of poverty and go to school, further their education and be somebody."
During his years as a professor and leader in engineering at the university, Dr. Subhash Bose found special fulfillment in guiding students toward a successful future.
"I would see what I taught the students, they would actually go and use it in real life. They would come back and tell me, 'that's what I learned from you.'  I'm using it today."
The couple is now taking their community support and mentoring further by establishing their legacy at UTRGV. By naming the UTRGV School of Medicine's Auditorium the Sarojini Bose, M.D., Ph.D. and Ashley Bose, M.D. Auditorium and the UTRGV College of Engineering's Auditorium the Subhash Bose, Ph.D. Auditorium, they hope to encourage student success.
Their gifts will support scholarships and other needs in the School of Medicine and will also provide seed funds to initiate collaborative research between School of Medicine faculty and Manufacturing and Industrial Engineering faculty.  This is not their first significant gift to UTRGV.  Last year, they also named a School of Medicine classroom in honor of their daughter, who attended UTPA and is now a practicing physician.
Dr. John H. Krouse, executive vice president for Health Affairs for The University of Texas Rio Grande Valley and dean of the UTRGV School of Medicine commends Drs. Bose on their philanthropic spirit.
"We are grateful to the Bose family for their generous donation and are pleased to have our auditorium named in their honor. This gift will allow the School of Medicine to continue its commitment to support our medical students," said Krouse. 
Dr. Sarojini Bose grew up in India in a poverty-stricken family and spent years in an orphanage when her widowed mother could not care for her.  She rose from those extreme circumstances to success in the United States.  She wants her story to encourage other young people.
 "I want them to know that if I can do it, they can also do it.   That's the message I want to give to children here," she said.  "Nothing is impossible.  This country is the land of opportunity."
Dr. Subhash Bose says giving to UTRGV allows them to motivate and inspire future leaders in the fields close to their hearts, health care and engineering.
"I want to improve the lives of students and support the next generation," he said.  "We are fortunate now we are able to help students."
Their names will forever be imprinted on these important spaces at UTRGV, and their mission to encourage students will impact UTRGV scholars now and in the future.
There are many opportunities to name spaces on the UTRGV campuses.  Naming spaces allows generous donors to forever be a part of the university or allows them to honor someone special, while providing funding for the university and students.  If you would like to learn more about naming a space at UTRGV, please call the UTRGV Division of Institutional Advancement at (956) 665-5301.