Endowment Honors Harlingen Teen Remembered for her Love of Life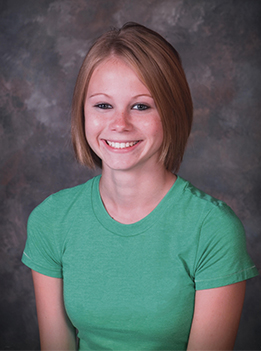 By Lisa Peña
Life is unpredictable.  Janaan Lapka knows this all too well.  She lost her husband, Robert, in April 2015.  Nearly nine years before his passing, they suffered a terribly unexpected and devastating loss together.
Their daughter, Chelsea Marie Lapka, celebrated her 16th birthday on July 14, 2006.  Her mother recalls the family party they threw in her honor.  "Chelsea blew out the candles on her birthday cake and opened her gifts.  We started talking about the future and the upcoming school year," said Janaan Lapka.  It would be her last birthday party.  Chelsea tragically died in a car accident three days later.
Her family is now giving other young people the opportunity she did not have.  Through a generous gift in 2013, The Lapka Family established the Chelsea Marie Lapka Memorial Scholarship.  Education was important to Chelsea, so her parents decided an endowment was the best way to honor their youngest daughter.  An endowment is forever, just like the memories of Chelsea's life, and will be passed on to students at The University of Texas Rio Grande Valley. 
Chelsea was ready to start her junior year at Harlingen South High School.  She was on track to graduate early.  "Chelsea was going to be successful.  She was very active in South's speech, drama, and debate team.  Chelsea qualified for state competition after her second tournament.  She enjoyed debating, one act plays, and extemporaneous speaking.  She did it all," said her mother.  Her sophomore year in high school, Chelsea traveled to New York City for a debate competition at Columbia University.  No one handed her the funds to take the five-day trip.  "She thought we were just going to write her a check but we said, 'No, honey, if you want to go, you go raise the money.' " Chelsea made stops around her community, asked for sponsorship, and she got it!
Chelsea was a savvy teen who had her future mapped out.  She already knew she wanted to attend UTPA.  "Chelsea had so many dreams for herself.  She was a lover of life.  She loved the Valley. She loved the people in the Valley.  She was born and raised here.  This was home," said Lapka.
Not only did Chelsea have her eyes set on a future at UTPA, her mother attended UTPA, graduating with both her bachelor's and master's degrees from the UTPA Business Administration Program.  Chelsea's sister Stefanie is UTRGV's Library Interim Head of Reference.  The University has become "a Lapka Family affair."
The endowment at UTRGV is an added way to keep Chelsea's memory alive.  Lapka has a strong message for the students awarded the scholarship.  "You never know what's going to happen in your life.  You need to take advantage of things like this and use it to the best of your abilities because someone wants you to succeed.  We wanted our child to succeed and she's not here.  Now, we want others to succeed."
Chelsea did not get to finish high school.  She did not get to fulfill her plans to attend college.  But, she will not be forgotten.  The endowment set up in her name will open doors for deserving students for generations to come and offer them a bright future.  They will know of this happy girl who loved life. "It's so gratifying to know Chelsea's name is always going to be on a scholarship for students because she deserves to be remembered," said her mother. 
Life is certainly unpredictable.  Now and in the future, UTRGV students will get some unexpected support to pay for college.  As the scholarship recipients walk the campus Chelsea dreamed of walking, each step will honor her memory.  Every class they take will pay tribute to her passion for learning.  Every degree earned with the support of the Chelsea Marie Lapka Memorial Scholarship will keep her dreams alive.  Chelsea was already thinking about her future and she was ready to make a difference.  She had no idea just how far into the future she would have an impact.