Associate Dean and Professor Establishes Scholarship for UTRGV School of Medicine Students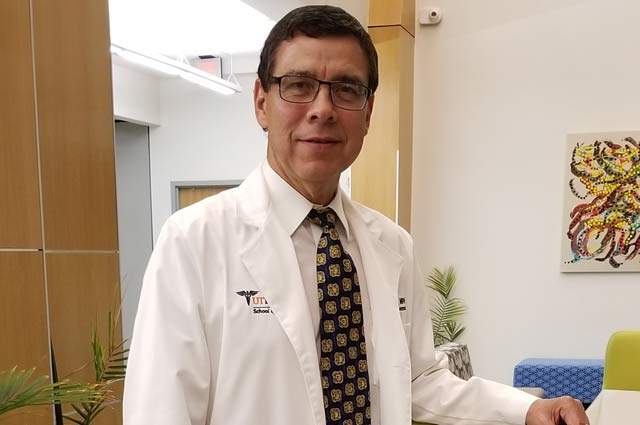 By Lisa Peña

RIO GRANDE VALLEY, TEXAS – May 24, 2018 – Dr. Leonel Vela fondly recalls a Spanish saying his father and grandfather often used to encourage him when he was a medical student on the long journey toward becoming a physician: Nunca es tarde para recibir el bien de mañana.  It's never too late to receive the good tomorrow will bring.  Those words reminded him to be patient and reassured him his hard work as a medical student would pay off. 

It's a sentiment the senior associate dean for Education and Academic Affairs, chair of the Medical Department of Education and clinical skills professor now shares with his students at The University of Texas Rio Grande Valley School of Medicine. He takes great pride in teaching and encouraging a new generation of doctors-in-training.

"When I see the students and hear their stories, I identify with them.  I so much want them to succeed and I want to do everything in my power to make sure that happens," said Vela.

His commitment to students is now sealed in perpetuity through the creation of the Dr. Leonel Vela Medical School Endowed Scholarship.  The scholarship will recognize third-year medical students enrolled in the UTRGV School of Medicine who demonstrate academic excellence and leadership.

Dr. Guy Bailey, President of UTRGV, applauds Vela for being an inspiration in leadership and philanthropy.

"Dr. Vela is known throughout the Valley and the state of Texas for his work in the medical education field.  He has been a champion for students from this region.  We admire his passion for advancing healthcare and we are forever grateful for his generosity," said Bailey.

Vela, a Pharr native who grew up as a migrant worker, attended Stanford University for his undergraduate studies.  He went on to the Baylor College of Medicine and finally, to Harvard University where he received his master's degree in public health.  He says the road from the dusty fields picking produce to some of the nation's top universities was paved with encouragement from his family and the generosity of good-hearted donors.

"I see giving as a natural progression in my life.  When you've received so much, you want to give back," said Vela.  "There's no way I could have afforded to go to Stanford or Harvard or Baylor without lots of help, financial support and scholarships.  Other people gave a lot and I received so much from them to be able to reach my goals." 

For much of his career, Vela has focused on community health, receiving training at Stanford, Harvard, Baylor, and the Centers for Disease Control and Prevention (CDC), among others.  He is a leader in medical education, including serving 18 years as the Founding Regional Dean of The University of Texas Health Science Center at San Antonio (UTHSCSA) Regional Academic Health Center (RAHC) in Harlingen.  He uses his experiences to prepare students for the future of medicine.  He wants to see them make a real difference in the lives of patients. 

"I want my students to be actively involved, not be bystanders.  There's so much they can do to influence the course of health care."

Vela is living out that advice, influencing the course and future of health care in the classroom, in the community and with his generosity.   To fulfill the words of his father and grandfather, he is doing his part to make sure tomorrow is filled with so much good for UTRGV medical students.

Every gift has a positive impact on the UTRGV community and contributes to our growth and success.  For more information on the Vela scholarship or how to make a gift today, contact the UTRGV Division of Institutional Advancement at (956) 665-5301.