Valley Businessman Backs UTRGV Geothermal Research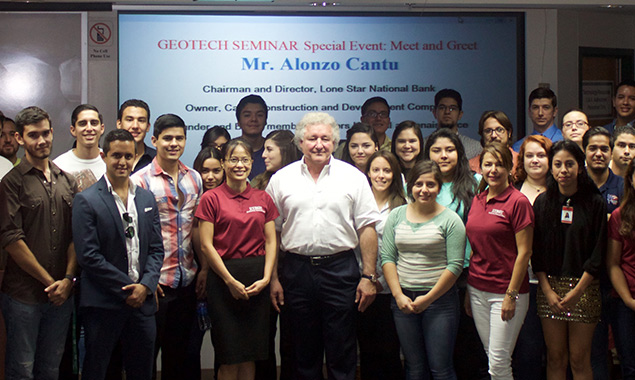 By Lisa Peña
Geothermal energy is energy that comes directly from the earth and one day, it could be coursing through your home.  A team of researchers at the University of Texas Rio Grande Valley is working to make that happen.
The project, led by civil engineering Assistant Professor Dr. Thuy Vu, has gained momentum in recent months.  "Using renewable geothermal energy produces a smaller CO2 footprint and it's good for the environment.  The household saves 40 to 50 percent on heating and cooling costs. This is a win-win situation," said Vu.  The team of UTRGV researchers has already designed a way to use geothermal energy in a residential setting.  Next, they will head to a lot in Mission, Texas where they will dig a trench, install a heat exchanger and sensors, conduct a field test and optimize their design.   
Rio Grande Valley developer and businessman Alonzo Cantu has joined their research mission and has made two separate donations to help further their research.  "I like to help anything that has to do with education or helping kids.  That's one of our goals, for all of my companies and myself, personally.  Dr. Vu is helping kids do something new and innovative," said Cantu. 
Cantu's professional endeavors extend through a variety of diverse areas including construction and developing, banking, the medical industry, athletics, and education.  He owns Cantu Construction and is building throughout the Valley.  He is a founder and board member of Doctor's Hospital at Renaissance in Edinburg and he is chairman and director of Lone Star National Bank.  He takes great pride in investing in the Rio Grande Valley.  Now, he has added geothermal energy research to his interests. 
Cantu wants to see Valley students shine and succeed as leaders in their fields.  In fact, he needs them to shine and succeed.  Cantu knows firsthand the demand for a strong work force in the Valley.  "You need an educated work force in the Valley so industries can come in and set up jobs," said Cantu.
Dr. Vu recently invited Cantu to share his knowledge with her civil engineering students.  On October 1, 2015, he spoke to a standing room only crowd and shared his insight on everything from starting and maintaining a successful business to tips on being efficient with time.  He encouraged this next generation of engineers to grow with the Valley.  "Hopefully you are not thinking about leaving.  You are at the right place at the right time.  We want to keep your talent here in the Rio Grande Valley," Cantu said.
With his words and his financial support, Cantu is helping these students explore geothermal energy that could one day help all of us.  The temperature 8 to 10 feet below ground is stable at a comfortable 70 to 75 degrees.  Harnessing that energy would provide heat when we're experiencing cold temperatures on the surface and a cool down when it's hot.   It's like using an air conditioning and heating system, but for half the cost. 
Dr. Vu and her team have a vast vision for their energy research and they have the backing of Alonzo Cantu, one of the Valley's best examples of how vision leads to success.  It's a powerful combination sure to bring us major advancements in science and research.