Vaquero Express FAQs
Does the bus schedule change every semester?
We try to be consistent with our schedules from year to year. However, sometimes changes are inevitable because of demand or some other factor. When there is a major change to a route schedule or alignment, we will always conduct a public involvement meeting. This will allow the public to be involved in the decision-making for the proposed changes. We always post the current schedule on our social media platforms and UTRGV Messenger at least one week prior to the start of the semester. The current, updated schedules can always be found our website.
Where are the Campus Connector bus stops located?
UTRGV - E:  Edinburg Visitors Center
UTRGV - H:  Harlingen Clinical Education Building
UTRGV - B:  Brownsville Main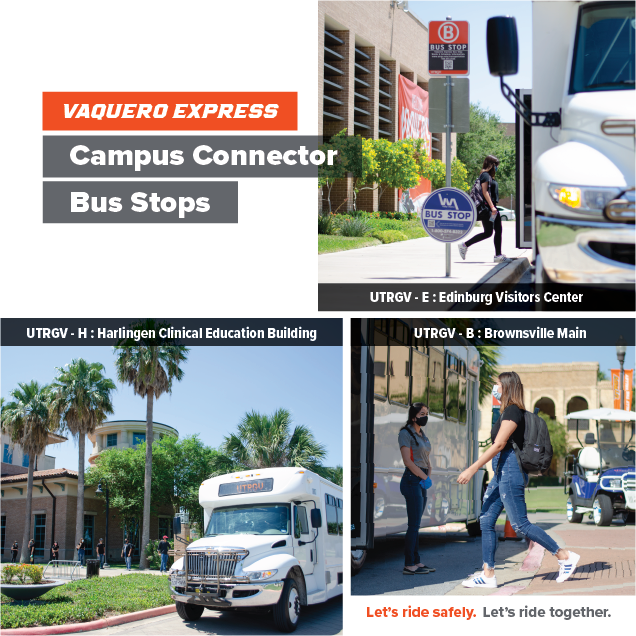 Does the Vaquero Express offer transportation when there is no school?
Currently it is does not.  There is not enough demand to warrant continued service. This may change in the future if there is enough demand.
How do I report an incident or complaint on a bus I was on?
We're always here to listen!  You can always give us a direct call to our office at (956) 665-2036. Also, we are available through email at transportation@utrgv.edu. 
In order to address your issue quickly, we will require as much of the following information as possible:
The date and time you were on the bus.
What campus you were heading from/to
Bus number (usually displayed outside of the bus)
Detailed description of the incident
Description (preferably name) of the staff member, if one was involved.
Please allow us 24 to 48 hours to respond via email.  
Is there WiFi on the buses?
There sure is! You have free access to our WiFi. There's no password for it. You have to log in using what is called a captive portal. Basically, connect the WiFi network named "Vaquero Express" and once connected you will be prompted to sign in using either you email address or social media and that's it! You're connected! If there are some connectivity issues, please feel free to email us at transportation@utrgv.edu. 
How much does it cost to use the bus?
Our services are free and open to the general public!
Do I need to present any form of ID when boarding the bus?
Yes, we encourage all passengers to present their ID, but it is not required to board the bus. Our staff will ask for your student or employee ID number. 
May I use the bus to send items to other campus?
Unfortunately, the bus system may not be used as a carrier service between campuses.  This is to avoid any liability incidents that may arise.
Why are there so many buses at the departure locations?
To meet demand. Usually, one bus is not enough to transport the number of people who need to ride. Ridership continues growing with no plateau in sight! Which is great and we love that so many of you are using it!  We send many buses out at peak times and throughout the day to avoid anyone being left behind due to vehicle capacity limits.
We know this may cause confusion but don't worry, we are here to help! You may always call us, email us, or send us a message on our social media platforms. For best response times, give us a call at (956)665-2036. In addition, you may always ask one of our drivers or our supervisors if they are out in the field.
Are the buses always on time?
As much as we would like to guarantee our arrival times, there are factors beyond our control, such as traffic, accidents, and breakdowns, that may prevent us from being on time. We build enough cushion into the schedule to avoid being late, but it's not always possible as anyone who's been stuck behind a wreck on the expressway may know. What we can promise is that our buses will not leave earlier than their posted departure times. We highly encourage our passengers to arrive at the bus departure locations at least 15 minutes before the departure time.
Can I bring an emotional support animal?
No, only allow service animals are allowed on our buses.
Where can I park at the Weslaco Connector stop?
You may park in the Weslaco City Hall parking lot.
What do I do if I am left behind?
If you arrive before the departure time, we will arrange for a vehicle to take you to the route destination. If you arrive after the departure time, and the bus is full then you must wait until the next departure time.
May I ask to be dropped anywhere along the route?
No. For safety reasons, our drivers are instructed only to pick up and drop off at the designated stops published on the Transportation Guide.
Is the schedule the same during Study Day and Finals Week?
Yes, it is. The published times on our Transportation Guide will be the same during the Study Day and Finals Week.
Where can I submit a complaint or a commendation?
We value our customers' opinions. Please call to our office at (956) 665-2036. Also, we are available through email at transportation@utrgv.edu.
You can also submit our Customer Experience Survey on our website. 
What types of precautions is your department taking to ensure the bus is sanitized?
We follow the guidance of the Federal Transit Administration, the CDC, and the University on proper sanitizing and safety protocols. The following will be enforced:
Mask usage is highly encouraged. 
Hand sanitizer will be available on the bus for passenger use.
Staff will be on site during each trip boarding to ensure social distancing is in place and will assist in sanitizing the high-touch surface areas such as the handrails, seats where passengers are seated, and stanchions.
Plexiglass will be placed around the driver to protect and prevent interaction with passengers. If you have questions, please contact a staff member outside of the bus or call (956)665-2036.
Buses will be sanitized thoroughly in the early morning and the evening.
How will you know if there is a passenger on board that has tested positive for COVID-19?
This is a community effort. In order to help mitigate the spread of COVID-19, we all need to do our part. We ask our passengers to only use this service for essential trips. If you are exhibiting COVID-19 symptoms, we kindly ask for you to seek out your healthcare professional and not board the bus. If you seek guidance on this, please visit UTHealth RGV COVID-19 guidance.
Will the bus be full of people?
We expect to reach max capacity on our buses.
What if the bus is full and there's no room on the bus?
We are dedicated to transport every student who needs service. If the maximum occupancy is reached on a bus, we will send additional buses as available to pick up those passengers who arrived at the designated stop before the scheduled departure time.
What routes will you offer during the Summer?
Both VOLT and Vaquero Express will be in service for Summer I and II.
The lines to wait for the bus are always packed. Will it be the same for the Summer semester?
The summer semester has historically had less passengers than the Fall and Spring semesters.
Will we be required to wear a mask on the bus?
Mask usage is highly recommended, but not required to be worn.