Publications
Atwood Acres: A Porción of Edinburg
Order the Report
Download Report Atwood Acres: A Porción of Edinburg
This is the UTPA CHAPS Program's third book telling the story of the origins of Edinburg and the beginnings of the institution that is The University of Texas-Pan American.
Roegiers Family Farm: A Porción of Edinburg
Order the Report
Today the citizenry of Edinburg lives in a bi-lingual, bi-national, and bi-cultural environment of Spanish- and English-speaking peoples. Were we to travel back eighty years to the 1930s
 

and visit the ice houses, packing sheds, cotton gins, and streets of Edinburg it would not be unusual to hear people being greeted in a cacophony of languages- "Good Day," "Buenos días (Spanish)," "Dzień dobry (Polish)," "Guten Tag (German)," "God dag (Swedish)," and "Goede dag (Flemish)." Through the social process known as "chain migration" friends and family will learn of opportunities and then follow previous migrants to the new community. In this study we learn of Camiel Roegiers, a Flemish-speaking Belgium national who, as a "bird of passage," makes three trips to the United States at the beginning of the twentieth century to work and live in Texas, Virginia, Kansas, and ultimately Edinburg, Texas. Along the way he was joined by his siblings, and in-laws.
The Norquest Family of Edinburg
Order the Report
Where does history begin? In the Lower Rio Grande Valley (LRGV) history began more than one hundred centuries ago during the Pleistocene epoch with the native Coahuiltecans as they roamed an open land. Beginning in 1749, the region was incorporated as a new agricultural and ranching colony in New Spain. A hundred and fifty years later—with the introduction of irrigation and railroads—the LRGV began a century of commercial agriculture. It was in this latter period that Peter Norquest and his family found a new home in the region. This book, based on research conducted by UTPA student in the CHAPS Program, chronicles how the land was changed over the past ten thousand years, and tells the story of the Norquest family's contributions to the history of the region.
The Norquests: A Porción of Edinburg
Order the Report
Download The Norquests: A Porción of Edinburg Report
The Norquest family immigrated to their farm site in 1925 as part of a larger wave of Midwestern immigrants to the Lower Rio Grande Valley. At the turn of the twentieth century, the Valley also experienced an influx of Mexican migrants in search of opportunity and work. They joined their Mexican-American counterparts laboring as agricultural workers on the farms of Anglos and Texas-Mexicans. Some of these individuals found their way onto the Norquest farm site. This multidisciplinary report posits a nuanced way of looking at human-land interaction on a farmsite in South Texas, where racial and class conflict existed, but where, in certain pockets of exception, people from culturally different backgrounds came together to labor and laugh in order to make ends meet.
Bair Farms: A Porción of Edinburg
Order the Report
Among the early arrivals to the town of Edinburg was the Bair family of College Springs, Iowa. In 1920 they joined others, including the Heacocks who had arrived in 1913 and made the Rio Grande Valley their home. The families who were bonded together in the marriage of Dorothy Heacock and Lee Martin Bair were entrepreneurs in retail hardware and agriculture. They experienced droughts, hurricanes, and freezes with their attendant economic shortcomings which changed and often shortened lives. Their son Dwayne Bair would lead a life that included farming, citrus production, and banking. This is his story but also one of many others that called the Rio Grande Valley home.
The Cantu Family: A Porción of Edinburg
Order the Report
The Cantú family settled in Edinburg, Texas, in the early 1920s and have since developed a thriving produce and trucking business providing crops to markets in the Rio Grande Valley, Houston, and even up further north to the Midwestern states area. This report is the culmination of approximately 24 months of research, fieldwork, and revisions conducted beginning in the Fall of 2012 from a class of undergraduate and graduate students at the University of Texas-Pan American titled "Rediscovering the Rio Grande Valley" under the direction of a multidisciplinary faculty of anthropologists, archaeologists, biologists, geographers, geologists, and historians. This is the story of one of the many Mexican American farming families that settled in the Rio Grande region after escaping Mexico's Revolution (1910-1920).
The Eubanks Family: A Porción of Edinburg
Order the Report
Almost forty years ago, Kenneth and Irene Eubanks came to Edinburg to settle in what would be their final resting place after decades of traveling the world. After a successful professional career as an agricultural economist, a professor and a high-level official for the United States Agency for International Development (USAID), Kenneth Eubanks found the perfect location to literally "plant roots" with his family in a place referred to as the Magic Valley of Texas. The research conducted for this book represents historical, archaeological, geological and biological data that will forever be preserved within this volume collection of human-land interactions at The University of Texas Rio Grande Valley Border Studies Archive's Spanish Land Grant Collection.
An Undergraduate Perspective on Coyotaje
"An Undergraduate Perspective on Coyotaje" Anthropology News journal article by Lupe Flores
Or How I Came to Document Border-Crossings at the South Texas-Mexico Border
Initiating a research project and conducting the fieldwork is exciting, but doing research is not easy, especially as an undergraduate student. I realized this while taking "Field Experience in the Borderlands," a course where our field research was conducted in sites close to home: the South Texas-Mexico border. During the first weeks of class, my mentor, Margaret E Dorsey, bombarded us with ethnographic texts on border culture to develop project ideas in the various communities where my colleagues and I are from. For my class project, I revisited written versions of Lower Rio Grande Valley (LRGV) history (both national and local) and compared them to folk versions of that history, as told by certain descendants of multiethnic settler-ranchero families who arrived to my field site directly after The Treaty of Guadalupe Hidalgo in 1848. While conducting this research, I recognized the power of anthropology to provide the tools for understanding ethnic and class relations along the border. I also learned that my own personal experiences can enrich my research and inform my theoretical perspectives. As a result of this experience, I now plan on obtaining a PhD in anthropology.
As I researched certain ranchos, there was no doubt that cross-border movement existed in the past in LRGV history–albeit in different ways and for different (yet similar) reasons–thus, the ranchos where I have witnessed border-crossings in the contemporary period have been subjects of cross-border mobility for more than 150 years. For my dissertation, I plan on researching coyotaje in South Texas. Coyotaje is, in essence, part of everyday life in ranchos nestled between the Rio Grande and Military Highway. As a young boy, I witnessed border-crossers run to the ranch houses, the safe-but-policed haven that is the land of my antecessors. From 2008-12, I was fortunate enough to spontaneously converse with migrants on their journey across the Rio Grande back to their homes or new residence. No matter the season or time of day, these individuals relentlessly try reaching their destination. In the process, I might have provided them with food, water and some dry clothing. At earlier points in my life, I found myself wondering, "Why me? Why am I here?" I could get in trouble; never in my life did I choose this position (except only now as an anthropology scholar-in-training). But I sought to write, to understand as much as I can, about what was going on around me. I was confused, hurt in many ways as I realized that I come from a place of coyotes, of individuals who are negatively portrayed in the eyes of mainstream media and the law for what they do, for who they are. But don't they help others? Haven't I seen men aid in the re-unification of families, of friends? Does that not matter because their actions make them wanted by the state? Aren't they, in many ways, its enemies?
That might be so through legal eyes. That's why I'm interested in an alternative view of border-crossing phenomena, one offered by Nestor Rodriguez (1996. The Battle for the Border: Notes on Autonomous Migration, Transnational Communities, and the State. Social Justice 23[3]: 21-37.), and further developed by David Spener (2009) in his book Clandestine Crossings: Migrants and Coyotes on the Texas-Mexico Border (Cornell University Press). People in the ranchos I come from play a significant role in the coyotaje I've encountered. And it is this intimate, hurtful yet insightful, proximity to the field that I refer to as intimately-positioned – a geographical, social, cultural and kin-based location from where to watch such phenomenon unfold. However, it is also a location informed by an academic culture, one of socio-cultural and political-economic inquiry.
Dorsey told us during our methods course that "the field" is anywhere outside the classroom. So I took that as the moment I leave the room and then drive down 10th Street or Stewart Road toward the ranchos: I want to observe, collect, and ponder every sight, every social act that I encounter.
My research on coyotaje, which I presented at the 2013 National Association for Chicana and Chicano Studies-Tejas Foco Conference in Edinburg, is a sort of autoethnographic text (Pratt, Mary Louise. 1991. Arts of the Contact Zone. Profession, pp 33-40. New York: Modern Languages Association). My account is not exhaustive or representative of South Texas, but I believe that an intimately-positioned method employed by more students from the Mexico-United States border can achieve greater clarity on coyotaje, story by story. I am fortunate that my intellectual journey began as an undergraduate at a university by the border. But my resources are limited now, which is why getting accepted into a graduate program is a priority for me. I am ready to further hone my skills in order to eventually paint a nuanced picture of coyotaje, its liminal phases, experiences, and what the global community can learn from such an intimately-positioned location of doing research. I am ready to research and write from the vantage point of what Renato Rosaldo (1993: 7) terms a "positioned (and repositioned) subject" (Culture and Truth: The Remaking of Social Analysis. Boston, MA: Beacon Press). And though future directions might entail refining and expanding methodologies of data collection, such positionality as initiation into the social field of border-crossing is invaluable to an emerging critical social science of coyotaje.
Lupe Flores is an undergraduate researcher at The University of Texas-Pan American. His interests lie under the larger rubrics of sociocultural anthropology, Latin American Studies, and Border Studies.
Alex Chavez (U Illinois at Chicago) and Santiago Ivan Guerra (Colorado College) are the contributing editors for ALLA's column in AN.
Deflation Troughs, Water, and Prehistoric Occupation on the Margins of the South Texas Sand Sheet
Characteristics and Genesis of El Sauz Chert, An Important Prehistoric Lithic Resource in South Texas
Fike Family Farm: A Porción of Edinburg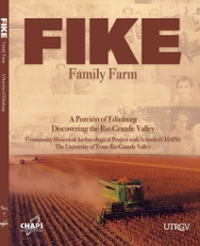 Fike Family Farm: A Porción of Edinburg
Farming is at the very soul of the United States. From the shores of the Atlantic to the prairies of the Midwest and the Great Plains the image of the yeoman farmer permeates American history. In the greater Southwest those English-speaking farmers would encounter their Spanish-speaking counterparts in the 1850s. Those civilian vecinos had, served as the vanguard of the Spanish empire establishing towns, farms, and ranches in what would become California, Arizona, New Mexico, and Texas. It was in this milieu that the Rio Grande region was settled in the 1750s. A century and a half later, following the construction of railroads and irrigation systems the descendent of those first settlers were joined by new farmers speaking a polyglot of languages. Here at the beginning of the 20th century the "Magic Valley" was born. The guarantee of successful year-round farming enticed farming families to abandon their farms in temperate states and flock via train to the international border between the United States and Mexico. The Fikes of Ohio, and the Rorks of Nebraska were two such families who sought to make good on that promise. From them the union of Willard Fike and Anna Rork created over four generations a strong, sustainable, award-winning farming family. Farming involves long days, often pre-dawn until well after sundown. It is not glamorous. It is risky and unpredictable. These challenges are compounded by evolving regulations and geopolitics regarding tariffs and trade imbalances which can thwart even the most carefully planned plantings and harvests. It is no wonder that American family-owned farms are dwindling. Yet, the Fike Family is prospering as it begins its fourth generation of farming. In 2017 students in the seventh-annual study of an Edinburg-based farming family discovered a resiliency among the Fikes that is largely unknown in the 21st century.
Luna Farming Legacy: A Porción of Edinburg
Luna Farming Legacy: A Porción of Edinburg
Descendants of Spanish Colonial settlers have been practicing subsistence farming along the Rio Grande for over 250 years. As that same river became the international boundary between the US and Mexico in 1848, landownership and the landscape began to change. As issues in Mexico such as the Mexican Revolution pushed families over the river into the Rio Grande Valley of Texas, many folks established themselves as farmers alongside the new arrivals from the American Midwest in the early 1900s. The guarantee of successful year-round farming was a prominent theme and the Lunas were willing and able to embark on that challenge. As their life in the US began with some time in Los Ebanos, the family eventually found themselves purchasing land and farming in Edinburg. Today Luna family members are still farming in a section of northwest Edinburg fondly referred to as "Lunaville" by fellow farmers.