Technology Support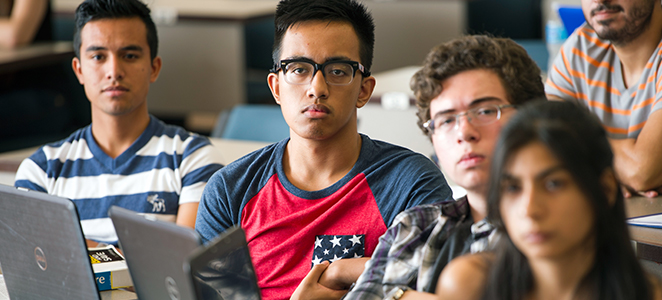 MyUTRGV
MyUTRGV provides personalized access to announcements, information, services and resources in one centralized and secure website. Once you log into the portal you will have convenient access to various campus resources without having to log in again. You can also customize your experience in the portal by using themes and gadgets. Based on your feedback, we will be introducing new options and features to the portal regularly.
Features:
Track the status of financial aid processing
Register
Drop/withdraw
Accept financial aid award letters
Print unofficial transcripts
Assist Self Service
With Assist technology, students may access general academic and financial information from home or any place they have access to the web. Personal information is protected by the student's UTRGV username and password. Students receive these as part of the admission process. For assistance, students may contact the IT Help Desk.
View course details
View course syllabus
View required books and materials
View instructor vitae
Course Login - Blackboard
Students are able to access Blackboard through the myUTRGV portal.
Email - UTRGV Email
Go to my.utrgv.edu and log in with your UTRGV username and password
The service is provided by Microsoft and consists of collaboration for email, calendaring, task management and online file storage for university students. Service remains available after the student is no longer enrolled or has not been inactive for 6 months.
Official Means of Communication with Students and UTRGV
The official means of communication with students from the University of Texas Rio Grande Valley regarding administrative issues is the UTRGV e-mail address assigned by the University. Important information, such as financial aid award notification, registration information, class wait list, payment deadlines, and how to access bills and grades, is sent to the student's UTRGV e-mail address. It is the student's responsibility to activate this address upon admission and check it often.