Outreach Archive
STEM Earth Day Fest 2017
UTRGV, along with the City of Brownsville, Parks and Recreation, Healthy Communities of Brownsville and the Brownsville Community Improvement Corporation hosted STEM Earth Day Fest at Linear Park, the site of the Farmers Market and the Brownsville Museum of Fine Arts, as part of Earth Day on April 22. The day featured a variety of fun and educational events geared to family, community and schools. The Agroecology program held an interactive booth educating kids and adults on the importance of earthworms and their impact on soil. Participants had a chance to win a basket of organic produce grown in the Agroecology garden if they correctly guessed how many earthworms were in the bin!
---
Climate March
On November 12th, 2016 community members unified to demand climate justice and to educate one another on the critical issue of the rapidly changing climate and how we can do our part individually and as a collective to curb this dramatic change and the consequent destruction. The Environmental Awareness Club invited Dr. Racelis to speak on sustainable food systems where he encouraged the crowd to start gardening, save seeds, support locals and taking action and speaking up to make the changes necessary for positive progress. It was an inspiring afternoon and we look forward to next year's event as the tradition continues.
---
HESTEC 2016
Our program was fortunate to participate in the Hispanic Engineering, Science and Technology week held at UTRGV. On Tuesday Oct. 4th we coordinated a research garden and greenhouse tour for a group of 60 seniors attending Veterans Memorial High School in Mission where we received high interest and we were able to meet some prospect interns. On Wednesday Oct. 5th several students in our program participated in a panel discussion for Latina Day detailing the College of Sciences hosted by Dr. Alex Racelis. It was a great pleasure to interact with the future of our program.
---
Sovereignty Tour to Cuba
Our program director, Dr. Alex Racelis and devoted intern and tomato specialist, Lindsey Richards along side with a select few Rio Grande Valley residents traveled to Cuba to experience and learn from the sustainable agriculture found within the rich lands of Cuba.
---
After extensive assessments of each applicant reviewing student testimonies, classroom expertise, innovative teaching styles, learning outcomes and curricula quality Dr. Racelis was selected as one of five UTRGV honorees amongst the sixty UT winners. Specializing in ecology and agroecology and representing the Department of Biology and School for Earth, Environmental and Marine Sciences Racelis is deservingly honored for his passionate and multidisciplinary teaching techniques in which he invests so much in his students and interns to ensure success and progress within the field. Everyone within our program can testify that no one else deserves this more than him. See for yourself.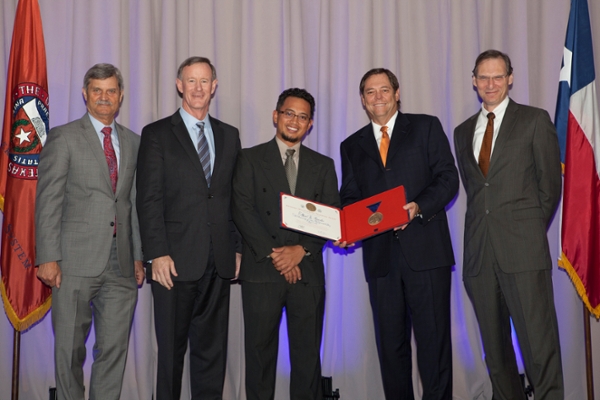 ---
Arbor Day Contest!
UTRGV won the Tree Campus USA Arbor Day contest recently and were rewarded funds to give back to our community. Trees were planted at the Proyecto Azteca sustainable community in Edcouch, Texas on January 16th, 2016.
---
Organic Farms Push for Local Presence
One of our partners of the SOAR program at South Texas Organics is featured in the Monitor. Read on to learn more about the organic industry in the Rio Grande Valley! September 15 th, 2014.