Workshops invite local teachers into Valley agricultural research, show career opportunities

  Thursday, July 18, 2019
  Community, Research
By Maria Elena Hernandez
RIO GRANDE VALLEY, TEXAS – Science teachers from 15 school districts in the Rio Grande Valley will head back to their classrooms this fall with new curriculum, courtesy of the UTRGV Agroecology Professional Development Institute.
"It's a four-week workshop where we host a number of teachers from across the Valley and expose them to research and careers in agriculture," said Dr. Alexis Racelis, a UTRGV assistant professor of agroecology.
Racelis leads the professional development program, along with UTRGV master science teacher Tim Sears.
"What we found in previous workshops is that teachers often have a misconception about what it means to have a career in agriculture," Racelis said. "Often, they think of farmers and laborers. And rarely do they think of entomologists, cell biologists, geneticists and ag specialists."
FIELD TRIPS, LABS FOR TEACHERS
Each Friday in June, the group of 24 science teachers took morning field trips, which included visits to the Texas A&M-Kingsville Citrus Center in Weslaco and the USDA research facility at Moore Air Base in Western Hidalgo County. In the afternoons, they headed to the UTRGV Edinburg Campus for curriculum development workshops.
Yaquelín Helms, a teacher at Pace Early College High School in Brownsville, participated in the professional development institute and will be teaching AP environmental science this coming school year.
"I want to learn as much as I can, so then I can take it back to my students," she said.
The high school science teacher said she hadn't been familiar with the scientific work happening locally, but is glad to know now.
"It's amazing research, and you don't think it happens in the Valley," she said. "It's amazing to know that it does."
LOCAL AGRICULTURAL RESEARCHERS
Dr. Evan Braswell, a biological scientist at the USDA facility at Moore Air Base, said agriculture is a field that uses every branch of science, from physics to chemistry to biology to engineering.
"It's an applied field that uses every scientific tool that we can to solve problems," he said.
Braswell led one of the teacher groups who toured the USDA facility.
"It's fun for us to bring in these teachers," he said. "We hope it has an impact in their classrooms and brings students into the sciences and into agriculture."
PARTICIPANT FEEDBACK
Sears, the UTRGV Science Master Teacher, said area science and ag science teachers too often don't have opportunities for professional development related to science and agricultural science.
"So we're excited to be able offer this to them locally," he said. "Some of the feedback we've received from our teacher participants has been that they've never before been to the sites we've taken them to. So we've exposed them to local research in the area – local farms, and local organic farms involving agricultural research – so they can take those locally relevant examples back to the students they teach in high schools."
GRANTS AND OTHER POSSIBILITIES
Helms, the Pace Early College High School teacher, called the professional development institute a great opportunity that can help introduce teachers to more ways to expand their knowledge.
"They talk about all these grants – not only for students, but for teachers – that I didn't even know about. So it opens up doors," she said.
The APDI itself is funded by a grant awarded to UTRGV earlier this year. The National Institute of Food and Agriculture, a part of the USDA, awarded almost $150,000 to the university for the three-year program.
UTRGV Continuing Education was the Agroecology Professional Development Institute's partner in awarding a certificate with continuing education credit to participants.
You can learn more about agroecology at UTRGV by visiting utrgv.edu/agroecology.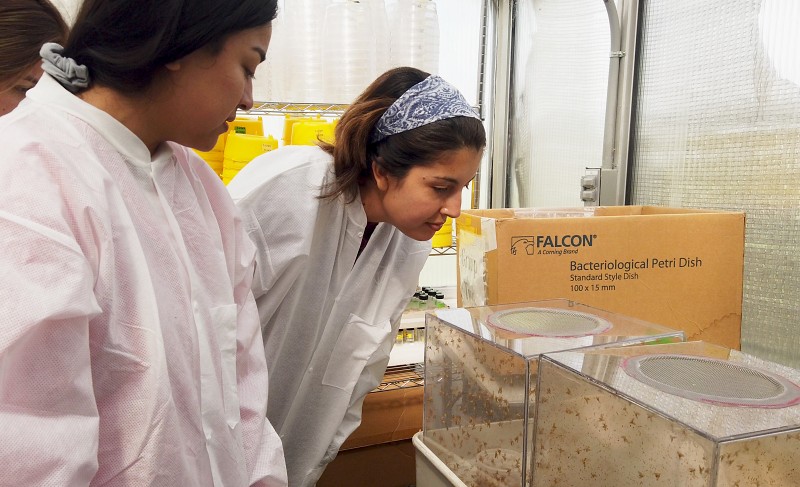 USDA grant helps UTRGV inform area science teachers about range of careers in agriculture
By Victoria Brito
RIO GRANDE VALLEY, TEXAS – JULY 18, 2019 – UTRGV has created the Agroecology Professional Development Institute, via a grant from the National Institute of Food and Agriculture, a division of the U.S. Department of Agriculture.
Dr. Alexis Racelis, assistant professor in the UTRGV School of Earth, Environmental and Marine Sciences and lead PI on the project, said APDI is designed to facilitate an increased knowledge of food and agricultural science disciplines and career opportunities. It also helps high school science teachers incorporate locally relevant agriculture examples in STEM teaching.
The USDA grant, in the amount of $149,985, will allow 75 high school science teachers from South Texas a chance to participate in field trips to agricultural, research and demonstration sites in the area.
Tim Sears, UTRGV associate biology professor in practice and co-principal investigator on the project, helped facilitate curriculum development to integrate agriculture examples from the field trips into high school science courses.
ABOUT UTRGV
The University of Texas Rio Grande Valley (UTRGV) was created by the Texas Legislature in 2013 as the first major public university of the 21st century in Texas. This transformative initiative provided the opportunity to expand educational opportunities in the Rio Grande Valley, including a new School of Medicine, and made it possible for residents of the region to benefit from the Permanent University Fund – a public endowment contributing support to the University of Texas System and other institutions.
UTRGV has campuses and off-campus research and teaching sites throughout the Rio Grande Valley including in Boca Chica Beach, Brownsville (formerly The University of Texas at Brownsville campus), Edinburg (formerly The University of Texas-Pan American campus), Harlingen, McAllen, Port Isabel, Rio Grande City, and South Padre Island. UTRGV, a comprehensive academic institution, enrolled its first class in the fall of 2015, and the School of Medicine welcomed its first class in the summer of 2016.