Volunteer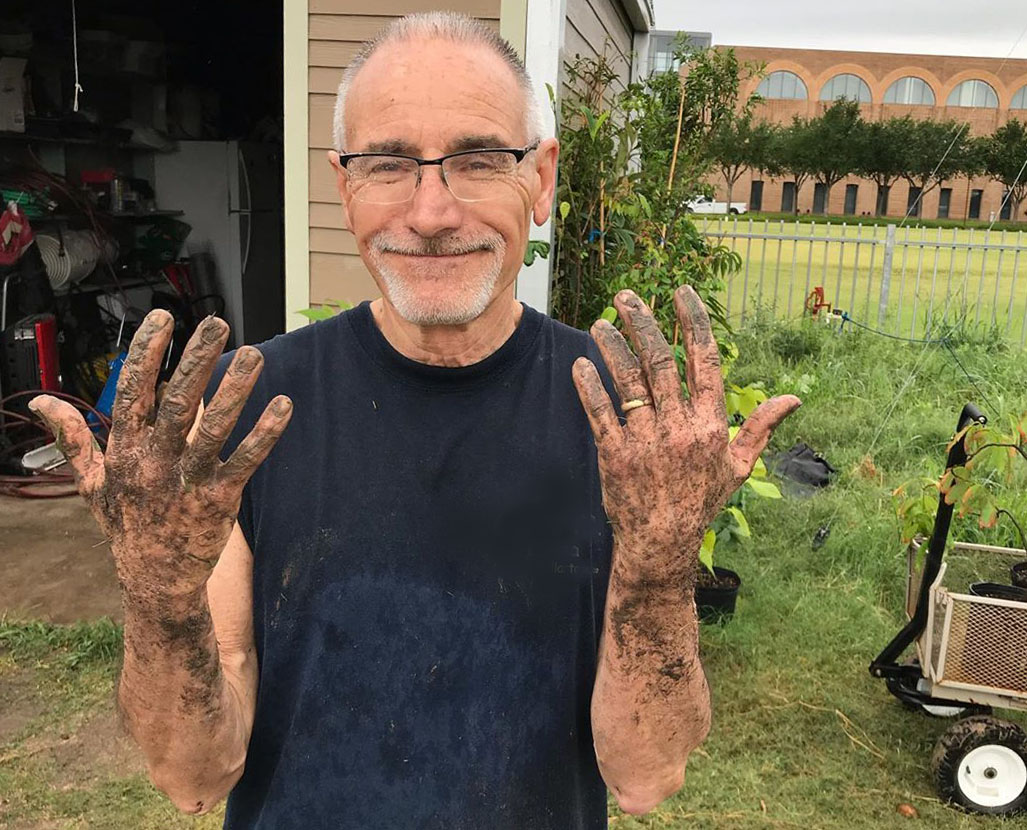 You don't have to be enrolled in an agroecology program or course to get your hands dirty! Join us in the community/research garden on the Edinburg Campus or make independent arrangements to volunteer with one of the local farms listed below.  
The Campus garden can use your help with weeding, harvesting, and sorting produce. Come help out after class and take home some fresh, organic vegetables (when available)! You are helping contribute to research as well as sourcing the produce that will be sold at our campus farmer's markets, and donated to our Student Food Pantry, to give students access to organic, fresh, healthy food. Your entire student organization can come help and get their volunteer hours in the garden!
Monday from 8-11 am and then on Thursday from 3:30-6 pm
---
UTRGV Agroecology Research Garden Spring 2020
Volunteer Hours
Monday: 8:00 AM - 11:00 AM
Thursday:   3:30 P M - 6:00 PM
---
Volunteer Requirements: Expect to work in the sun, bent over for extended periods of time.  Dress appropriately for the weather: long sleeves and a cap or visor to keep the sun off you, and sunscreen for any exposed skin. Bring a reusable water bottle (glass or metal) to cut down on plastic waste while staying hydrated! 
Questions? Visit ESCNE 1.240 or email lindsey.richards01@utrgv.edu or stephanie.kasper01@utrgv.edu.
---
Local Opportunities:
Contact these farms to see if there are volunteer opportunities for you to gain experience while helping a local food producer!  
Terra Preta Farms
Organic Farm
1923 Largo St. Edinburg, TX 78532
Juan Raygoza: (956) 351-5847, info@terrapretafarm.com
Call or email for volunteer hours
Volunteer Opportunities: weeding, applying compost, act as a pest repellent, harvest, etc.
Bells Farm to Market
Farm/Market
116 S. Ware Rd., McAllen, TX 78501
Bobby Bell: (956) 630-1015
Call 24 hours ahead to verify volunteer hours
Volunteer Opportunities: Setting up & taking down displays, picking crops, picking weeds, greeting & helping customers
Yahwehs All Natural Farm & Garden
Organic Farm
19741 Morris Rd. Harlingen, TX 78552
Diana Garcia Padilla: (956) 412-4916
Sundays 9:00AM-5:00PM, Monday-Saturday by appointment
Volunteer Opportunities: weeding, cutting grass, planting crops
Master Gardener Education Garden
Public Garden
Public Park behind N. San Juan Community Center on Nolanna Loop, between R. Longoria & C. Chevas in N. San Juan
Mirtala Rodriguez: (956) 330-6200
Tuesdays & Thursdays 8:00AM - 12:00PM
Volunteer Opportunities: weeding, planting, demonstrations
Farmers Markets
Stipulations: Clean background check, no smokers
McAllen Farmers Market
McAllen Public Library, 4001 N. 23rd St., McAllen, TX 78505
Lebby Salinas: (956) 255-0190
Saturdays 10:00AM - 1:00PM
Volunteer Opportunities: unload & set up displays, run information booths, take down & pack up displays, pass out FREE Fooducation Movie Passes, greet attendees, and offer help in finding vendors
Grow'n Growers Farmers Market
Fireman's Park Corner of 1st St & Business 83, McAllen TX
Barbara Storz: (956) 330-6410, b-storz@tamu.edu
Saturdays from 8:00AM - 1:00PM
Volunteer Opportunities: unload & set up displays, run information booths, take down & pack up displays
Pharrmers Market
724 N. Cage Blvd., Pharr, TX 78502
Carla Lopez: (956) 904-4509
Thursdays from 4:00PM - 7:00PM
Volunteer Opportunities: set up & take down stands, hand out information,
Food Banks
Stipulations: Must have valid photo ID, must be 16-years-old & up*, informational packet required*, good academic standing^, background check^
Food Bank of the Rio Grande Valley
724 N. Cage Blvd., Pharr, TX 78502
foodbankrgv.com
Registration form application
Volunteer Tasks: sorting, cleaning, inspecting, and distributing food donations
South Texas Food Bank
1907 Frieght St., Laredo, TX 78041
Pam Guerra: (956) 726-3120
Monday-Friday 8:00AM - 12:00PM, 1:00PM - 5:00PM
Volunteer Tasks: food processing, food inspection, food sorting
Open Hands Food Pantry
301 S. 17th St, Donna, TX 78437
David Green: (956) 461-6920
Call for volunteer hours
Volunteer Tasks: sorting, distributing, and preparing food packages
Mission Food Pantry
1400 E. Kika De La Garza St., Mission, TX 78572
Carmen Flores: (956) 585-3004
Tuesdays & Thursdays 8:00AM - 12:00PM
Volunteer Tasks: hand out and sort donations
Loaves and Fishes of the Rio Grande Valley
514 South E. St, Harlingen, TX 78550
Stella Ruiz: (956) 423-1014
Call for volunteer hours
Volunteer Tasks: preparing and serving food, stocking shelves in pantry
UTRGV Student Food Pantry
1201 W. University Dr., Edinburg, TX 78539
(956) 665-3663, foodpantry@utrgv.edu
Monday, Tuesday, Thursday 4:00PM - 6:00PM, Friday 3:00PM - 5:00PM
Volunteer Tasks: stocking shelves, rotating inventory, pre-packaging food items, assisting with food drives
St. George Food Pantry
704 W. Sam Houston, Pharr, TX 78577
Father Antonio: (956) 781-6114, info@stgeorgepantry.org
Two Wednesdays a month, call or email to confirm
Volunteer Tasks: unload food, sort, and distribute
Charitable Organizations
Stipulations: Must be 18 & up*, valid photo ID, fill out volunteer form*, clean criminal record check^, must be 16 & up^
Salvation Army of McAllen
1600 N. 23rd St., McAllen, TX, 78501
Rosa De La More: (956) 682-1468
Monday-Friday 11:00AM - 2:00PM, 4:00PM - 6:00PM
Volunteer Tasks: food preparation, serving food, and clean up after meals
Ronald McDonald House
1720 Treasure Hills, Harlingen, TX 78550
Vanessa Tobias: (956) 412-7200
Monday-Friday 8:00AM - 7:00PM
Volunteer Tasks: food preparation, serving food, and clean up after meals