Past Research Archive
2020 SAES Conference

On Friday, February 7, four of our graduate students presented the results of their thesis work to members of the South Texas scientific community at the annual meeting of the Subtropical Agriculture and Environments Society. Matthew Kutugata shared his analysis of drone imagery to improve cover crop biomass estimates, Qulina Rai discussed nodulation and nitrogen fixation by sunn hemp, a promising subtropical cover crop, Joy Youwakim and undergraduate Natalia Nevarez presented their work on heavy metal levels in area soils, and Katie Lavallee discussed her work on native seed germination and their potential as cover crop options. Congratulations to all the presenters for practicing their scientific communication skills and representing the Agroecology Program well.
---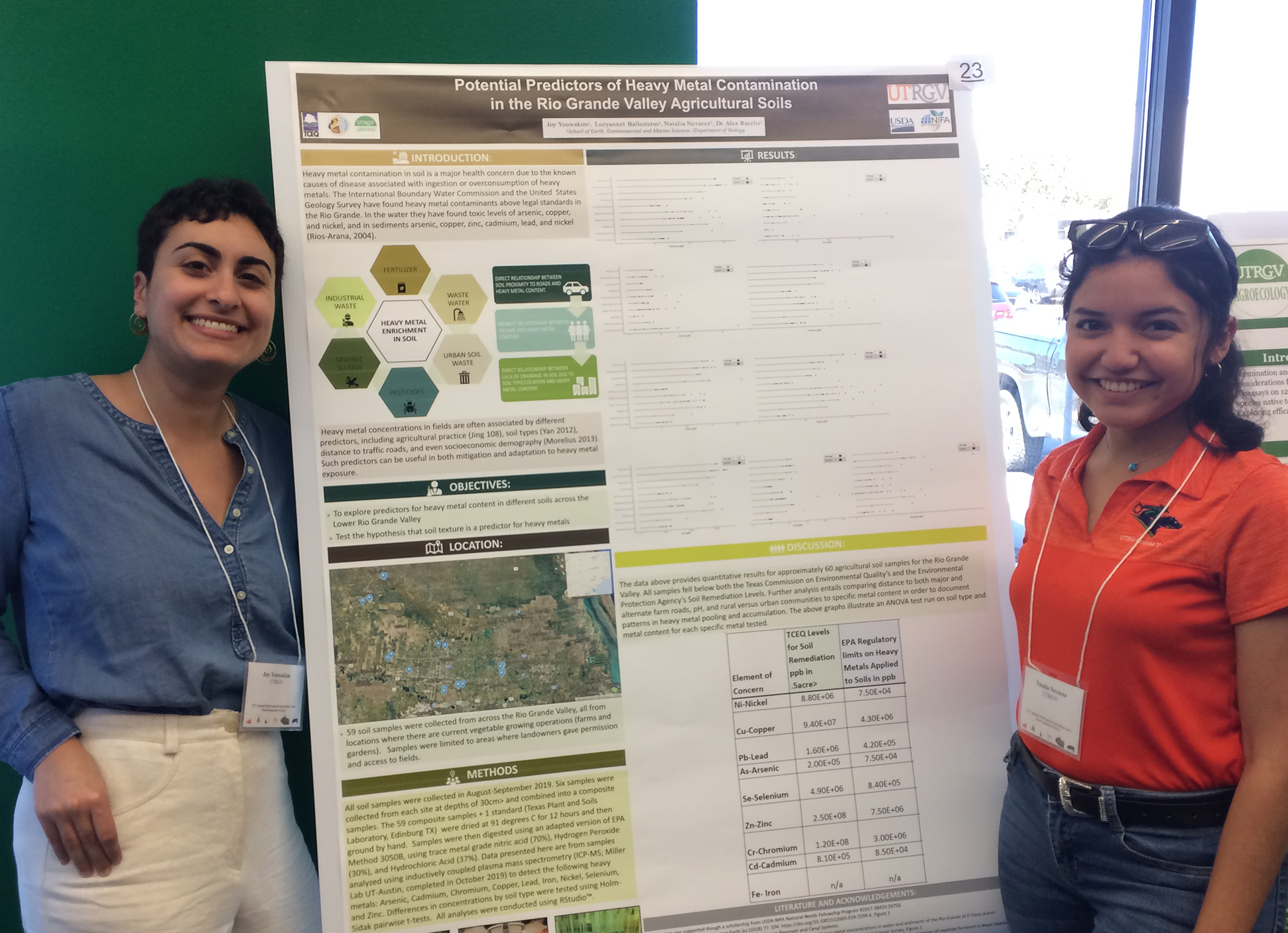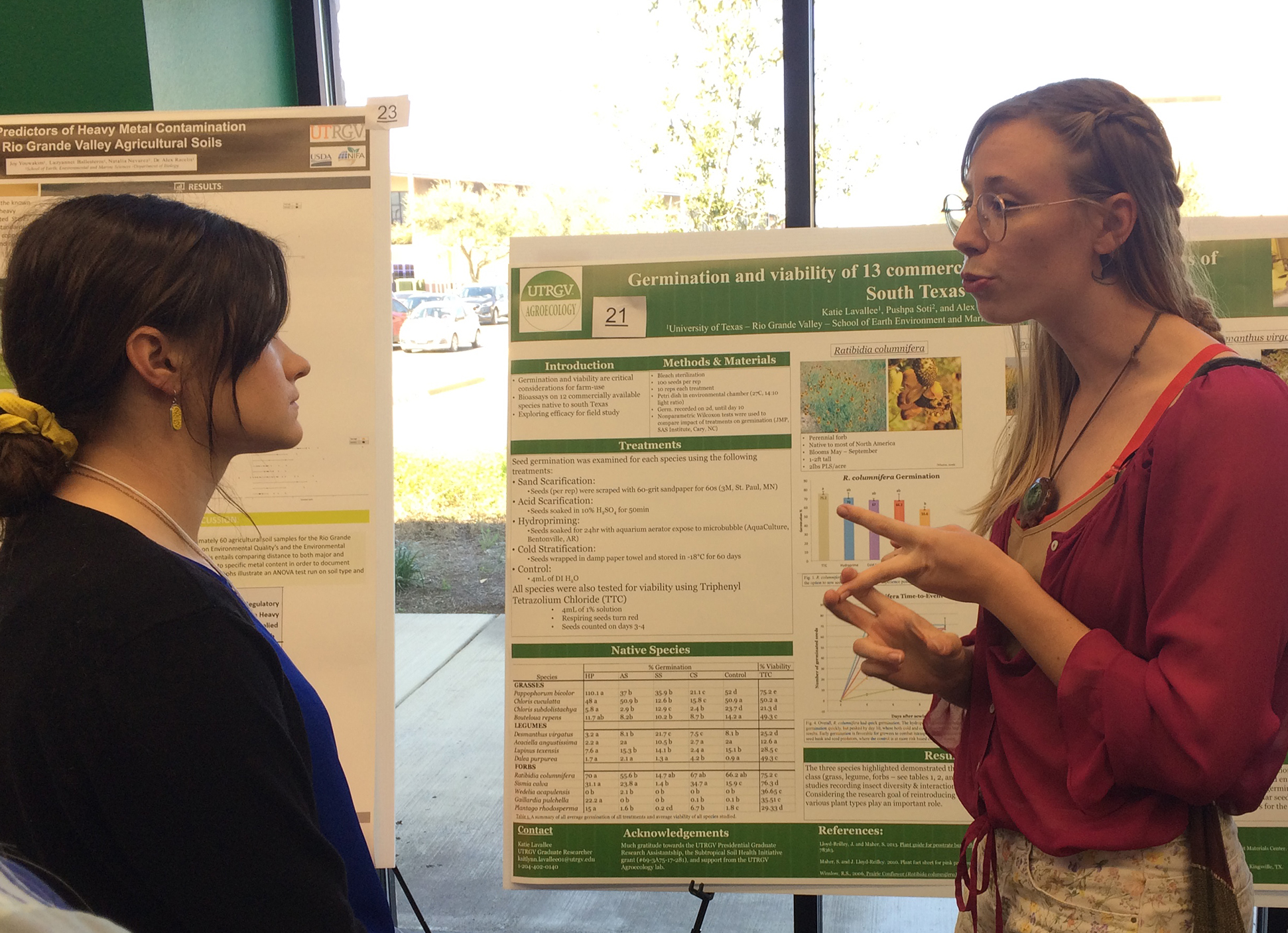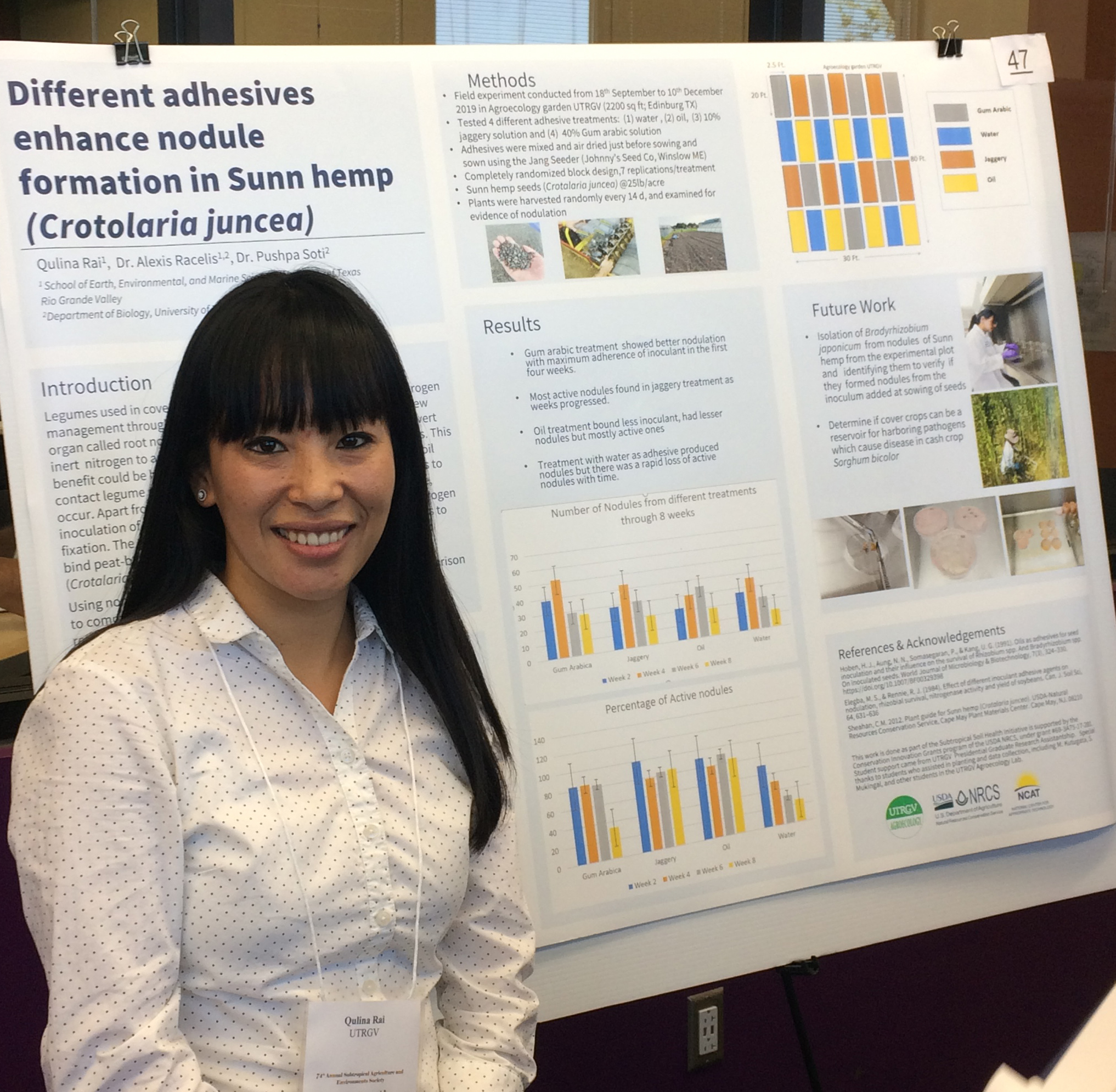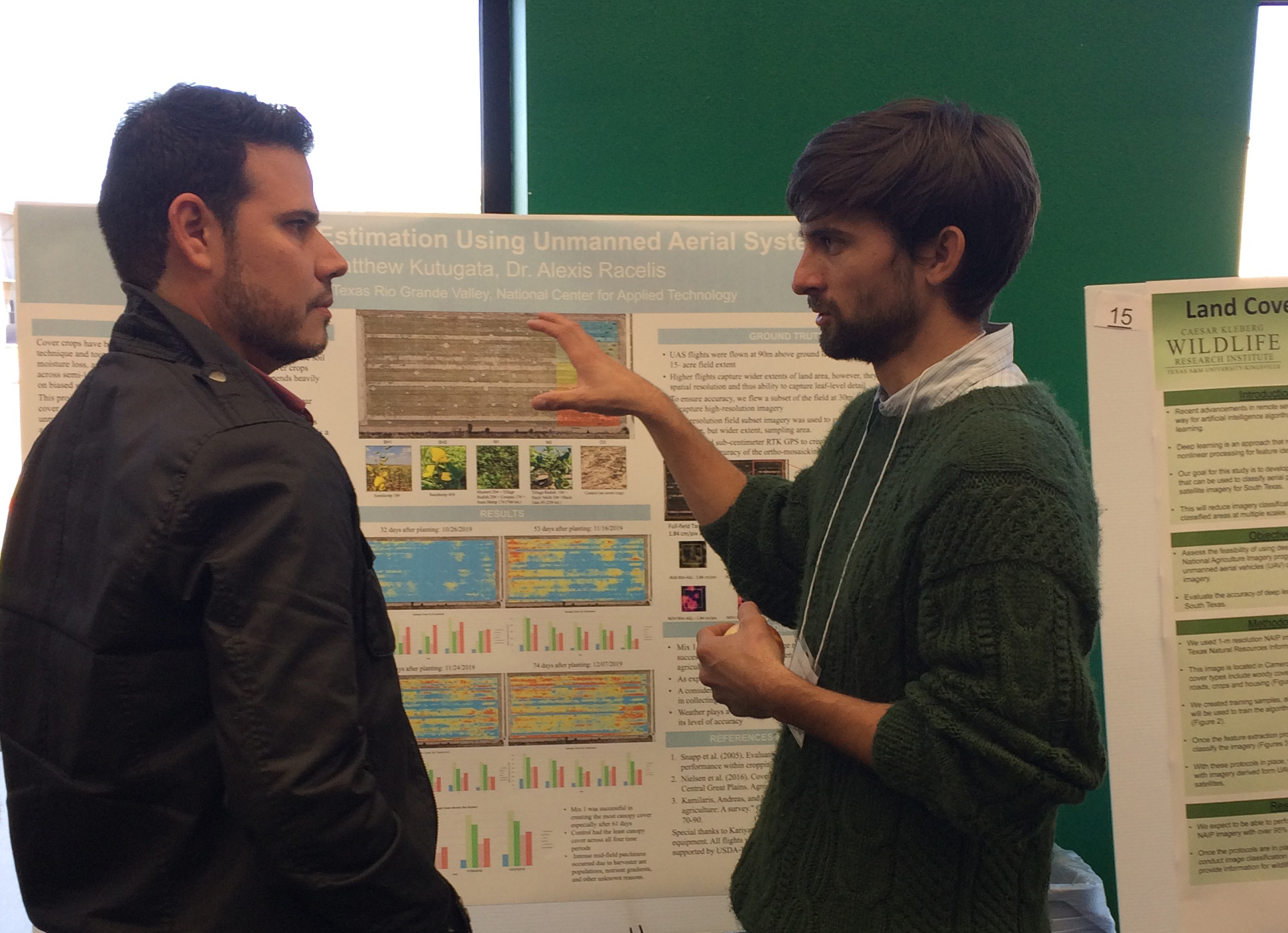 ---
Subtropical Agriculture & Environments Society (SAES) Conference 2018
Students of agroecology departments from UTRGV, Florida International University, and New Mexico State University gathered at the 72 ndanniversary of SAES where out-of-state students learned about the agroecology research being done in the Rio Grande Valley (RGV). Students of UTRGV presented their research at SAES and guided out-of-state students through sustainable agricultural farms in the RGV.
---
Managing Global Resources For A Secure Future 2017
Research scientist Pushpa Soti and student researcher Eric Cantu presented their research at the Managing Global Resources for a Secure Future conference on October 25 th, 2017. Pushpa Soti's presentation consisted of determining "the right cover crop or cover crop mix, by evaluating the agronomic, environmental and economic benefits, ultimately address local farmers' priorities to overcome barrier to organic agriculture in this region." Eric's research consisted of evaluating "the soil nutrient status, soil health, and soil carbon stock under: organic, transitional, and conventional farming." 
---
Planta Nativa Party 2017
At the 3rd annual Planta Nativa party, our culture was celebrated and the community was informed about the benefits of native plants, UTRGV Agroecology students presented their research concerning cover crops, urban forestation, and more!
---
3rd Annual Food Security Forum
The 3rd Annual Food Forum was held on Tuesday April 4th at the Edinburg campus. The theme this year was moving towards food sovereignty through practice, policy, and partnerships. This year's forum featured Dr. Raj Patel, an internationally known expert in the field of food security. Also, featured was Alyssa Herold, Texas State Lead for National Farm-to-School Program (Texas Department of Agriculture), Debra Franco, Regional Coordinator of the No Hungry Kid Program, Texas Hunger Initiative, and Dr. Sudershan Pasupuleti, Professor and Chair of the Department of Social Work, and Juan Raygoza, owner of Terra Preta Farm and Director of the UTRGV Beginning Farmers and Ranchers Program. This forum sparked dialogue about existing opportunities and resources to work together to define the future of our own food system here in the RGV.
---
Lozano Long Conference 2017
In late February 2017, six students from the Agroecology program traveled to Austin, Texas for the Lozano Long Conference 2017 - Revoluciones Alimentrias taking place at the University of Texas at Austin. The conference consisted of three days where these students learned an abundance on new perspectives on the contemporary food system in Latin America. After absorbing knowledge from presenters around the world, the students enjoyed their leisure time exploring the UT Austin campus, as well as the city itself.
---
Organic Farming Conference and USDA Hispanic-Serving Institution Meeting
In February 2017 four students from the Agroecology program traveled to Albuquerque, New Mexico for the Organic Farming Conference, an annual opportunity for farmers and ranchers from around the Southwest to share their experiences and expertise. They also attended the USDA Hispanic-Serving Institution meeting held at New Mexico State University on behalf of the National Institute of Food and Agriculture. These five students presented their research in poster format, then the conferences were followed by tours of facilities and greenhouse farms around the area. On their leisure time they visited Sandia Peak and went for a soothing hike through the snow and mountains.
---
2nd Annual Food Forum
The 2nd Annual Food Forum was held on Thursday April 7th at the Edinburg campus. The theme this year was Hunger and Resilient Food Systems in the Rio Grande Valley. Our panel consisted of many influential residents of the Rio Grande Valley with representation from the RGV Food Bank and the Brownsville Wellness Coalition amongst others. We had special guests Edwin Marty, the Food Policy Manager from Austin, TX and Jeremy Everett, the founder and director of the Texas Hunger Initiative join us for a thoughtful discussion on the issues we face in the valley with some solutions to follow. Everyone left feeling inspired to make the changes necessary to counterbalance our disproportionate food systems with high rates of health-related diseases and the prosperous agricultural land that surrounds the sick and hungry.
---
Subtropical Agriculture & Environment Society 70th Meeting
On Friday February 5th the Agroecology lab went to Weslaco for the 70th annual SAES meeting to present their research in both poster and oral format. Our very own, Alejandra Fuentes received recognition for her work on the Brevipalpus mite the vector of citrus leprosis virus.
---
Organic Farming Research Growing at UTPA
Check out the Monitor's article detailing our official organic certification. October 13 th, 2014
Subtropical Organic Agriculture Research (SOAR) Partnership
Funded by USDA -NIFA-Organic Research Transitions program
Subtropical Organic Agriculture Research (SOAR) Partnership: A participatory academic program to fill research needs of farmers in S. Texas (Funded by USDA-NIFA-Organic Research Transitions program). Organic farmers in South Texas, and those interested in transitioning to organic production, face many challenges, including extremely intense pest pressure and uncertainty with changing climate and water availability. Especially since the 2011 closing of the USDA-ARS Subtropical Agricultural Research Center in Weslaco, Texas, there has been very little research support available to these growers, in one of the most important agricultural regions in Texas. Strategically situated in subtropical south Texas, the University of Texas-Rio Grande Valley will build upon its status as a USDA-designated Hispanic Serving Agricultural College and University (HSACU) by launching an innovative new academic program that engages students in rigorous, well-designed research projects designed to address real-world problems faced by organic farmers in South Texas. Using a participatory research approach, the project team will identify pressing research needs by interviewing farmers, agency staff, and organic inspectors. Students will help design and carry out supervised research studies to answer these questions. This practical field research experience will be at the center of an innovative experiential learning emphasis that will prepare students to become effective scientific researchers and will raise their awareness of the ecological benefits of organic farming. The project will also provide an research-based educational program to inform growers, extension agents, and others about organic requirements, certification, marketing, processing facilities, enterprise budgets, and production methods. The ultimate goal of the project is to make South Texas organic producers more competitive by meeting some of their most urgent research needs and by publicizing research findings widely. In the spring of 2014, several projects looking at integrated pest management strategies, cover cropping, and sustainable weeding were conducted by our team of researchers, students, and farmers. By incorporating annual flowering plants into organic kale systems, we identified multiple hostplants that can attract beneficial insects as well as potentially repel Green Peach aphids. We also trialed four species of cover crop that are relatively new to the valley and assessed their influence on soil fertility. Student led projects have looked at relationships between tomato varieties, intercropping, yield, and biological control of whiteflies, while future studies will investigate the use of repellant plants in managing leafcutter ants.
Principal Investigators:
Facebook: The SOAR Partnership
View Images about the Subtropical Organic Agriculture Research
---
BASE - Building Agricultural Science Foundation. A Florida, Texas, New Mexico consortium  

-Research to improve composting practices at the City of McAllen Composting Facility
-Native plant production for ecological restoration with Perez Ranch (La Joya, TX)
---
Past species-specific research:
Arundo donax

is an extremely invasive grass from Spain. It grows along rivers and utilizes an immense amount of water. USDA/ARS has various bio-control agents to cause a reduction in the growth rate of Arundo donax. The analysis of water consumption of the grass is being observed after the introduction of the biological control agents (insects), which has resulted in the reduction of water use.
 

Asian Citrus Psyllid

Research has been conducted in marking techniques and biological control of the invasive Asian Citrus Psyllid insect (D. citri). Through biological and geographic data in relation to the spread of invasive species, its predators, and host vegetation the parasitic wasp (Tamarixia radiata) have been used as a form of biological control.

Brevipalpus mites

have been reported to be present in tropical and subtropical regions and around the world. The Brevipalpus species have been associated with the transmission of several plant viral diseases, including citrus leprosis, which is among the most serious diseases of citrus in the world. Even though it is not currently present in the U.S. potential vectors of this disease have been reportedly established in Texas citrus, but the host range of these species in the LRGV are still unknown, which is the purpose behind this research. This information can be implemented for quarantine purposes and to optimize further research by developing effective control strategies.

Cattle Fever Tick (Rhipicephalus microplus)

Ticks are considered important arthropods, because of their ability to vector a large range of diseases to humans, companion animals, livestock, and wildlife. Specifically, Rhipicephalus microplus and Rhipicephalus annulatus transmit protozoan blood pathogens, which has devastated the cattle industry. The Cattle Fever Tick Research Laboratory was established to research and provide novel methods in both eradicating and controlling the ticks. The average adult will last 3-4 weeks on-host but 80-90% of their life cycle is spent in the environment off-host.