Social Work Degrees
Whether you want to prepare for leadership roles serving your community at an agency level or focus on assisting individuals and family groups, The University of Texas Rio Grande Valley offers affordable, real-world online degree programs to further your career in social work.
As the second largest Hispanic-serving institution in the nation, UTRGV social work programs are designed with the Latino populations in mind. Degree coursework is centered on improving social conditions and access within the Latino community and analyzing the efficacy of standard practice models with respect to diverse populations.
When you complete your program, you will be eligible to take the exams to attain Licensed Master Social Worker (LMSW) credentials.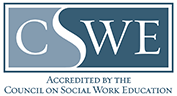 UTRGV social work programs are CSWE accredited