Wednesday, June 1, 2022
  Around Campus
By News and Internal Communications
RIO GRANDE VALLEY, TEXAS – UTRGV launched its Campus Food Security Initiative (CFSI) in April 2020, during the height of COVID-19 lockdowns.
The main goal was to address systemic issues, like food insecurity, on college campuses. And, in addition to helping feed the campus community, CFSI was designed with a unique, underlying goal – to create experiential learning opportunities for students. 
By creating easy access to locally grown and sourced fresh produce and plant-based foods, the initiative has created a strong network of campuswide stakeholders and external partners.
Concurrently, the program developed its experiential learning and professional development components – designed to help students develop the technical and soft skills needed to compete in the job market. 
Today, the student-centered, student-driven initiative continues to provide opportunities for students hired for the project to gain workforce-specific skills like teamwork, professional communication, customer service, critical thinking and problem solving, to name a few.
Student research assistants hired for the project are involved in creating plant-based food recipes with locally grown produce at the CFSI research kitchen, under the guidance of a professional chef.
And food promotions assistants learn how to promote sustainable food systems – such as local farms, fresh produce, CFSI activities and plant-based food – through social medial channels.
CFSI – THE FIRST TWO YEARS
When it started in 2020, the CFSI team, through weekly fresh produce stands, consisted of 10 student assistants who gained ongoing training and mentoring on the job. They served almost 3,500 people from the campus community, 58 percent of them students.
The initiative was launched with support from Dr. Parwinder Grewal, then the executive vice president for Research, Graduate Studies and New Program Development. After year one, the initiative has been funded through the Student Fee Advisory Committee (SFAC).  
In year two of operations, CFSI focused on creating a strong online presence through a resourceful website (www.utrgv.edu/pewd/cfsi), with recipes and a Sustainable Table Food Demonstration series, in collaboration with the Student Government Association (SGA) and Staff Senate leadership.
YEAR THREE: IMMERSIVE EXPERIENTIAL LEARNING
CFSI activities now are focused on capacity building for student groups through peer-to-peer networking, the campus community garden, and creation of a sustainable food network (SFN).
SFN, a network of stakeholders who support sustainable food systems – including the UTRGV Food Pantry, Community Gardens, Nutritional Sciences program, the farm program, SGA and Sustainable Agriculture & Rural Advancement (SARA) – quickly evolved to become a think tank that provided the support to engage with the campus community.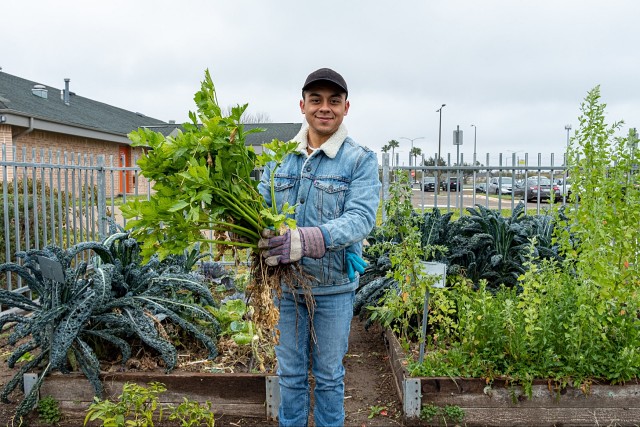 The CFSI team created a specialized training program that helped student organizations have immersive experiential learning in the farm-to-fork concept, harvesting produce from local farms, learning to prepare delicious, plant-based recipes from the CFSI team, and selling freshly prepared lunch boxes on campus to raise funds for their organizations.
Jayshree Bhat, UTRGV assistant vice president for Professional Education and Workforce Development and the driving force behind CFSI, said this is a unique capacity-building model.
"It creates intense experiential learning opportunities that go far beyond traditional classroom learning," Bhat said, "and students become acutely aware of the importance of integrating locally grown produce into their diets and sustainable food systems."
The efforts of the grassroots initiative have led to students and faculty finding ways to embed these practices into their academic work this academic year.
Rachel Villarreal – clinical associate professor, program director for the MS in Dietetics, and interim program director for the Master's in Dietetics in the Department of Health and Biomedical Sciences, College of Health Professions – integrated a supervised experiential learning component into the DIET 6511 course.
Cosme Rubalcaba, a graduate student in the Dietetics program, was selected to present is research poster, "No Poverty, Zero Hunger and a Good Health Framework to Promote Sustainability at UTRGV," based on finding from his work as a CFSI research assistant.
And Job Martinez, who has worn many hats on campus as a student leader, was selected to present his research poster, "Sustainable Methods: The Power of a Single Garden Bed," based on his involvement with CFSI and the Community Garden project.
WHAT LIES AHEAD
The future for CFSI includes leveraging a strong network of farmers cultivated through the CFSI initiative, to increase utilization of civic, or Community Supported Agriculture (CSA), by the campus community.
An interdisciplinary group of students will work as a team under the guidance of a facilitator to develop a software solution that will connect local farmers to consumers and help them scale up, connecting farmers at various locations where UTRGV has a presence in the region. This would involve creating a system in which UTRGV employees could enroll in the CSA program to purchase fresh produce from nearby farmers during the growing season.
"The CFSI will continue to build capacity in various ways, to meet its mission and vision of zero hunger in our community," Bhat said.
She said she is grateful for the funding from the Student Fee Advisory Committee, which has helped scale up the project, and for the ongoing partnership with BSM Global Blends, where the CFSI research kitchen is located. 
"This partnership has been very fruitful in creating easy access to freshly prepared food for students," Bhat said, "and the pay-what-you-can model helps alleviate the stigma attached to hunger."
For more information about CFSI, visit www.utrgv.edu/pewd/cfsi or call 956-665-6578.
ABOUT UTRGV
The University of Texas Rio Grande Valley (UTRGV) was created by the Texas Legislature in 2013 as the first major public university of the 21st century in Texas. This transformative initiative provided the opportunity to expand educational opportunities in the Rio Grande Valley, including a new School of Medicine, and made it possible for residents of the region to benefit from the Permanent University Fund – a public endowment contributing support to the University of Texas System and other institutions.
UTRGV has campuses and off-campus research and teaching sites throughout the Rio Grande Valley including in Boca Chica Beach, Brownsville (formerly The University of Texas at Brownsville campus), Edinburg (formerly The University of Texas-Pan American campus), Harlingen, McAllen, Port Isabel, Rio Grande City, and South Padre Island. UTRGV, a comprehensive academic institution, enrolled its first class in the fall of 2015, and the School of Medicine welcomed its first class in the summer of 2016.