Friday, May 15, 2020
  Community, Around Campus
By Amanda Alaniz
 PHOTO GALLERY by David Pike
RIO GRANDE VALLEY, TEXAS – Many college campuses around the country increasingly are seeing students struggling with food insecurity and lack of access to fresh and healthy food they can afford.
UTRGV is no exception. So, to address the problem, the university has created an initiative to help provide students and employees with easy access to fresh produce. 
The Office of Professional Education and Workforce Development and UTRGV's Baptist Student Ministry (BSM) are partnered on the Food Security Initiative, based on a "pay what you can" model, at the Edinburg and Brownsville campuses. 
The campus-based initiative – supported by the university's Center for Sustainable Agriculture and Rural Advancement (SARA), the Office of Sustainability, UTRGV Farm (Hub of Prosperity), local farmers and other student organizations – brings fresh, locally sourced produce, nutritious recipes and BSM Global Blends' newly introduced healthy menu items to the campus community.
Those using the service will be able to select from a variety of seasonal produce, such as tomatoes, cabbage, onions, broccoli, beets, kohlrabi and carrots. There is no set charge, but people can make a monetary donation to BSM based on what they can afford to pay.
The initiative is also designed to serve as a drive for the campus-based sustainable food systems, with unique professional development opportunities for students. It will help guide students to build a network of peers who will support and uphold the principles of sustainable food systems on campus. 
The Food Security Initiative was formulated after a study conducted at UTRGV looked at hunger on campus in 2019.
IDENTIFYING PROBLEMS, SEEKING SOLUTIONS
Dr. Parwinder Grewal, UTRGV executive vice president for Research, Graduate Studies and New Program Development, created the Sustainability Fellowship for Students, and they were put in charge of surveying students about food insecurity.
"We heard from many students that there is hunger on campus. Sometimes, students don't go to class, and if they do go to class, their mind is somewhere else." Grewal said. "For us, it was a student success issue. We started to think, 'Let us look at what is the extent of the problem?' If you look at national data, many campuses have reported this. So, I put several students together and created a Sustainability Fellowship for students. Then, they came together to do a survey of our own students."
The group surveyed the student population and received nearly 3,000 responses. The results showed about 44 percent of university students surveyed were food insecure. 
Once they had the data, they had to address it – and find a solution. 
Jayshree Bhat, assistant vice president of the Office of Professional Education and Workforce Development, is spearheading the Food Security Initiative. Its purpose, she said, is to help eliminate hunger on campus and enhance access to healthy foods at a low cost.
"If you really look at initiatives like this, in the long run, they have a very positive and very impactful effect on lifestyle and the way people respond to food," she said. "We'll be influencing the community with what we are doing."
Bhat heard about the BSM Global Blends and their efforts to help the UTRGV community have access to healthy food alternatives and saw an opportunity for collaboration. At a meeting with Robert Rueda, director of BSM at UTRGV, they discussed how the initiative could align with BSM's efforts of supporting a healthy community.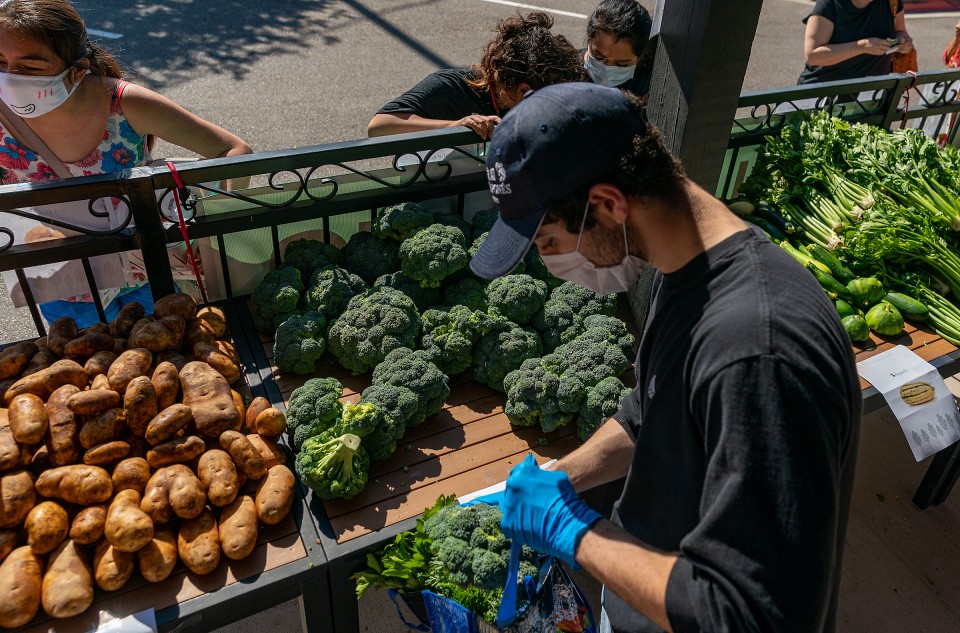 COMMUNITY COMMITMENT
Gabriela Izaguirre, a Campus Missionary intern with BSM, helps maintain the Global Blends building and offers assistance on Friday's, when the produce is made available to the public. 
The initiative really shows how connected UTRGV is with the community, she said, and highlights how it strives to find ways to help the common good. 
"I think the initiative says a lot about how much UTRGV is striving to be that voice and that example. It shows how much the students and staff are willing to participate," Izaguirre said. "And the community is responding well to it."
On the very first day of the initiative, the produce ran out on both campuses. Bhat said they'll be changing the way people pick up the produce – to make it more like a farmer's market than pre-packaged bags – having more produce available, and eventually getting more student organizations participating in these events.
The organizations involved are hoping that, long term, the initiative will lead the community to adopt healthier habits and stronger connections between local farmers, the community and each other.
"At some point, we'll have to connect the local farmers to our campus community, so we can begin to hold regular farmers markets," Bhat said. "I would love to see that happen because that then becomes the true essence of a community-engaged campus."
PRODUCE PICK-UP SCHEDULES
The Food Security Initiative is taking place in Edinburg and Brownsville campuses every Friday from 10 a.m. to noon while produce remains available. Be sure to bring your UTRGV ID, and recyclable bags to pick up the produce.
Edinburg Campus:

 

Produce will be available for pickup at the BSM Global Blends parking lot, 1605 W. Schunior, across from the UREC.
Brownsville Campus:

 

Pickup is at the Brownsville Research and Community Garden (BRCG), located behind the Casa Bella office, 2651 FJRM Ave.
The Office of Professional Education and Workforce Development started a YouTube channel that showcases video recipes using fresh produce.
Learn more about the produce initiative by calling (956) 665-6513 or send an email to pewdoffice@utrgv.edu. 
ABOUT UTRGV
The University of Texas Rio Grande Valley (UTRGV) was created by the Texas Legislature in 2013 as the first major public university of the 21st century in Texas. This transformative initiative provided the opportunity to expand educational opportunities in the Rio Grande Valley, including a new School of Medicine, and made it possible for residents of the region to benefit from the Permanent University Fund – a public endowment contributing support to the University of Texas System and other institutions.
UTRGV has campuses and off-campus research and teaching sites throughout the Rio Grande Valley including in Boca Chica Beach, Brownsville (formerly The University of Texas at Brownsville campus), Edinburg (formerly The University of Texas-Pan American campus), Harlingen, McAllen, Port Isabel, Rio Grande City, and South Padre Island. UTRGV, a comprehensive academic institution, enrolled its first class in the fall of 2015, and the School of Medicine welcomed its first class in the summer of 2016.