Some Friendly Advice
Friday, December 02, 2016 | 12:00 AM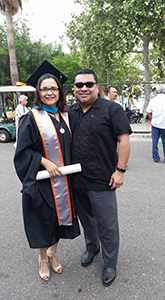 Diana Almaguer was considering earning a Master of Public Affairs (MPA) degree, but she didn't want to sacrifice time with her family or at her job. The solution came in the form of a suggestion from a friend that led her back to a very familiar place.
"She [Ida Cavazos-Lindau] said, 'Hey, this program is going on that you can do online,'" Almaguer said. "'You pretty much do it how you can . . . it's up to you. So, what do you think?'"
Almaguer was skeptical.
"I said, 'It's very difficult because, with a nonprofit, I have to be out there fundraising and going to meetings. It wouldn't fit into my schedule.'"
But Cavazos-Lindau wasn't about to give up that easily. And Almaguer, who is the Executive Director of Court Appointed Special Attorneys (CASA) of Hidalgo County in Edinburg, Texas, is grateful for her friend's persistence.
"She said, 'Well, everything's online. Inquire, find out some information and make up your mind then.' In discussing it with my husband [Ignacio] and my children [Daniela and Carlos], they said, 'Go for it. Go for it. It's online, and we can help you.' That's why I decided to go back."
Relevant, Helpful Coursework
Fast-forward to March 2016. Almaguer walked the stage at the University of Texas Rio Grande Valley with her MPA in hand and the knowledge underneath her graduation cap to be an even more effective leader, just 12 months after starting her degree program.
"I found that a lot of these courses were maybe something I should have taken prior to becoming director, but it worked out great," Almaguer said. "It actually helped me improve on what I'm currently doing with my administrative duties. Most of these classes really helped me understand what I needed to be doing, because you don't have any training when you come to a nonprofit. I used to work for the state for 12 years. The state provides training for the job you apply for."
Before she started her online degree, Almaguer wasn't a big fan of grant writing, an integral part of her job.
"I can tell you right now, as director, one of my weaknesses was grant writing; I always feared it," Almaguer said. "When we took the grant writing course, it helped me in the program I was doing and to look at grant writing in a different way instead of some scary thing you have to be doing.
"With the capstone project, at the end, we were able to put together everything we learned in our courses and help another nonprofit, the Edinburg Housing Authority, try to figure out a program, from start to the finish. The capstone and grant writing were really helpful in helping me understand."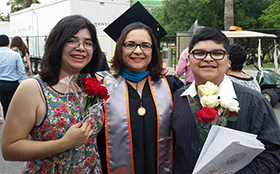 Almaguer with her two kids at graduation
Continuing Education
Almaguer, who grew up in McAllen, Texas, earned her bachelor's degree from one of the schools that merged to form UTRGV, the University of Texas Pan American, in 1999. Her daughter is currently attending UTRGV on campus, pursuing a degree in mechanical engineering.
After graduation from UTRGV, Almaguer decided to continue her education and earn her Ph.D. in Leadership at Our Lady of the Lake University. And it all started with a friend encouraging her to take that initial leap of faith.
"As executive director of a nonprofit, I don't work 40 hours a week — sometimes I work more than that," Almaguer said. "Like I said, I have my two children and my husband to tend to. Aside from that, I'm involved with other organizations by giving of my time. This fit in perfectly. I didn't have to be away from my kids. I could be cooking dinner while working on my assignment. I could be working on my assignment with the kids around me. It was so much easier than having to drive to campus."
And Almaguer would absolutely encourage anybody considering an online degree from UTRGV to "go for it."
"It can be done," she said. "I did it on the weekends, too. There was that sacrifice because I took two classes at a time instead of going one class at a time. If I was able to do it, I think anybody can. I can be at work and do some of the assignments during my break, or I can be at home with my family and still work on the assignment, as well. It's a great thing to do."
---
Learn about University of Texas Rio Grande Valley online MPA program.
---
Have a question or concern about this article? Please contact us.
---