Melissa Ipina an Online MPA Alumna, Program Coordinator at UTRGV
Monday, November 14, 2016 | 12:00 AM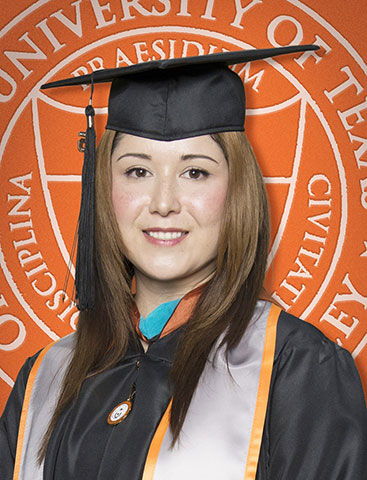 Talk about combining work and school.
Melissa Marie Ipina earned her Master of Public Administration online from The University of Texas Rio Grande Valley (UTRGV) in 2015, two years after she started working for the university. That degree was renamed to Master of Public Affairs after the University of Texas at Brownsville/Texas Southmost College and the University of Texas-Pan American joined forces in 2013 to become UTRGV. Ipina was part of the first graduating class at UTRGV.
"Familiarity is a good thing," Ipina said. "It was very good with my work and time management. Completing my degree online while maintaining a work/life balance really worked out for me."
As a single mother to her son, Kiernan Andrew McShane, 9, a flexible schedule was essential to Ipina managing everything on her very full plate.
"I could be up at 2 a.m. and finish whatever I needed to do, and then my day started," Ipina said. "I know what it's like to have work or assignments take time out of your child's life. For me to be able to do it while he was asleep was perfect."
Ipina lives in Weslaco, Texas, where she grew up. And she was confident her new employer would also provide the perfect place for her to continue her higher education.
"There are so many choices out there you can pick from," she said. "To me, it was good to have something local at the university in the area. If I needed to get help right away, it wasn't just online. I knew I could go to the institution, as well."
Good Study Habits Early On
Online MPA graduate, Melissa Ipina with her son Kiernan.
Ipina earned her Bachelor of Science in Business Administration from Towson University, near Baltimore, after attending Hartford Community College for two years. She moved back home so she and her son could be closer to her family.
"Family is important to me, and I wanted my son to grow up knowing his family in South Texas," Ipina said. "I completed my Bachelor of Science in Business Administration in Towson, Maryland, because it gave me the opportunity to expand my knowledge in an out-of-state institution, and opened up my experiences working with diverse cultures."
While she was finishing up her bachelor's, Ipina would have "study time" with Kiernan, which she believes helped instill good habits in her son early.
"He's pretty good in school," she said. "When he was younger, he did homework with me. It was more homework like drawing inside the lines, but that was part of our time during the week day. And on the weekends, of course, we'd go outside or [go] hiking. He likes games and he's very proactive."
Ipina said her son is now seeing the results of having that routine with her each day. She says he's more independent and becoming more engaged in school.
"It's really benefited us, because he can do his assignments and check over his work by himself, and then we'll review it," she said.
And Kiernan certainly motivated Ipina to finish up her bachelor's and move on to her master's degree so she would have more career opportunities. She also plans to go all the way to the doctoral level. She hopes to start a program in the next year.
"There's a goal I've always known that I wanted to accomplish," Ipina said. "After I had my son, it became more prominent that I needed to finish. He was my motivating factor, my drive. [Children are] definitely a motivating factor for any parent.

Taking the Next Step
Once she moved back home to South Texas, Ipina decided it was time to get started on her MPA.
"I wasn't too familiar with the whole accelerated program," she said. "When I came back in 2012, I had asked about it. Simultaneously, I was applying for positions when I moved back down here from Maryland. The university was somewhere I wanted to work. With planning, I managed to land the position I applied for while simultaneously being accepted into the MPA online program."
Ipina said her family was 100 percent behind her decision to go back to school.
"They're proud. They know it's a lot of work, too. Having that positivity in the family helps," she said.
The only other member of her family who has earned a master's is her cousin, Lupita Villanueva, who also works for UTRGV as a senior program coordinator in the Family & Preventative Medicine Department. She also earned her MPA from UTRGV.
Real-World Application
Ipina said one of her favorite courses in the MPA program was Public Service Ethics (PAFF 6310).
"I like the courses on business ethics and business law. I enjoyed going into some of the governing factors and how the institution, city, and state revolve around them," Ipina said. "It really helped put things into perspective in more of a real-life basis. You're tying it all together, so the reports we did were real-life scenarios. You had to know who your commissioner was, your city or state representative, and then tie it back into this plan of what your goal was."
Ipina was also able to apply that knowledge immediately to her career at UTRGV. She started as a program coordinator in the College of Education in August 2016. Ipina said she helps with accountability strategies for teachers going into the field. Prior to that, she was the Service Center Supervisor at the Academic Advising Center.
"I was able to work with some of the education leadership team members — discuss topics with the vice provosts and directors — and be at the same level with them as far as the planning and organizing," Ipina said. "I'm not at my goal yet; this is just one of my milestones. Eventually I'd like to be a director and work my way into a vice president/provost position."
And when it comes to earning a master's degree online, Ipina said it's important to prepare to work hard. Just like she prepared her son to take time out of the day to accomplish goals before he started going to school.
"Really going in with an expectation to go above and beyond," she said. "That's extremely important because you go in with this high expectation and the workload that comes with it, then you're mentally ready for it.'
---
Learn about University of Texas Rio Grande Valley online MPA program.
---
Have a question or concern about this article? Please contact us.
---