Globetrotter Edna Sanclemente Ready to Lead the Way With Her MPA
Wednesday, January 04, 2017 | 12:00 AM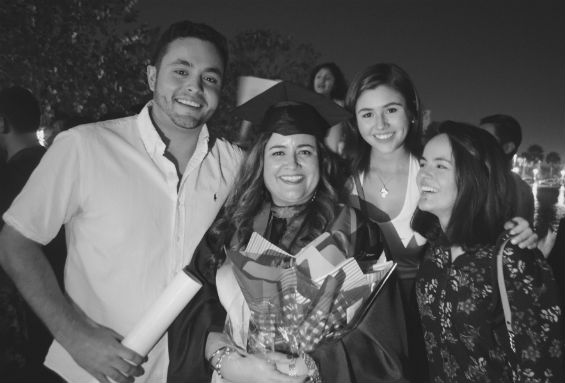 It makes perfect sense that Edna Sanclemente feels drawn to the field of international organizations — "International" is practically her middle name.
Sanclemente was born in Colombia, spent part of her childhood in Louisiana, attended high school in London and college in Paris, lives in Texas, and works in Mexico.
"I have an international background, so that's why I want to work in that area," she said. "My father was a petroleum engineer for Chevron Oil. His job required him to work overseas and this provided me with the opportunity to live and study in different parts of the world."
Sanclemente is ready to move forward in her career after earning a  Master of Public Affairs online from the University of Texas Rio Grande Valley with a perfect 4.0 GPA in August 2016. She also earned bachelor's degrees from The American University of Paris and the University of Texas-Pan American, which was one of two schools that merged to form UTRGV.
"I've been working for a nonprofit in Mexico, near the border," Sanclemente said. "I originally owned my own business [a day spa] before I took over this nonprofit project. That's how I became more interested in pursuing a career change to the public sector. I think my heart was more for serving the general public than serving private industry. That's when I figured I really needed to get my MPA to get the knowledge and the skills I needed for that career change."
Lending a Helping Hand
Since January 2012, Sanclemente has been a Project Manager for Arboledas de Reynosa A.C. in Reynosa, Mexico, near her hometown of McAllen, Texas.
"It's an organization that is funded by the World Bank to build low-income housing for families that are non-salary. In other words, people that were local street vendors or single mothers that didn't qualify for general credits," she said. "We built 500 homes, and now manage the mortgages, as well. It has been both challenging and fulfilling. It's always good to help people — especially in the area and the community where you live."
With the project now in its final stages, Sanclemente is looking at possibly taking a full-time consulting position with Pan American Health Organization in Washington, D.C. She did an eight-week internship with that organization shortly after she graduated from UTRGV. The full-time position would be with the same team she worked with in strategic initiatives during the internship.
"During my internship at PAHO I was able to attend the annual meeting of all the member countries," Sanclemente said. "There are 48 member countries, so it was kind of like a mini United Nations setting. Of course, it was all health oriented, with topics on the latest developments of the Zika virus, the eradication of measles, and other health issues. I was able to meet a lot of the health ministers from the different countries, so that was a great experience for me."
Additionally, she gained valuable insight into the management side of the organization.
"Of course, that was what I was there for," she said. "The PAHO is updating its whole administrative system. It is moving from a paper-based to a cloud-based system. I was helping them train people and develop training paperwork, such as job aids and standard operating procedures. I was able to put my newly earned MPA skills to work."
Online Flexibility Was the Right Fit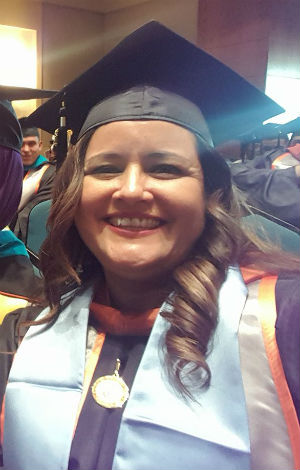 Sanclemente, who is also a Youth Leader volunteer at Palm Valley Church, was originally going to earn an MPA by taking night classes at UTRGV. However, the online option was a better fit for her busy schedule.
"It was a lot of work," she said. "I'd have to stay up late often to do work, but it was definitely a schedule that was workable and fit perfectly. Of course, my kids are grown, but there were other classmates that had full time jobs and small children and it was even harder for them."
Sanclemente said her children, Francheska Loza (24), Julio Loza (21) and Samantha Loza (18), were thrilled to see her go back to school for her master's degree. Francheska recently graduated from Harvard, while Julio and Samantha are just starting college.
"They were all excited, and they all supported me," she said. "It made going through the program a lot easier. They understood when I said, 'Okay, I can't do this today because I have to study.'"
And her kids were also pretty blown away by her grades.
"I was very proud, and my kids were very proud," Sanclemente said. "They were like, 'Oh my gosh, mom, we didn't know you were so smart.' It was good, especially since my kids are college age, so I tell them, 'You're going to get as much out of it as you put in with time and effort. You can do it. You just have to really have the heart for what you're studying.'"
Sanclemente walked the stage at the graduation ceremony a few months after she finished her MPA online.
"I originally thought, 'I'm not going to walk. I finished in August,'" she said. "The school has two graduations, so they didn't have one in August, but I walked in December. It definitely gave the accomplishment emotional value."
Preparing For the Future
The sky — and certainly the locale — seems to be the limit for Sanclemente's career. She now has an even deeper knowledge of all of the aspects of being a leader for an international organization, including ethics and grant writing.
"My favorite class was probably the Public Service Ethics [PAFF 6310] course," she said. "Some of the required video was of the "Justice" class at Harvard on ethics. It was really very interesting. I enjoyed it because it created a lot of discussion within the class and with my classmates about 'What do you think is correct?' or 'As a public servant what would you do in this situation?'"
Sanclemente added that the Grant Writing & Fund Development [PAFF 6317] course was very eye-opening.
"The Foundation Directory, a database with access to thousands of grants was something I never even knew existed. The class taught us how to apply for grants including how to write proposals," she said. "That was very interesting, as well."
In addition to the support she received from her friends and family, Sanclemente also got plenty of encouragement from school, including MPA Program Co-Coordinator  Dr. Aziza Zemrani.
"She's very knowledgeable and very experienced," Sanclemente said. "She has an incredible background, so it was always good to talk to her and get her support."
Sanclemente said earning an MPA online was absolutely worth the time and effort. She also has some advice for anybody considering the same online degree program: "I really think it's important to have a schedule down," she said. "It's very easy to get behind. If you don't keep up with the reading, you will definitely fall behind. You have to have a set schedule and that space allotted for studying. I would do that number one. Make sure your life is not crazy before you start the MPA.
"And you also need to be computer literate. You need to know how to make creative presentations and power points. If you don't have that training, you definitely need to get that before or maybe have somebody help you out throughout the program."
Diversity 101
Sanclemente couldn't imagine ever doing anything other than working for an international organization for the rest of her career. And she says that her passion for people of all nationalities originates all the way back at Mayrmount International School in London: "I loved it," she said. "The girls and I were all from different backgrounds and different nationalities. You learned to get along despite all of our cultural differences. And you become really close; you become like sisters. We had our 30th class reunion last year. We flew in from different countries, and the school had a fun weekend prepared for us. It was so much fun."
"Edna International Sanclemente" does have a pretty nice ring to it.
---
Learn about University of Texas Rio Grande Valley online MPA program.
---
Have a question or concern about this article? Please contact us.
---