Tutoring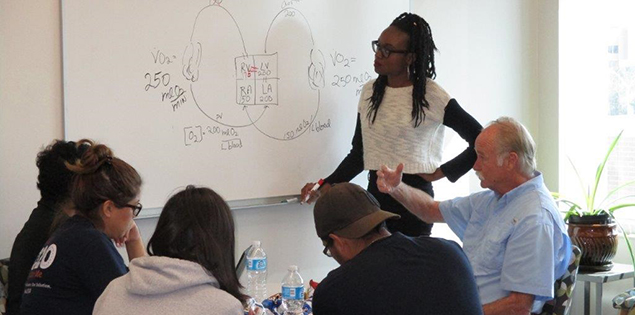 Welcome to the UTRGV School of Medicine Tutoring Program
Goal
The goal of the tutoring program is to help medical students become more self-sufficient, self-aware, and resourceful in their learning process by proving supplemental learning beyond, but not replacing, the classroom instruction.
Purpose
The tutoring program at UTRGV School of Medicine is a supplemental academic support service that provides opportunities for students to develop their content-based knowledge and critical thinking strategies required for both academic and professional success. 
Peer Tutoring
Peer tutoring is intended to provide academic support to students wishing to receive help with their modules outside of the classroom environment. Selected Year 2 and Year 3 medical students provide tutoring to Year 1 and Year 2 students, respectively. Peer tutors have successfully completed the SOM modules in which they are tutoring and participate in training seminars to further develop their tutoring skills.  
The tutoring program should help you with:
Learning to utilize fellow classmates, upper-class students, professors, and other resources in coping with medical school.
Learning to maximize the effort and time put into studying through self- awareness, experimentation, and application.
Understanding and putting to use principals of time management and pacing necessary for academic success at UTRGV School of Medicine.
Services Available:
Academic support in pre-clerkship medical curriculum
Specialty area tutoring in Anatomy Lab, Clinical Skills and Organ-Based Modules
Individual Tutoring
Group Tutoring
Online Tutoring
Module/Quiz Review Sessions
Resource Sessions
Peer tutors can help you with:
How to study for the modules; each module is different and may require a different study approach to maximize learning
Deciphering what is most important in a course and how to obtain that information
Maintaining a steady schedule and staying on top of your course work
Searching out answers to your questions
Reproducing what you have learned in order to fully assimilate information
Student Feedback
(Data collected August 2019)
Of 68 surveyed medical students:
99% were very satisfied/satisfied with the availability of peer tutoring
98% were very satisfied/satisfied with the helpfulness of their peer tutor(s)
97% were very satisfied/satisfied with relevant information and recommendations
97% were very satisfied/satisfied with the overall quality of the tutoring service
Tutoring Services are available as follows:
---
Peer Tutoring
Peer tutors are intended to provide an additional level of academic support to students wishing to receive help with their modules outside of the classroom environment. Selected Year 2 students/ peer tutors provide tutoring to Year 1 students. Peer tutors have successfully completed the SOM modules and have gone through prescribed training. Peer tutors are also encouraged to comply with all duties assigned to them, as described in their Peer Tutor Handbook.
Specific responsibilities include but not limited to,
Providing individual or group tutoring curricular modules
Facilitating review sessions for assigned tutees
Collaborating with other peer tutors, faculty tutors, and module directors to facilitate review sessions to tutees as needed
Assist with assessing and guiding the tutee's reasoning and problem-solving skills
Assisting tutees with best study skills practices
Encouraging tutees to conceptualize their understanding of basic science knowledge, practice integration, and application of knowledge to all aspects of their learning experiences
Assisting with monitoring the progress of your assigned tutees and reporting unusual behavior to the Director of Medical Student Academic Support.
Participating in scheduled tutoring debriefing sessions with the Director of Medical Student Academic Support
In addition to providing academic support, peer tutors are expected to keep proper documentation and logistics during their individual and group session by utilizing the following forms:

---
Faculty Support
Faculty members provide tutoring support services in their area of specialties that include but not limited to biochemistry, microbiology, histology, anatomy, physiology, genetics, pharmacology, immunology, cell biology, molecular biology, etc. Module content specific help sessions are also available to all medical school students. The faculty provides tutoring services as-needed basis.   
Faculty Support for 2019-2020
Faculty

Room #

Office Hours

Email

Expertise

Fang, Naomi

EREBL 3.116

Tuesdays & Wednesday

9:00 am - 11:00 am

histology,
anatomy

Godreau, Ayleen

EREBL 3.114

By Appointment

clinical

Howard, Tom

EREBL 3.149

By Appointment

genetics,
pharmacology, 
immunology,
hematology

Innis, Wendy

EREBL 3.112

By Appointment

biochemistry,
immunology, 
cell biology

Maffi, Shivani

EREBL 3.128

By Appointment

cell biology

Renga, Pad

EREBL 3.144

By Appointment

anatomy, embryology,
histology

Reyna, Sara

EREBL 2.106

By Appointment

Torres, Annelyn

EREBL 2.114

By Appointment

physiology
Faculty will be available to meet with students individually or in groups.
The Peer Tutoring Program endeavors to assist students in improving academic performance. Students seeking assistance may experience different levels of success based on factors including, but not limited to current academic progress, relative effectiveness of study skills, and timeliness in seeking academic support services. Students are expected to proactively seek assistance from the Module/Course Director, Faculty, Senior Associate Dean for Students and/or Pre-Clinical Advisors as soon as any academic or non-academic concerns rise.
---
Expectations of Students:
Please notify your tutor if you are not able to attend a tutoring session within 24 hours.
Arrive for your tutoring appointment on time.
Keep in mind that your tutors are students, too, with their own workload and deadlines. Therefore, out of respect for them and their time, please come to sessions prepared, having read the assignments for that session. 
Tutors will attempt to arrange a mutually agreed time for tutoring. If you cannot make that time because of other obligations, please notify Dr. Azeke for reassignment to another group.
Although tutoring services are free and at no cost to you, the School of Medicine pays tutors. If you decide not to utilize the tutoring services, it is imperative that you contact the tutor and Dr. Azeke in the Office of Academic Advising and Academic Support. 
Please be advised that the Office of Academic Advising and Academic Support monitor absences in tutoring sessions. You could be removed from the tutoring group if you do not attend 3 sessions in a row without prior notification. 
In efforts to provide exceptional tutoring services, students are highly encouraged to evaluate their tutoring experience by completing a Tutee Feedback Form following their tutoring sessions. 
As part of the first tutoring session, students must sign the Student Guidelines Form accepting their responsibilities as a student.  
---
Testimonials
" ... is an amazing tutor. He is extremely knowledgeable in many areas of content. ... makes an effort to prepare for the sessions beforehand and is always readily available for questions, providing study tips, and encouragement."
- Student tutee
" she is always willing to help and I feel good going to her for any questions. She has provided great resources."
- Student tutee
" She is great!" 
- Student tutee
---
FAQ About Peer Tutoring
Who is eligible for tutoring?
Tutoring is available to all enrolled School of Medicine students.
What is the cost to use tutoring services?
Peer tutoring is free to all UTRGV School of Medicine students.
Who would be my peer tutor?
Peer tutors are second- and third-year students who have successfully completed the modules with passing grades. They are recommended by module directors and professors. A peer tutor maintains good academic standing, has a strong interest in student success, knowledge of the subject matter, and excellent interpersonal and communication skills.
How do I sign up for tutoring?
The peer tutoring schedule is posted on a weekly basis in the Academic Advising Blackboard Organization.  You can sign up for a tutoring session with the respective WeJoin sheet for that week's schedule.
Additionally, a list of tutors with their email is available for you to contact them directly for an appointment.  You can also call our office at (956) 296-1717 to schedule an appointment.  
When should I see a tutor?
You should utilize tutoring throughout your medical educational studies. Tutoring is helpful, regardless of passing/failing academic scores.
How do I make the most out of peer tutoring?
Try your best to identify areas you would like to work on. Be prepared for your sessions. Let your peer tutor know your specific needs or concern. E-mail your tutor specific questions in advance of your sessions so they may adequately prepare.
Additional Questions?
Contact Us at (956) 296-1717 or SOMtutoring@utrgv.edu
---
FAQ for the Potential Peer Tutor
What is the role of Peer Tutors?
A peer tutor work with students individually or in small groups of up to 3 to clarify information, review specific module material, and encourage effective study skills and to use appropriate resources. Tutors are encouraged to stimulate critical thinking, foster an understanding of the "big picture," and help students become active participants in the learning process. They are to assist and not assume the role of the module director or professor
What is the process of becoming a Peer Tutor?
If you are interested in being a tutor and you meet the requirements, come to the Academic Support/Learning Resources Center to complete the application materials. Please note that all new tutors are required to participate in "Basic Training for Peer Tutors" prior to doing the job of tutoring During training, tutors will learn how to work with students from diverse background, about the role and expectations required of tutors, tutoring locations, information for compensation, encounter forms, documenting tutoring sessions with students, and tutor surveys.
What are the benefits of peer tutoring?
Peer tutors get satisfaction by assisting their peers or tutees. Peer tutors gain experience in teaching, which they can include in their resume or CV when applying for residency. Tutors benefit by reviewing basic science topics, as they prepare for tutoring sessions. This review can be especially helpful in preparing a student for Step 1 of the USMLE. Tutors receive monetary compensation for their efforts and time.
Additional Questions?
Contact Us at (956) 296-1717 or SOMtutoring@utrgv.edu