Study Strategies
Some of the most effective study strategies focus on concepts and techniques that have been proven to be effective and can bring you positive results.
SQ4R
The SQ4R (Survey, Question, Read, Recite, Relate, Review) is an effective strategy to help students get the information they need more efficiently from textbooks. It is a method of studying, not reading a text book. The key is to learn by organization and repetition, both of which are included in the SQ4R method.
Spaced Repetition
Spaced Repetition is a revision technique where you review material and gradually increase the spaced intervals to improve long-term memory. Spaced repetition can help you speed the learning process up significantly and complements any other learning technique.
Mnemonics
Mnemonics are tools that can help you remember facts or a large amount of information. These can be an image, rhyme or phrase to help remember facts in a certain order. There are different types of mnemonics to try out however, to make them more meaningful and useful it is best to make your own to ensure they are effective for you.
Here are a few examples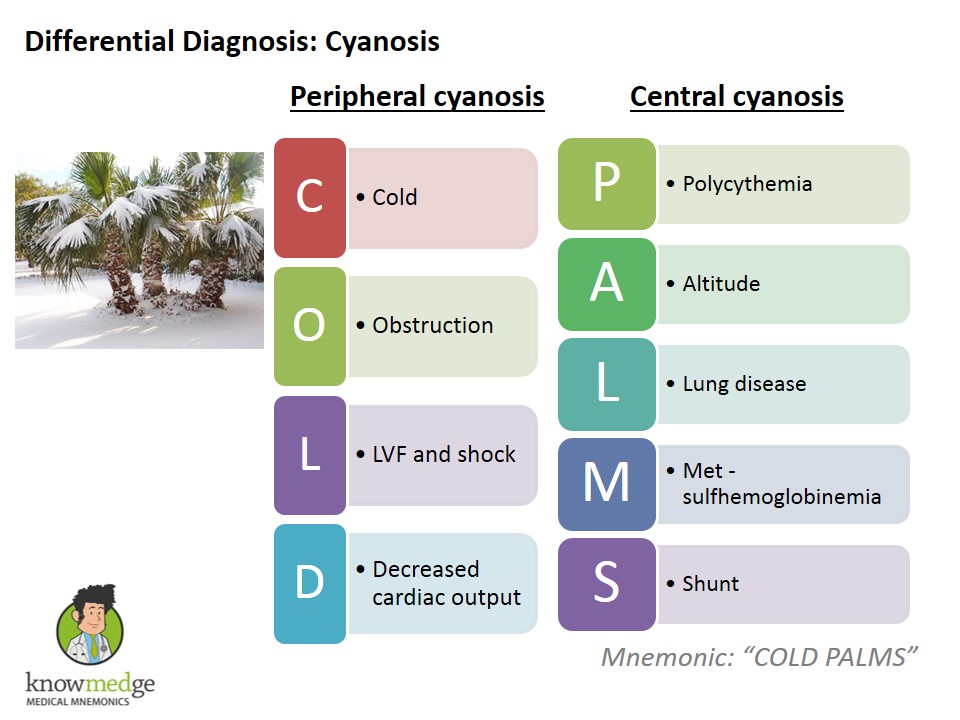 Differential Diagnosis: Cyanosis - Mnemonic "COLD PALMS"
Peripheral cyanosis
Cold
Obstruction
LVF and shock
Decreased cardiac output
Central cyanosis
Polycythemia
Altitude
Lung disease
Met - sulfhemoglobinemia
Shunt
Memory Palaces
A memory palace is a type of memory technique where you imagine a physical location to help you remember more abstract information. This technique is very effective since our brains are better at remembering images and locations as opposed to more abstract things like names and numbers.