Victim Services
A Victim Services Specialist provides emotional support to a victim going through a crime throughout the criminal justice process. 
Provides services to students, faculty and staff at UTRGV.
Provides information to victim's regarding available resources, including but not limited to counseling services, housing accommodations, transportation needs, and class assignments.
Makes referrals to appropriate UTRGV Departments, agencies and services within the county; serves as a go-between for victims, survivors and their families.
Provides information on Victim's Rights, Crime Victim Compensation and Protective Orders to victim.
Accompanies a victim to a meeting with the police, a judicial hearing, court hearing, or a hospital/medical center, and any campus departments.
UTRGV PD Safety Plan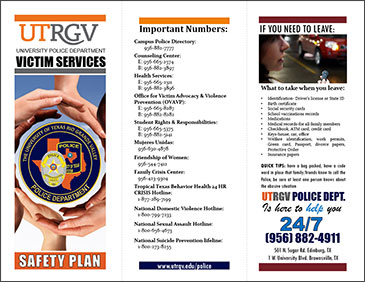 Download UTRGV PD Safety Plan Brochure
Download UTRGV Suicide Self-Harm Protocol Brochure
Download Reporting Options Brochure
Resources
Name
Location
Phone
Safe H.A.V.E.N Forensic Exam Center at Doctors Hospital at Renaissance
Edinburg
(956) 362-7774
SANE/CART at Valley Baptist Medical Center
Harlingen
(956) 389-1100
Mujeres Unidas/Women Together
McAllen
(956) 630-4878
Family Crisis Center
Harlingen
(956) 423-9305
Friendship of Women
Brownsville
(956) 544-7412
UTRGV Office for Advocacy & Violence Prevention (OAVP)
UTRGV 
E: (956) 665-8287
B: (956) 882-8282
UTRGV 
E: (956) 665-2574
B: (956) 882-3897
UTRGV 
E: (956) 665-5375
B: (956) 882-8292
UTRGV
(956) 665-2103
UTRGV
E: (956) 665-2511
B: (956) 882-3896
For more information contact:
Amanda Quintanilla
Victim Services Specialist
501 N. Sugar Rd.
Edinburg, TX 78539
956-665-3164
amanda.quintanilla01@utrgv.edu