Accreditation and Affiliations
---
Our online programs meet rigorous quality standards set by different external accrediting bodies.
How you can benefit
Why accreditation is important when selecting a program? Accreditation validates that the program meets high-quality standards and offers relevant content.
The programs and courses we offer are of high quality
Credits earned here are easier to transfer than credits earned at non-accredited institutions
Employers often look for applicants who earned a degree from an accredited university
Accreditations
SACSCOC
The University of Texas Rio Grande Valley (UTRGV) is accredited by the Southern Association of Colleges and Schools Commission on Colleges (SACSCOC).
For more information, visit UTRGV's Accreditation web page.
AACSB Accredited
UTRGV's Robert C. Vackar College of Business & Entrepreneurship has the distinction of AACSB International accreditation.
Quality Matters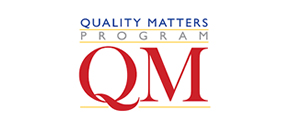 The  Quality Matters Program (QM)  is an international organization representing broad inter-institutional collaboration and a shared understanding of online course quality. QM's quality assurance processes have been developed to improve and certify the design of online and blended courses.