Brand Identity & Style Guide

Brand and visual identity are just as integral to the UTRGV experience as the burning of the letters, Bronc Trail, or the architecture on campus. These symbols play a crucial role in promoting the University, building lifelong affinity among our students and alumni, and uniting the entire campus community. Crafted with these goals in mind, this Brand Identity & Style Guide not only helps shape the University's reputation but also protects it.
Our updated brand and identity standards and logo system align with the University's decision to strengthen the UTRGV brand by transitioning away from divergent or independent brands and logos. Always use the current official renditions of the UTRGV primary and secondary logos and update any older iterations of logos where they exist. Abiding by these standards ensures a uniform and professional appearance across all communications mediums.
Consistent application of the University branding program strengthens perceptions and reinforces public awareness of UTRGV, its colleges, schools, departments, and affiliates. When probably using logos with other branding elements, a unique and desired aesthetic can be achieved. That's because we all benefit by having a cohesive public identity that enhances our reach and reputation with our students and other key stakeholders.
University Marketing and Communications is responsible for implementing these guidelines wherever our brand and visual identity are employed. For any questions, please contact Roberto Castro at (956) 665-2741.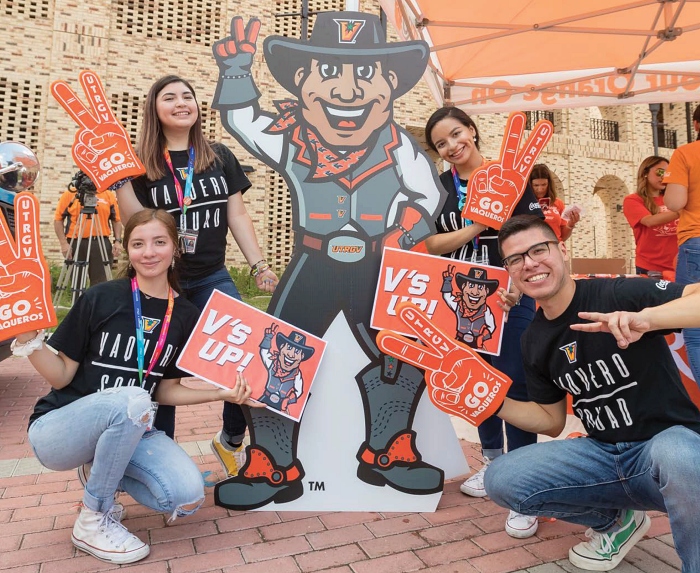 Questions?
Contact University Marketing and Communications:
Phone: 956-665-2741
Email: umc@utrgv.edu
By downloading any of the UTRGV logos, the user agrees to comply with the rules of use outlined in this guide.
UTRGV wordmarks and logos are for university office use only and may not be shared with any outside organizations or reproduced on any non- UTRGV materials without express permission from University Marketing and Communications.