Events and Initiatives
The UTRGV Philosophy Department hosts many one-off events throughout the academic year. For the latest special event, please see under the "News" banner on our homepage. In addition to such events, there are ongoing initiatives such as those below. For more information on these initiatives, please click on the "Ethics Bowl" and "Philosophy Club" tabs on the left sidebar.
For a list of our current initiatives, please see below. 
Phil and Sophie's is back! Join us in person for philosophical discussion--off the cuff, no reading required. We meet every Thursday at 5:15 p.m. at the Jazzman's Cafe patio outside the Library on the Edinburg campus. For accommodations or topic suggestions, please contact Dr. Mike Butler at michael.butler@utrgv.edu.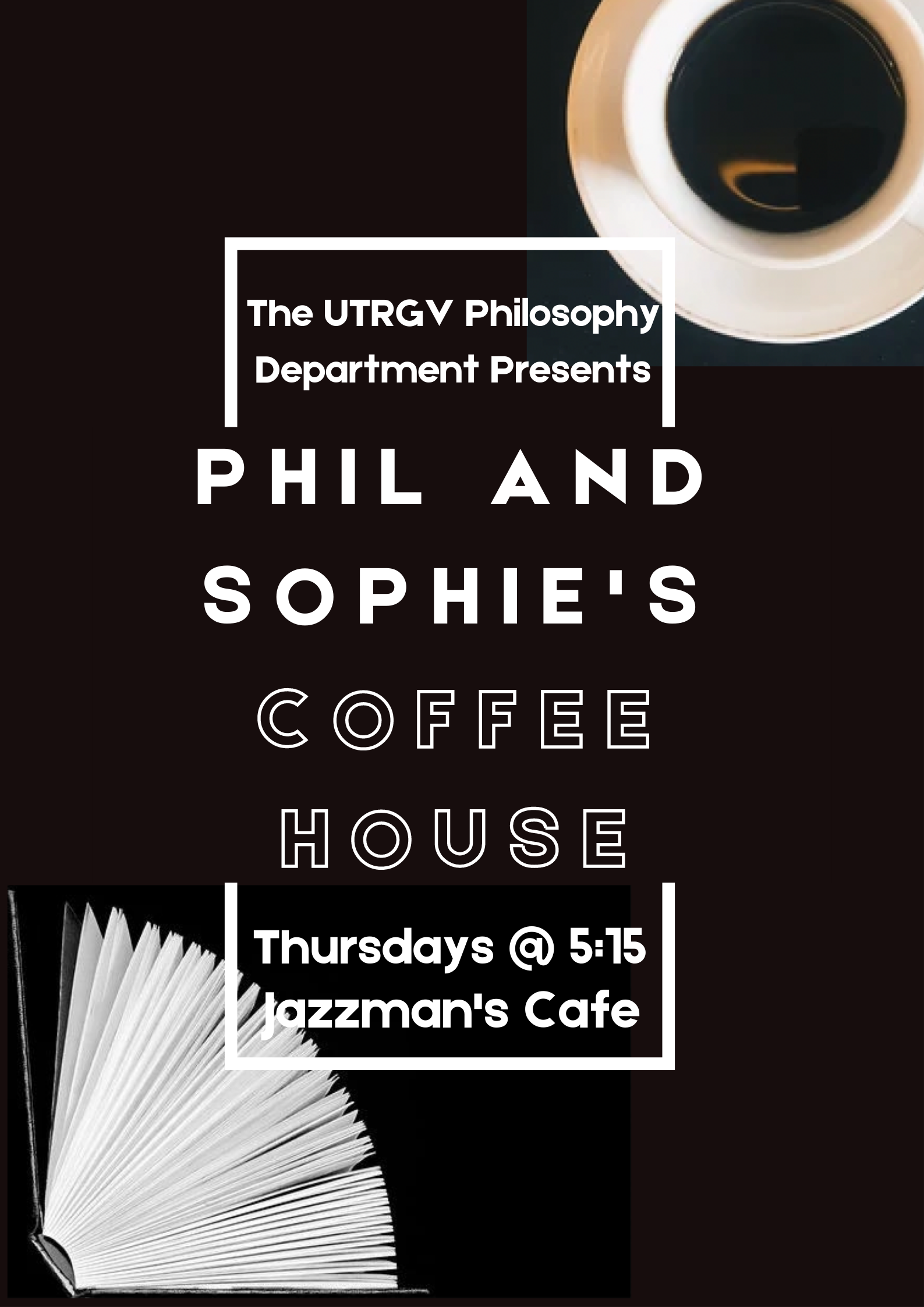 The UTRGV Brownsville Philosophy Club is a student-run organization dedicated to the discussion of a different philosophical topic each week. We meet each Monday at 7 p.m. in BMSLC 3.225. There is no reading required. Pizza is provided. For more information and/or accommodations, please contact club president Vicky Labastida at virginia.labastida01@utrgv.edu or faculty advisor Dr. Brad Warfield at bradley.warfield@utrgv.edu. 
The UTRGV Philosophy Society is meeting again as well. For more information and/or accommodations, please contact Dr. Anthony DeSantis at
anthony.desantis@utrgv.edu
. 
The Philosophical Dialogue Group is a student-led and student-run weekly discussion group for students (not just philosophy majors and minors) that meets every Monday at 5 p.m. in ELABN 115. Dialogues are based on a reading in the history of philosophy (typically from existential, ancient, or decolonial philosophy) and introduced by a student. Scan the QR code on the poster to join the club on VLink and join the group chat! Please contact club president Juan Torres, at juan.torres13@utrgv.edu, for questions and/or accommodations. 
Philosophy Movie Night: Please join us to watch a philosophically rich movie followed by a group discussion. Pizza is provided. All students are welcome! Every Friday at 5 p.m. in ELABN 101. For information and/or accommodations, please contact Dr. Jeff Morrisey at jeff.morrisey@utrgv.edu