Research focuses on Hispanic family caregivers, technology use

  Wednesday, October 12, 2022
  Community
By Karen Villarreal
RIO GRANDE VALLEY, TEXAS – A UTRGV researcher is seeking participants for a research study about a family situation common in the Rio Grande Valley: caring for an elder with Alzheimer's Disease.
As an only child, Dr. Lin (Helen) Jiang, assistant professor in the UTRGV School of Social Work, felt responsible for providing constant care for her ailing mother, who was battling cancer. So, she moved back to her hometown of Tianjin, China, until the disease went into remission and her mother chose to live independently.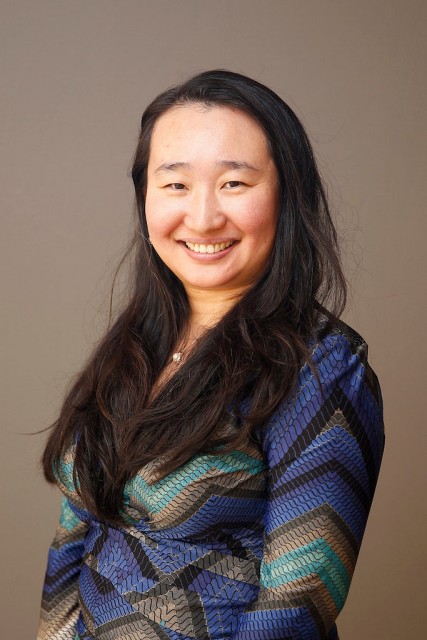 Today, Jiang continues to care for her mother, but "virtually,"­ relying on daily phone and video calls to minimize the distance. 
"It's not easy to care for any individual, but talking to her and seeing her well gives me some relief," said Jiang, a research scientist with the UTRGV School of Medicine's Alzheimer's Disease Resource Center for Minority Aging Research.  
Jiang now is looking for people who similarly care for a family member, to participate in a study about social isolation, loneliness, depression, and technology utilization.
She hopes to identify whether information and communications technology (ICT) ­– such as video calls, social media, online games, phone calls, or texting ­– is an effective means of providing support for a patient with a serious illness, and their caregiver. 
HISPANIC-FOCUSED RESEARCH 
Jiang has been interested in gerontology since 2011, and has devoted herself to the study of aging, including research on social isolation among older adults.
Drawing from personal experience as a caregiver for her mother, she is now conducting a study on how using communication technology can help other caregivers ­– specifically, Hispanics who care for a family member with Alzheimer's Disease.  
The research is critical in areas like the Rio Grande Valley, she said, where Alzheimer's Disease and related dementias are prevalent ­and the rates are climbing.  
"By 2026, the population of Hispanics with Alzheimer's Disease is expected to increase by 832 percent. AD is serious among this population," Jiang said.  
FAMILY FIRST 
Jiang, who came to the Valley in 2017, has found that the Hispanic and Chinese cultures are very similar in the high value they place on family and how they manage elders with Alzheimer's.    
"In the Chinese culture, and what I see in the Rio Grande Valley, is that family takes care of older adults, rather than sending them to a care center," she said. "We call them family caregivers."  
However, there is little research on whether using information and communications technology (ICT) may reduce a family caregiver's social isolation, during a situation like a pandemic or otherwise, she said.   
She believes increasing communication with extended family and other social connections, such as through virtual support groups, can help both caregiver and patient. 
GATHERING VITAL DATA 
Jiang got suggestions and support for her study from multiple UTRGV scholars working on similar Alzheimer's research, including Dr. Gladys E. Maestre, Dr. Michael Mahaney, Dr. Eron Manusov, Dr. Luis R. Torres-Hostos, Dr. John Gonzalez, Dr. Romeo Escobar and Dr. Rosa Pirela Mavarez. 
Additionally, she got input from mentors outside of UTRGV: Dr. Bei Wu from New York University and Dr. Fei Sun from Michigan State University.
UTRGV students also are working with Jiang to gather data: Cassandra Sarmiento, a graduate research assistant, and UTRGV School of Medicine residents Samanta Macias Moreno and Lubna Nasr EI Nimer. 
The team has been sending paper and digital surveys to local agencies since the Spring 2022 semester and has collected 100 surveys so far.
But Jiang is hoping to gather 200 to 300. 
A selection of respondents will be interviewed about their experiences and their understanding of coping strategies to deal with social isolation problems. 
The study Jiang is carrying out gathers information about the caregivers – for example, their health and mental health, use of information communication technology – and the degree to which caregiver and patient have acculturated both to life in the Valley and to technological advancements.
"These are big factors in the caregiver's mental health," Jiang said. 
EXPLORING CHALLENGES 
Family caregivers – who already are under daily stress – may have experienced worsening mental health during the COVID-19 pandemic.   
"Staying at home 24/7 is a huge challenge for social isolation and depression," she said. 
The survey and interview process are an opportunity for the family caregiver to process their feelings and identify stressors. 
"Many caregivers feel isolated from other family members, who may complain about or criticize their care and don't understand the hurdles the caregiver faces," Jiang said.  "This can help the caregivers see what areas they're doing well in."  
And, as they go through the survey and realize that there are others with similar challenges, they can then act on that information to get help.  
"Participants tell us they feel lonely, and many have asked for support groups," she said. "We're specialists and we have a list of resources in the Valley that we help connect them with."  
SCIENTIFIC CAREGIVER INTERVENTION 
The next step after gathering data is to synthesize the findings and share results through journals and scientific conferences. 
"Publishing research is beneficial for the research community ­and helps us understand how we can validate our findings," Jiang said.  
If other researchers find similar results, it is likely that communication technology is an avenue to explore when designing an intervention for Hispanic family caregivers.  
And that is Jiang's ultimate goal – to develop culturally informed, scientifically validated tools that use communication technology, such as the internet, to help family caregivers.  
"I want to figure out the intervention to help them deal with social isolation and depression brought on by normal day-to-day stress, not only disaster situations like pandemics," she said. 
For more information or to participate in the study, the online version is available here. The survey has a Spanish version.
A physical survey is available by contacting Jiang at Lin.Jiang@utrgv.edu or (956) 665-3575. 
ABOUT UTRGV
The University of Texas Rio Grande Valley (UTRGV) was created by the Texas Legislature in 2013 as the first major public university of the 21st century in Texas. This transformative initiative provided the opportunity to expand educational opportunities in the Rio Grande Valley, including a new School of Medicine, and made it possible for residents of the region to benefit from the Permanent University Fund – a public endowment contributing support to the University of Texas System and other institutions.
UTRGV has campuses and off-campus research and teaching sites throughout the Rio Grande Valley including in Boca Chica Beach, Brownsville (formerly The University of Texas at Brownsville campus), Edinburg (formerly The University of Texas-Pan American campus), Harlingen, McAllen, Port Isabel, Rio Grande City, and South Padre Island. UTRGV, a comprehensive academic institution, enrolled its first class in the fall of 2015, and the School of Medicine welcomed its first class in the summer of 2016.