Youths encouraged to dig in to help save the planet

  Tuesday, December 21, 2021
  Community, Research
By Amanda Taylor
McALLEN, TEXAS – In a climate where sustainability practices and agricultural research are increasingly crucial, one of the best ways to teach younger generations about important ecological elements is by encouraging them to get their hands dirty. 
A new, 14-acre research center – the Center for Urban Ecology (CUE) – will promote the concept of providing hands-on workspaces and a discovery center where K-12 students, higher education students and the community can all learn about biodiversity, and much more.  
The $35 million, state-of-the-art research center will be located at Quinta Mazatlán in McAllen, where it will promote science and sustainability education.  
The Center for Urban Ecology project is being developed through a partnership between the City of McAllen, The University of Texas Rio Grande Valley (UTRGV), Texas Parks & Wildlife Department (TPWD), McAllen Transit Park & Ride, the McAllen Independent School District (MISD) and the U.S. Economic Development Administration (EDA), along with corporate and individual support. 
The center currently is beginning construction and is slated for completion by the beginning of 2023. 
Dr. Parwinder Grewal, executive vice president for Research, Graduate Studies and New Program Development at UTRGV, said the center will be a hub for sustainability, a place where students can connect with nature by learning about native plants, learn to identify insects and bird species, and learn about regional ecosystems.  
"There are historical and geological elements to this project where students will be able to relate their studies within their respective schools, and they can come to the center to see how various components of an ecosystem come together," Grewal said.  
"For example, if a geology class is learning about some historical elements, they can visit the center and see how the Rio Grande helped shape the communities bordering Mexico."  
The Center for Urban Ecology is projected to generate an economic impact of $284 million in construction, operations and visitor spending, and partners say it will foster local tourism and job growth.  
The center will include a botanical garden, a center for hands-on activities, and teaching and research labs where students can watch and engage with researchers and scientists to conduct experiments in real time.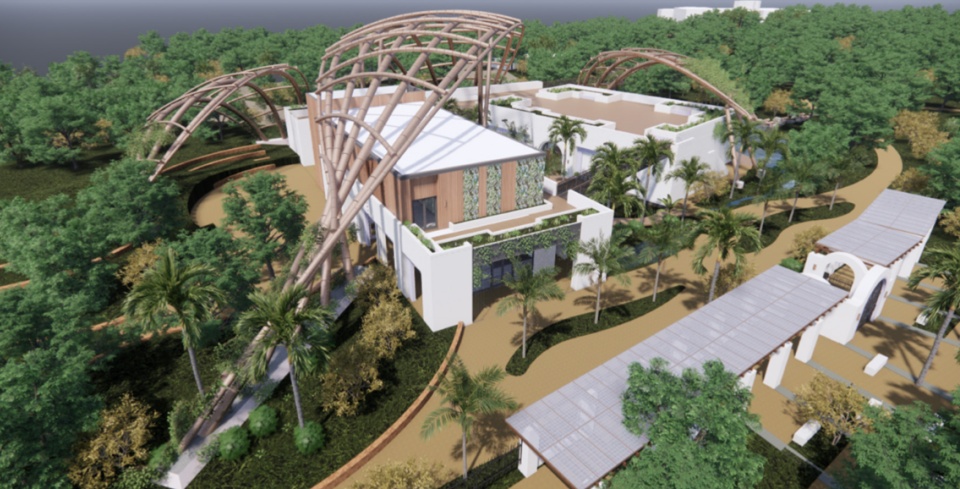 FLAGSHIP FOR URBAN SUSTAINABILITY 
Colleen Hook, executive director at Quinta Mazatlán, said the center will create a multi-use ecotourism destination for the Rio Grande Valley, and will be an impactful research center.  
"At one level, it serves as an important place for students – no matter their age – to experience hands-on STEM education meant to open pathways into new opportunities and careers," Hook said.  
"It also will be a flagship for urban sustainability that will be a first-class destination for visitors, while also serving as an example for future development in our rapidly growing region." 
This kind of regional impact is key, Hook said, as the center is meant to make a positive difference far beyond McAllen, with research and conservation projects that use urban ecology principles to enhance quality of life for urban residents. 
The goal for the Center for Urban Ecology is to become LEED (Leader in Energy and Environmental Design) Platinum-certified from the LEED Green Building Council, as the site and center will be sustainably constructed. In addition, the facility will be Sustainable SITES Landscaping-certified – with a platinum high standard goal, as well.   
"The facility will serve as an example of urban sustainability practices that folks can be inspired and guided by to make changes wherever they live, work, and play," Hook said.  
"They can expect to experience the beautiful birds, butterflies and other wildlife we share our forest with, along with fascinating displays and educational experiences that share the history, culture and ecology of the Valley," she said. 
The center will be complete with a water management system to account for 100 percent of precipitation to prevent flooding or erosion. Green gardens are set to be installed throughout the site to collect stormwater from parking lots and surrounding buildings which will be used for irrigating surrounding plants.  
Grewal said the entire project is based on sustainability – not only through education, but also through the practical application of sustainability. The partnership is historic, he said, and is key to promoting impactful ecological endeavors in the region.  
"This partnership is truly unique. It is a commitment that is a model partnership you won't see in other areas of the nation because it is a combination of the city, K-12 institutions and higher education, all of which are using their financial and intellectual resources to build a common place that will be fully accessible to the community," Grewal said.  
"We have an enduring, invested trust here, so the project will become an outdoor and indoor research facility with intensive collaboration from faculty, scientists and researchers."  
Upon completion, the center is meant to lead the way in finding ecologically sound solutions to promote a healthier ecosystem for the Valley and beyond.
ABOUT UTRGV
The University of Texas Rio Grande Valley (UTRGV) was created by the Texas Legislature in 2013 as the first major public university of the 21st century in Texas. This transformative initiative provided the opportunity to expand educational opportunities in the Rio Grande Valley, including a new School of Medicine, and made it possible for residents of the region to benefit from the Permanent University Fund – a public endowment contributing support to the University of Texas System and other institutions.
UTRGV has campuses and off-campus research and teaching sites throughout the Rio Grande Valley including in Boca Chica Beach, Brownsville (formerly The University of Texas at Brownsville campus), Edinburg (formerly The University of Texas-Pan American campus), Harlingen, McAllen, Port Isabel, Rio Grande City, and South Padre Island. UTRGV, a comprehensive academic institution, enrolled its first class in the fall of 2015, and the School of Medicine welcomed its first class in the summer of 2016.