Thursday, December 9, 2021
  Community, Around Campus
By News and Internal Communications
By Pat Rodriguez
RIO GRANDE VALLEY, TEXAS – Young artists and writers had an opportunity to share their thoughts on and experiences with immigration through storytelling, art and other creative works, during the CLAA Artists' and Writers' Summit and Workshop: Cultivating Compassion for Migrants through Fine Arts and Prose. 
The summit, held in November on the UTRGV Edinburg Campus and coordinated by the university's Center for Latin American Arts, included workshops, activities and panel discussions, and provided a place to cultivate peace, awareness and understanding through the written word and artistic media.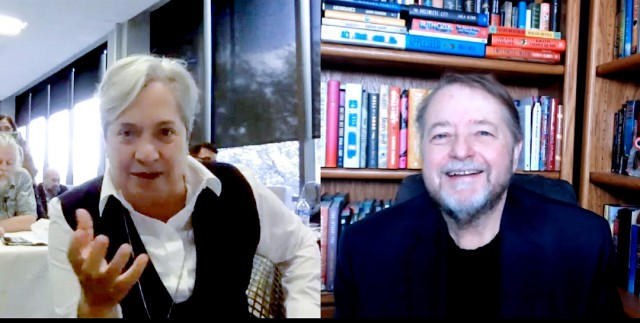 "This event functioned to show how art can express important issues and stories, such as caring for the dignity of others and raising awareness about immigration and our identity on the borderlands," said Dr. Katherine Moore McAllen, director of CLAA and assistant professor in the UTRGV School of Art and Design. 
Keynote speakers at the summit included journalist and anthropologist Cecilia Ballí, writer Luís Alberto Urrea, and Sister Norma Pimentel, a UTRGV Distinguished Alumna and one of Time's 100 Most Influential People of 2020. 
In her keynote address, Pimentel said art is a vehicle toward truth. 
"Art allows us to capture a moment, the experience that a person is going through," she said. "Artists capture the things that most of us are too afraid to capture." 
She urged students to speak up and let their voices be heard – whether through their writing or artwork. 
"It's only through our own eyes and experience that we can let the world know what is happening," she said. 
ART AND IMPACT 
Christina Kwon, a junior studio art major at UTRGV concentrating on drawing and painting, was born in South Korea and teaches the Korean language. She says she attended the summit and walked away with a new view on how to incorporate her heritage into her creativity. 
"As an artist, I've always sought different ways to represent myself and my culture in the works I produce," she said.
Gabriela Garza, a UTRGV graduate student from Austin studying art history, described the conference as "exceeding my already eager expectations."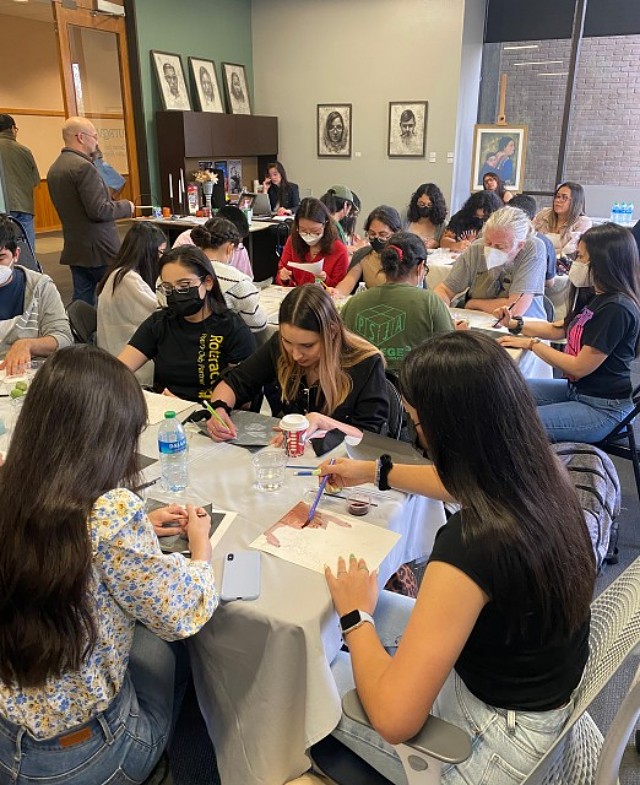 "Events like the CLAA Artist's Summit are invaluable to the growth of young artists and thinkers in our community, as well as to the development of the community itself," Garza said. "Through the Artist's Summit, the UTRGV community was fortunate to learn from accomplished mentors who help us better understand their art and the motivations behind it." 
The enthusiasm of the speakers had Gina Gonzalez, a sophomore graphic design major at UTRGV, said she is excited to start telling her own story through her art. 
"I hope to maybe share my story one day. Seeing the enthusiasm from the speakers left a positive impression on me as a student, and I will hold their words close to my heart as I embark on my artistic career," she said. 
Moore McAllen said it was an honor to have all the guest artists and writers participate in the summit, as she considers them great role models. 
"It was inspiring to see our students and our visiting faculty of artists and writers engage with them and their ideas," she said. 
To complement the summit, a virtual art exhibit focusing on the stories of immigration and the culture on the Texas-Mexico border was created to feature the artwork of Pimentel; Luis Corpus, chair of the Department of Art chair at STC; Olga Alanis, art instructor at STC; and Rigoberto A. González, a UTRGV lecturer in the School of Art and Design and winner of the Migrations Narratives grant through the Institute of Diversity and Civic Life. 
To learn more about CLAA, the virtual exhibit and upcoming events, visit www.utrgv.edu/claa.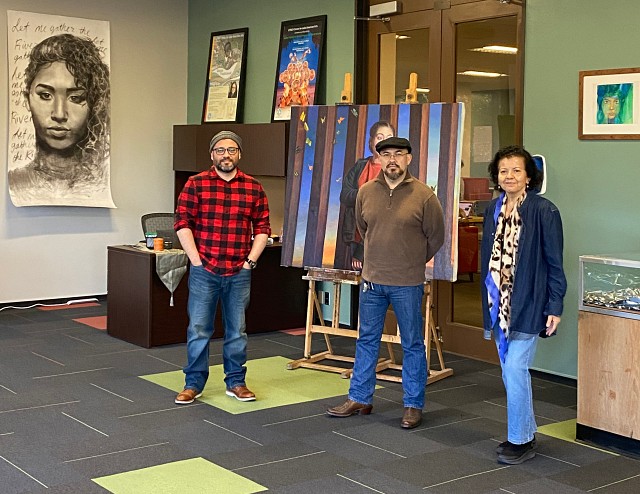 ABOUT UTRGV
The University of Texas Rio Grande Valley (UTRGV) was created by the Texas Legislature in 2013 as the first major public university of the 21st century in Texas. This transformative initiative provided the opportunity to expand educational opportunities in the Rio Grande Valley, including a new School of Medicine, and made it possible for residents of the region to benefit from the Permanent University Fund – a public endowment contributing support to the University of Texas System and other institutions.
UTRGV has campuses and off-campus research and teaching sites throughout the Rio Grande Valley including in Boca Chica Beach, Brownsville (formerly The University of Texas at Brownsville campus), Edinburg (formerly The University of Texas-Pan American campus), Harlingen, McAllen, Port Isabel, Rio Grande City, and South Padre Island. UTRGV, a comprehensive academic institution, enrolled its first class in the fall of 2015, and the School of Medicine welcomed its first class in the summer of 2016.