E-Learning Certificate

OVERVIEW
This fully web-based, 12-hour accelerated graduate certificate program targets individuals interested in working as e-learning practitioners in K-12, higher education, corporate, or e-learning industries. Candidates will be able to serve as effective online educators by advancing knowledge and skills in electronic learning, both conceptual and practical; and meet changing job requirements in response to current trends in e-learning. 
The E-Learning Certificate program has been certified by The Association for Educational Communications and Technology (AECT). With its primary purpose of validating designated programs in the information and communications technology field, this endorsement has made the E-Learning Certificate program one of the first certificate programs to receive AECT's seal of approval in the country.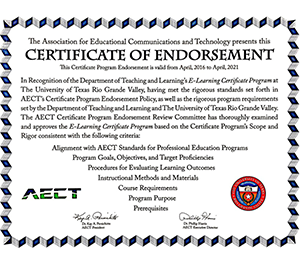 ---
PROGRAM HIGHLIGHTS
This accelerated program is delivered 100% online through 7-week course modules.
Learn how to design, develop, implement, and evaluate instructional solutions for e-learning environments.
All of the courses from this graduate certificate are fully transferrable into the Master of Education in Educational Technology.
Courses include a variety of asynchronous and synchronous learning activities that are collaborative, engaging, dynamic, and interactive, using the latest technology tools in e-learning.
E-Learning graduates will be prepared to work as instructional designers/developers in higher education, or industries with an e-learning workforce.
Learn more here: E-Learning Certificate Program.
---
Degree Plan

---

DEGREE PLAN

12 Credit Hour Program:

EDTC 6321 – Instructional Design
EDTC 6323 – Multimedia/Hypermedia
EDTC 6358 – Theory and Practice of e-Learning
ELECTIVE with an emphasis on e-learning production

Download the E-Learning Certificate Degree Plan.

Courses

---

COURSES

EDTC 6321 – Instructional Design. This course uses an instructional systems design model to guide the student in systematically developing effective Instruction. Theoretical and practical issues in instructional systems design are examined. Other instructional design models are introduced. Lec. 3, Cr. 3.

EDTC 6323 – Multimedia/Hypermedia. This course concentrates on the development and utilization of hypermedia and multimedia in education. Students are expected to demonstrate the ability to develop an interactive instruction by utilizing audiovisual technologies and computer-based/Web-based technologies in a meaningful, educational context. Lec. 3, Cr. 3.

EDTC 6358 – Theory and Practice of E-Learning. This is the capstone course for the e-Learning Graduate Certificate Program. Students are expected to apply previously learned skills and knowledge to plan and manage an e-learning project in a real-life context. Prerequisite: Must be within 6 hours of completion of program. Approval of Program Coordinator. Lec 3, Cr 3.

---

ELECTIVES

EDTC 6325 – Educational Communications. This course addresses the development of instruction for e-learning environments. Learners will use a research-based rationale for the selection and utilization of technologies for designing, developing, implementing, and evaluating instruction using an open source courseware management system. Learners will also explore the potential of 3-D virtual environments for instructional applications. Lec. 3, Cr. 3.

EDTC 6351 – Web-Based Multimedia in Instruction. This course examines the cognitive domains of learning and the corresponding research in web-based multimedia. It provides a theoretical construct by which distance educators can infuse learner-centered principles and examine the possibilities for streaming media in online education. Lec. 3, Cr. 3.

Contact Information

---

CONTACT INFORMATION

Rene Corbeil, Ed.D.
Educational Technology Program Coordinator

956-882-7540
Brownsville BMAIN 1.318