Students and Research Projects
Ruth Galan UTRGV
Title of project: Impact of Bactericidal Spray on the Acquisition and Transmission of the HLB Bacterium, Candidatus Liberibacter asiaticus, by the Asian Citrus Psyllid, Diaphorina citri.
My project focuses on evaluating the impact of bactericide sprays used for the control of the HLB bacterium, Candidatus Liberibacter asiaticus, on the biology and the vectoring ability of the Asian Citrus Psyllid, Diaphorina citri.
Adriana Pena
I am currently assisting Dr. Klafke with DNA extractions on several tick populations. My project is to determine the cause of death of a bovine by testing it for Anaplasma or Babesia.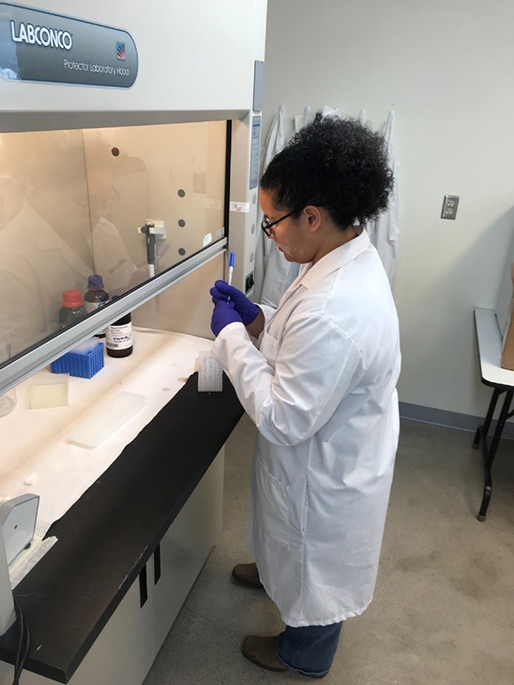 Alejandro Conde
Title of project: Recently I have been given the task of running the DNA extraction, PCR, and gel electrophoresis of blood samples taken from cattle to test for the presence of Babesia by Dr. Klafke. Babesia is a parasite that infects the red blood cells and is transmitted by ticks such as those found here in the valley. As seen in the pictures provided, I am seen completing the DNA extraction of the blood cells that come from the cattle in order to see if there is any presence of the parasite. Once I have collected the DNA, I can then perform PCR which amplifies the DNA and allows me to scan for the presence of the disease in gel electrophoresis. I have gone through half of the samples I am tasked with identifying and examining, and so far there has been no presence of the parasite meaning that the cattle are not infected with any of the tick borne disease. Although I had no prior experience with a genetics class or microbiology class, this opportunity has provided a new world of information and procedures in DNA analysis. As I continue to work on my project, I hope to further develop my skills and prepare myself for the fall semester where I will find myself facing these challenging classes.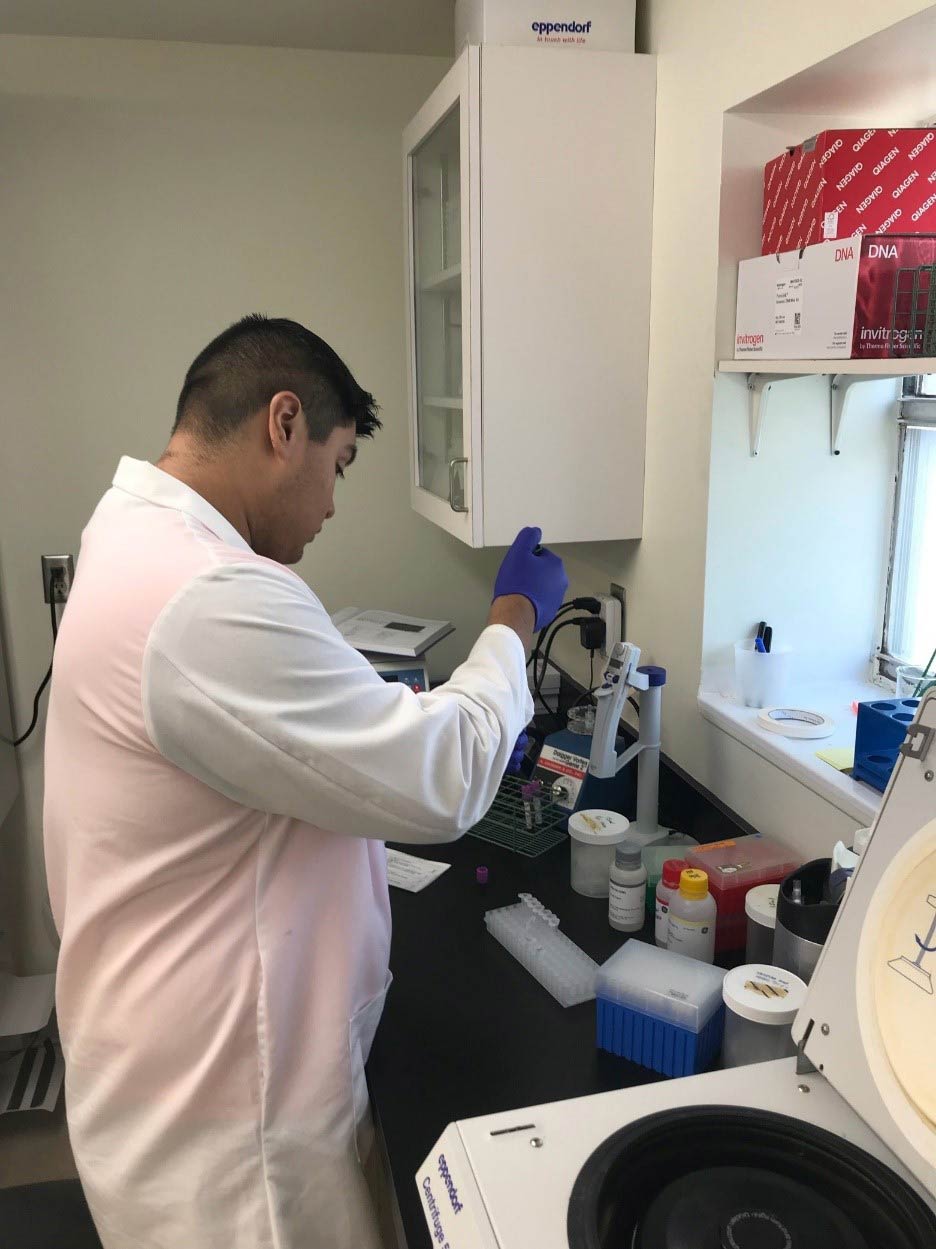 Gisel Garza, Richard Cazares
Title of project: Comparing Mesh Traps against Standard Traps at Capturing the Asian Citrus Psyllid, a Vector for Citrus Greening Disease
The Asian Citrus Psyllid (ACP) is a small insect which is the vector for Huanglongbing, better known as Citrus Greening Disease. This disease causes undesirable traits in citrus trees which makes their fruit unfit for sale, and ultimately causes the death of the tree. It can be easily spread by the ACP from one tree to many and since it has no cure it has the potential to damage whole orchards and ultimately industries. Therefore, it is imperative to find the best method of collecting the ACPs in order to insure accurate results when designing ways to decrease their population or when finding ways to combat the disease itself. Currently, standard yellow sticky traps are used to capture the ACP for studies, but other beneficial insects, debris, and even vertebrates often are also frequently captured in the traps. By proposing a new method of capturing the ACP by using traps with mesh, the hope is that the ACP are still accurately being captured while avoiding the unwanted capture of larger, and even beneficial organisms. In order to compare these two methods, data is collected from 17 independent citrus groves where both traps are placed in four separate corners within the grove at similar conditions. The data from the mesh traps will be compared to the data from the standard traps to see their performance at capturing the ACP, the hope is that the mesh traps performs the same, or better than the standard traps at capturing ACP while avoiding the capture of other organisms.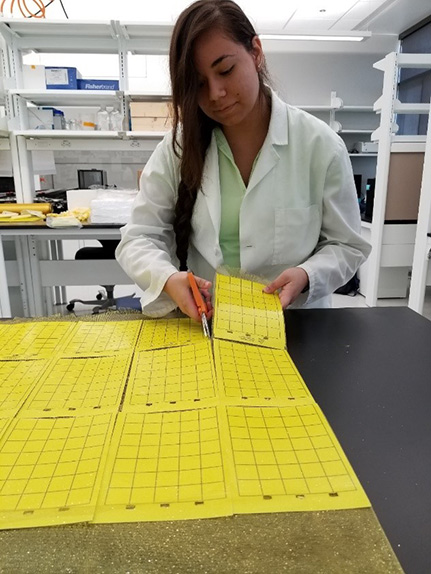 Richard Garza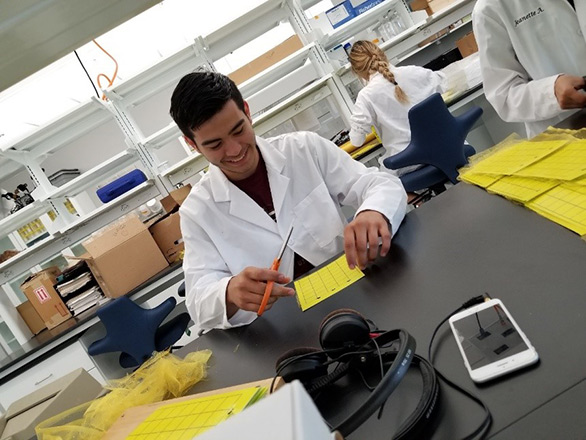 Genoveva Carriles
Title of project: The Predators of Diaphorina Citri
In my research I am focusing on the effects of natural predators on the ACP, Diaphorina Citri. These natural predators are out of our control unless we release them. So counting the ratio of predator to prey is an interesting element when trying to better understand how to get rid of these psyllids. So far I am taking account 12 predators, and whether the grove is orange or grapefruit to see the trend of both psyllid and predator. With counting the predator to prey ratio on both mesh and non-mesh traps, I am able to see if the mesh is doing the job of only collecting the psyllids and no other predator or organism.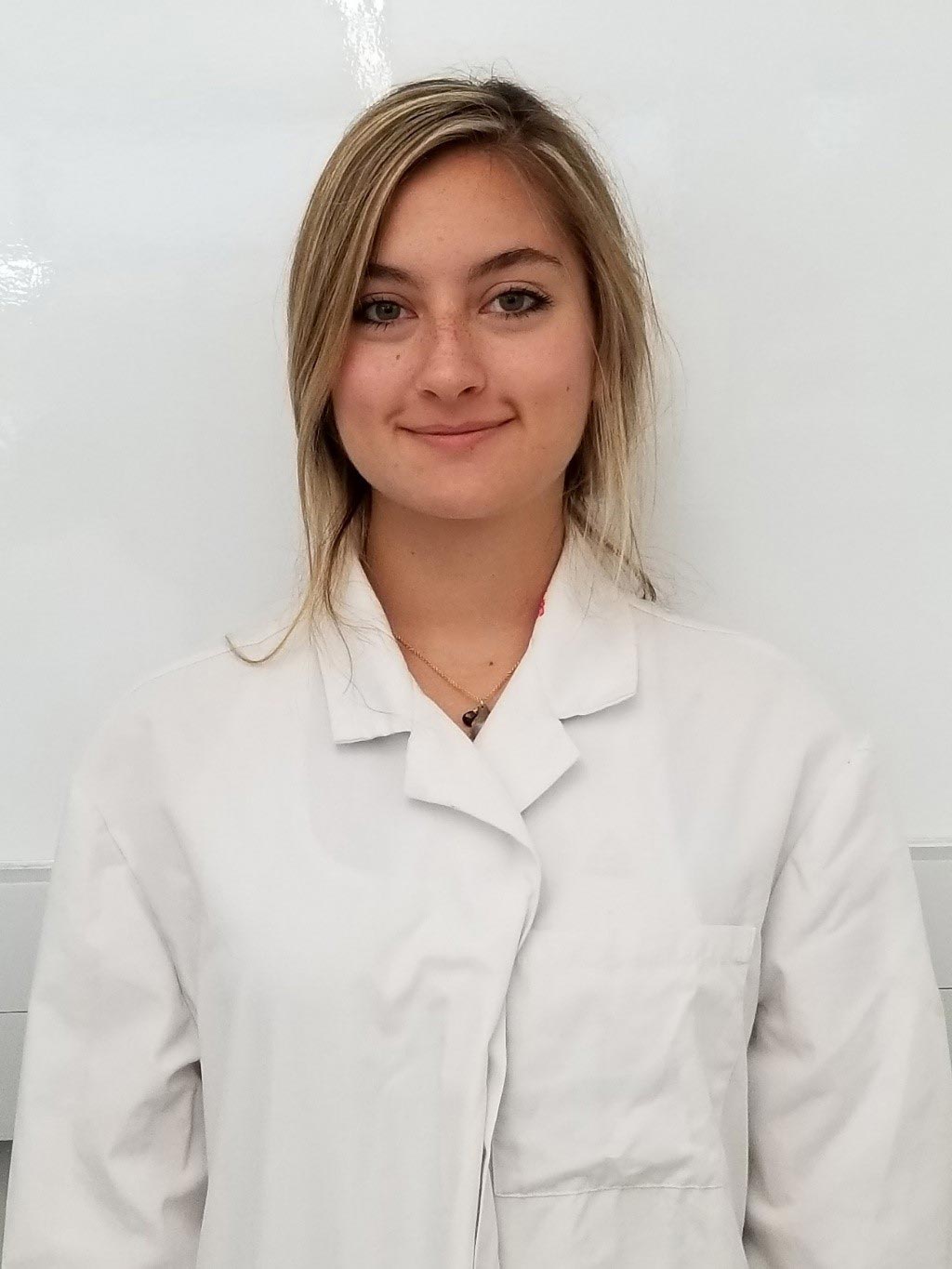 Alaa Alhaj
Title of project: Evaluation of remotely activated sprayers using native entomopathogenic nematodes to eradicate cattle fever ticks on nilgai antelope
The United States Department of Agriculture (USDA), Agricultural Research Service (ARS) conducting a study testing of remotely activated nilgai sprayers using entomopathogenic nematodes to eradicate cattle fever ticks on nilgai antelope. The research on the nilgai sprayers will be used by USDA-APHIS-Veterinary Services and the Texas Animal Health Commission to aid in eradication of cattle fever ticks on nilgai antelope.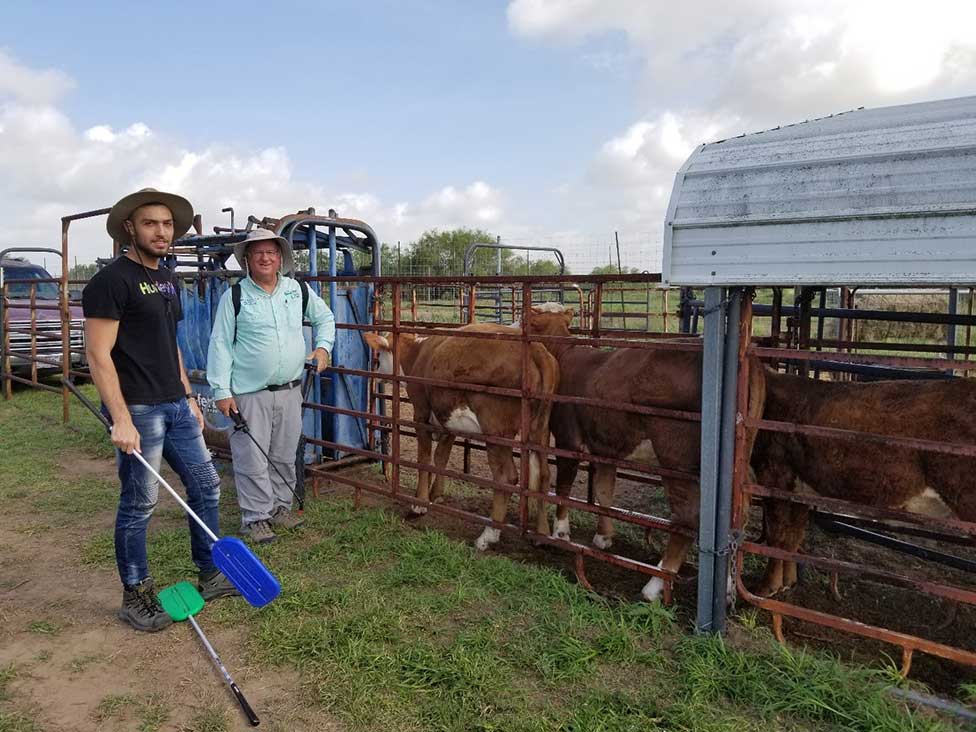 Rachel Cook
I am currently working on two projects. For the first, my team and I are screening ticks from different regions of Puerto Rico for Anaplasma and Babesia using both conventional PCR and qPCR. The goal of this project is to evaluate the presence of these diseases amongst cattle and horse populations in Puerto Rico and how the prevalence of these pathogens at present compares to their prevalence in the past so that we can better understand how to effectively counteract them in the future. For the second project, my team and I are again using conventional PCR and qPCR to screen for tick-borne diseases in ticks taken from mesocarnivores from different regions in Texas. The goal of this project is much the same as for the first: we want to evaluate the prevalence of tick-borne diseases among mesocarnivore populations in Texas and see which diseases are circulating in which regions.
In this project other two students are participating: Wojciech Futoma and Roukaya Mabizari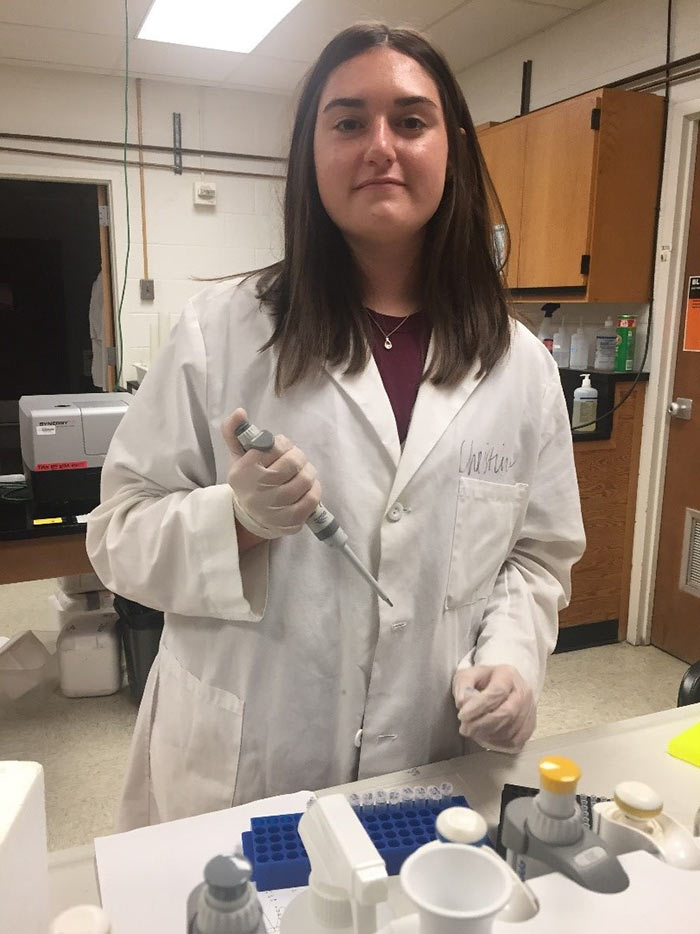 Wojciech Futoma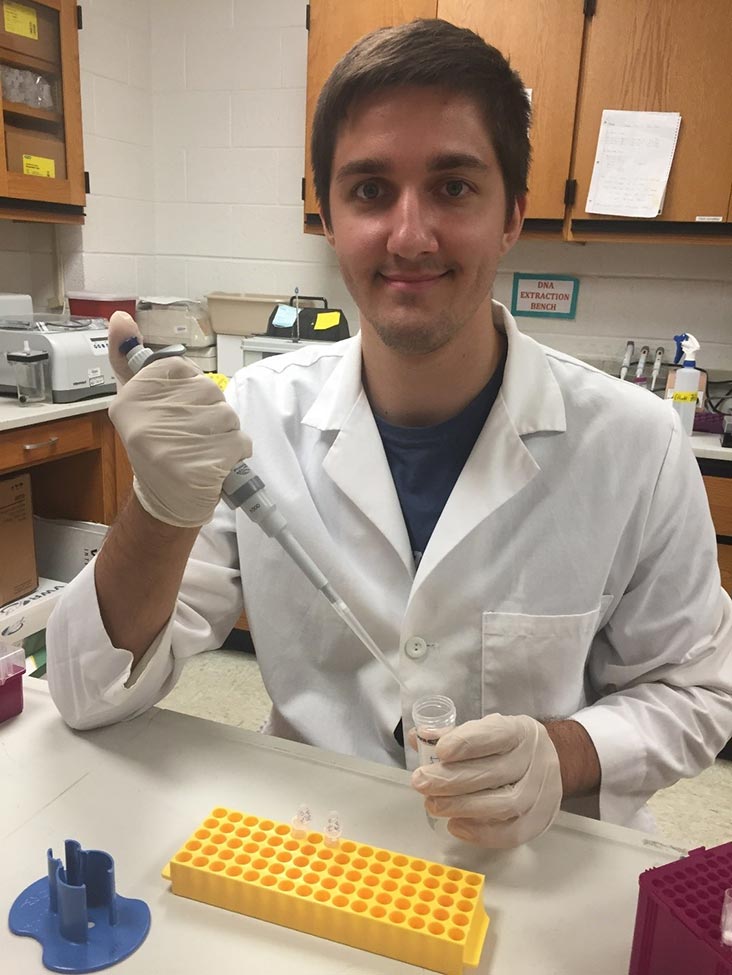 Roukaya Mabizari 
The purpose of my project is to assess the distribution of various strains of Anaplasma spp. in Puerto Rican cattle blood samples. Anaplasma is a rickettsial parasite that can cause Anaplasmosis; an infectious blood disease that results in severe anemia in cattle.  Blood samples obtained from Puerto Rico were first screened for Anaplasma spp. using conventional PCR. The samples were then sent for sequencing an analyzed for changes in prevalence. Analysis of the samples will allow for better understanding of the parasite and will direct future research that may promote ecological control of Anaplasmosis and formation of effective preventive techniques.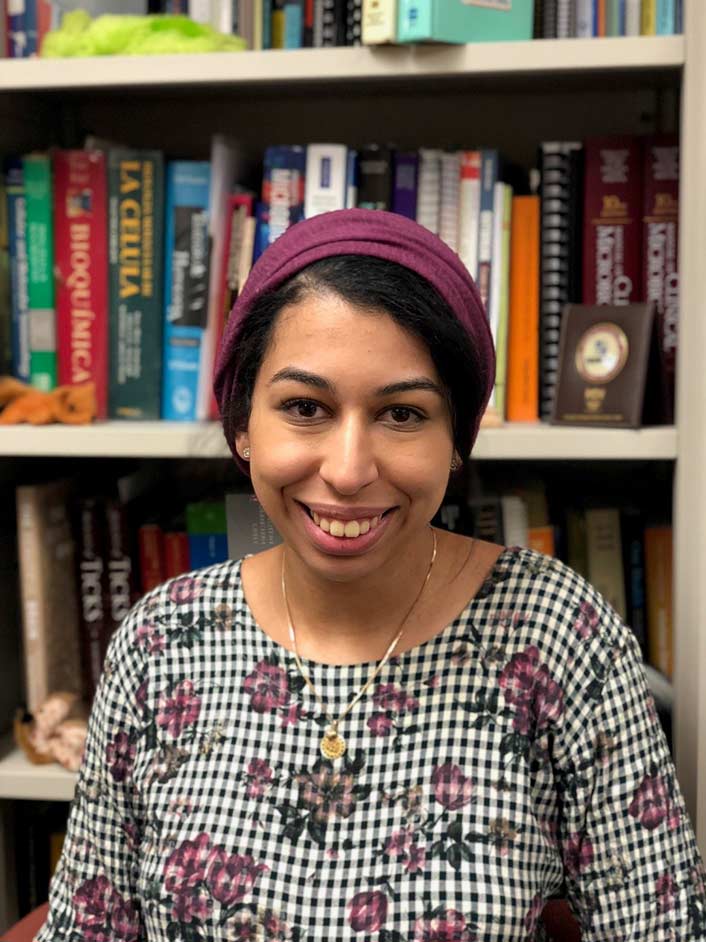 Anita Hernandez
Title of project: Exploring a Novel Antidote to Citrus Greening: Antibacterial Capacities of Symbiotic Fungal Endophytes in Citrus and Related Genera (Rutaceae)
Citrus greening disease is the most dangerous disease to citrus. An entire new approach to controlling the plant pathogen by means of endophytic fungal biocontrol agents is the direction that is being taken. Molecular techniques have recently revealed until now, unknown symbiotic fungal communities living within all plant groups in the world. Since symbiotic relationships arise from co-evolved relationships, identifying and characterizing the specialized fungal endosymbiotic communities that reside within living plants of local Citrus groves of South Texas and among wild native relatives of the citrus family.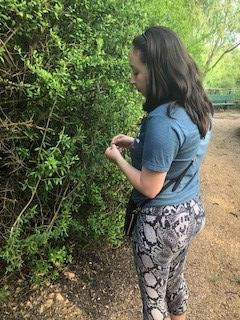 Myrine Barreiro-Arevalo
Title of project: Ticks in Texas
Ticks have been known to be vectors of several deadly diseases including Lyme disease, which has often gone misdiagnosed. Yet, little is known about whether the abundance of ticks is related with the presence of its host and which climatic variables might limit their distribution. The main goal of this research project is to examine the ecological and climatic factors related to ticks found in several counties of Texas.
Samantha Gomez
Title of project: Interaction between Copper and Biochar on the Severity of HLB or Citrus Greening Disease in Citrus Groves
She evaluated the interaction between copper and biochar on citrus tree health.  Leaves were selected and tested for HLB confirmation using a PCR test to quantify Ct Value. Copper was sprayed to the root zone at a rate of 19 grams and biochar applied at 1 pound per tree per month to induce toxicity. Every two months, nutrient analysis was done to track overall tree health. Citrus trees treated with copper showed continual increase in copper in the root zone. Trees that received biochar and copper showed a decrease in root zone copper. Trees only receiving biochar showed the least damage done by copper to the root zone. By adding biochar to infected trees we have shown a decrease in copper and other heavy metals detrimental to the health of the tree and we are seeing increased nutrient uptake of the tree.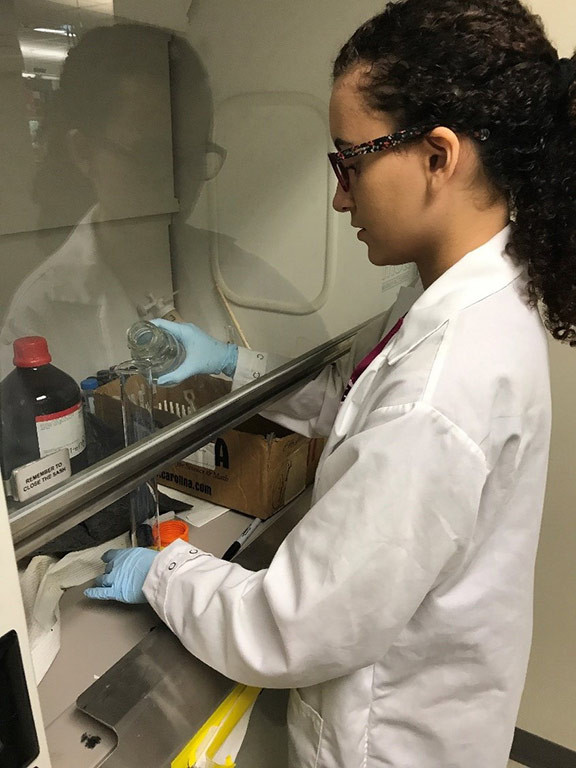 Yovanna Soto
Title of project: Impact of Selected Amino Acids and Nutrients on HLB Mitigation and Citrus Tree Health
Huanglongbing (HLB), commonly known as citrus greening is a devastating and presently incurable disease caused by bacteria (Candidatus Liberibacter spp.) and transmitted by psyllid vectors. Both the Asian citrus psyllid (Diaphorina citri) and the Asian form of HLB have invaded the USA in the late 1990s and early 2000s, now threatening the sustainability of a previously prosperous citrus industry. HLB affected trees gradually lose their vigor; produce less fruit that are lower in quality. Studies have shown that HLB infection results in drastic changes in the amino acid and mineral nutrient profiles of plants. Key elements such as nitrogen (N) and micronutrients such as zinc (Zn), as well as levels of essential amino acids (e.g. proline and glycine) are drastically reduced following an HLB infection. Thus, we hypothesized that foliar sprays of these amino acids and nutrients to citrus will mitigate the negative effects of HLB. In greenhouse studies with potted citrus trees, application of amino acids dramatically increased their respective levels, but also levels of specific nutrients in citrus foliage. Hence, application of proline resulted in increase in N and P level in leaf tissue, while application of glycine led to an increase in Mg level. In ongoing field trials, effects of foliar application of proline, glycine, and their combination on tree health and bacterial titers are being evaluated.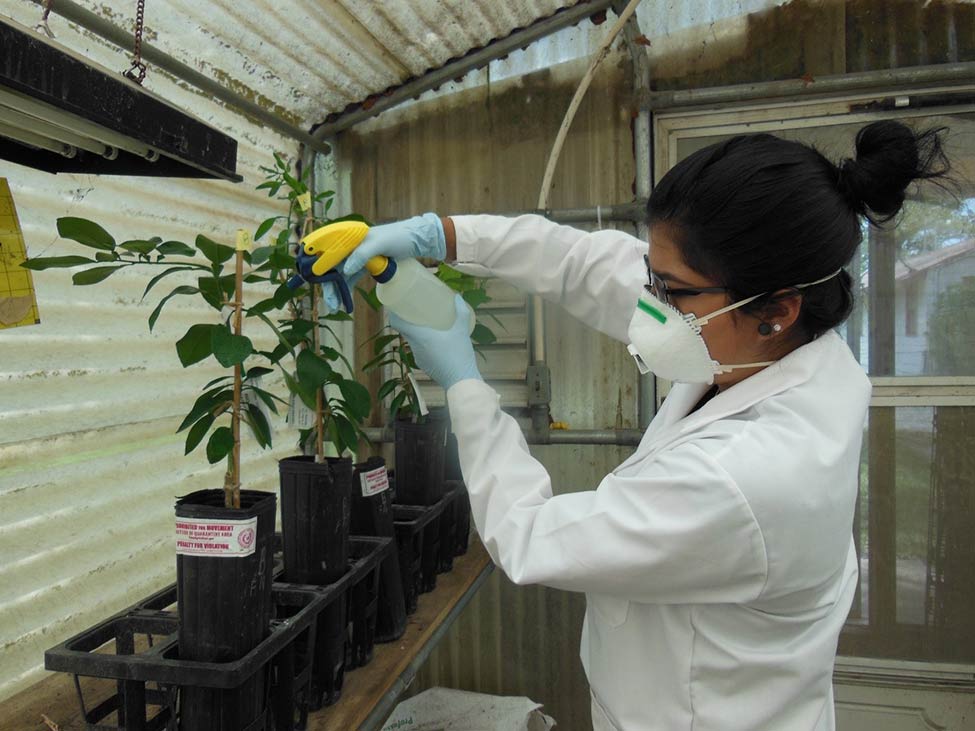 Briana Gaytan
Title of my project: Evaluation of the Effect of Calcium and Silicon Foliar Applications on the Asian Citrus Psyllid, Diaphorina citri, Biology
Objective: Our objective is to test the foliar applications of silicon and calcium to citrus plants to see if this will negatively affect the biology of the Asian Citrus Psyllid, Diaphorina citri.
We used different foliar applications (calcium silicate, calcium metalosate, potassium silicate) to treat citrus plants and then infested the citrus plants with adult psyllids a week later to test and record survivorship and reproductive parameters.
Kendor Martinez:
Title of project: Assisting research in control of cattle fever ticks.
Abstract.  Researchers at the Cattle Fever Tick research lab conduct experiments with chemicals that kill ticks. These chemicals are applied directly to cattle as a pour-on, as a spray, or sometimes as an injection. Typically the chemical is tested on calves because they are easier to handle. Each calf is placed in a separate barn stall. The calves are first infested with ticks by glueing a vial with around one thousand tick larvae on the back of the calf. The chemical is then applied to half of the calves with the other half serving as checks. This is where the assistant animal technician comes in. After two to three weeks the ticks have grown to adult size. When they finish feeding on the calf they drop to the floor of the stall. The ticks are collected by washing the floor of the stall each day with a hose that washes the ticks along with manure through a drainage hole where the ticks, each about the size of a raisin are captured in a mesh screen. The ticks are collected into cartons which are marked with the number of the stall. The carton is then taken into the lab where the ticks are counted. These numbers are recorded on a data sheet. The researcher can then tell if the chemical has made a difference in the numbers of ticks.
Michael Gomez
Title of project: Effect of Climate Weather Data on Population Densities and Fluctuations of Asian Citrus Psyllid in South Texas
Asian Citrus Psyllid (Diaphorina citri) is a pest that feeds on citrus and transmits the bacterial pathogen Candidatus Liberibacter asiaticus, which is the causal agent of Huanglongbing (HLB). Like most insects, the developmental biology of ACP is affected by weather data such as temperature and relative humidity. In addition, weather data can affect the phenology of citrus trees. Since ACP reproduce exclusively on young shoot of citrus, it is important to understand the effect of weather data on ACP population. Purpose Establish the relationship of different weather parameters with densities of psyllid recorded in citrus groves in South Texas. Methodological Approach Different weather data was obtained from the lower, middle, and upper Rio Grande Valley in South Texas including temperature, relative humidity, precipitation and wind speed. The psyllid data was obtained from the Texas Citrus Pest and Disease Management Corporation (TCPDMC) 2012-2016. The research is currently ongoing.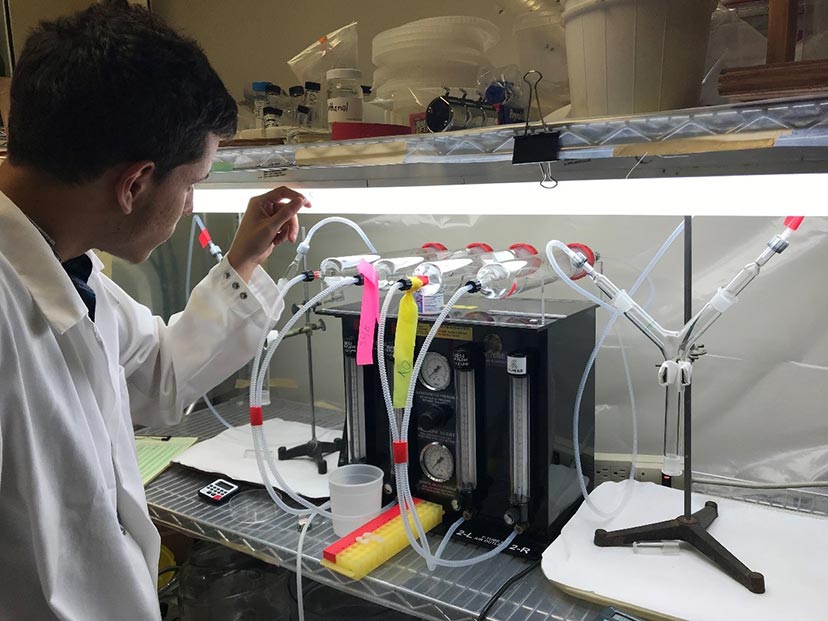 Jose Guerra
Title: Comparing DNA Extraction Methods to Extract Quality Rhipicephalus microplus DNA
The southern cattle tick, Rhipicephalus (Boophilus) microplus is a worldwide economic pest costing the agriculture industry billions. This research focuses on a comparison of three different DNA extraction methods: phenol-chloroform extraction (method 1), a modified version of the Aljanabi and Martinez protocol (method 2), and PureLink DNA Mini Kit protocol (method 3); all used to purify nucleic acids and eliminate contaminants for producing good quality DNA from R. microplus. Efficacy is based on outcome factors such as purification quality, time efficiency, and average yield of quality DNA collected from each sample. With method 1, 85% of the samples produced quality DNA. Method 2, 78% of the samples produced quality DNA. Lastly method 3, 75% of the samples produced quality DNA. Method 1 was able to extract a higher yield of DNA whereas method 2 and 3 had no significant difference between them.  All methods had high quality DNA quality, yet method 2 and 3 are more time efficient than method 1. This research is important because with quality DNA better results from downstream analysis can be done namely on acaricide mutations, RT-PCR, population genetics, and next-gen sequencing.
Ariel Delgado
Title of project: Detection of mutations in the sodium channel of Rhipicephalus microplus using High Resolution Melting Analysis
The Cattle Fever Tick (CFT), Rhipicephalus microplus, is a single-host tick. CFT has the largest economic impact on livestock husbandry costing the agriculture industry billions of dollars each year. The tick distribution occurs in tropical and subtropical areas, for this reason, outbreaks are still present in the southern regions of Texas and its boundary with North East Mexico, which has been established as a permanent quarantine zone for CFT. Pyrethroids are an acaricide class used to control CFT infestations. The unbounded use of pyrethroids in Mexico has led to resistance in CFT populations. The US imports over 1 million head of cattle from Mexico every year and having a rapid detection for pyrethroid resistant ticks is critical for a CFT control program. Tick samples were taken from livestock at the ports of entry into the US from Mexico. Forty-eight samples were tested using high resolution melt analysis for pyrethroid resistant genotypes. This real-time PCR technique is fast and versatile where new mutations can also be detected. Primers for the voltage-sensitive sodium channel were used to amplify regions of the gene that contain target site mutations. We used resistant and susceptible references from the colonies at the Cattle Fever Tick Research Laboratory as controls. Acaricide resistant genotypes were identified in the comparative analysis of melting curves of amplicons. This method provides a new path to identify other mutations that provide acaricide resistance. The research of this procedure can serve as a basis to plan outbreak control strategies.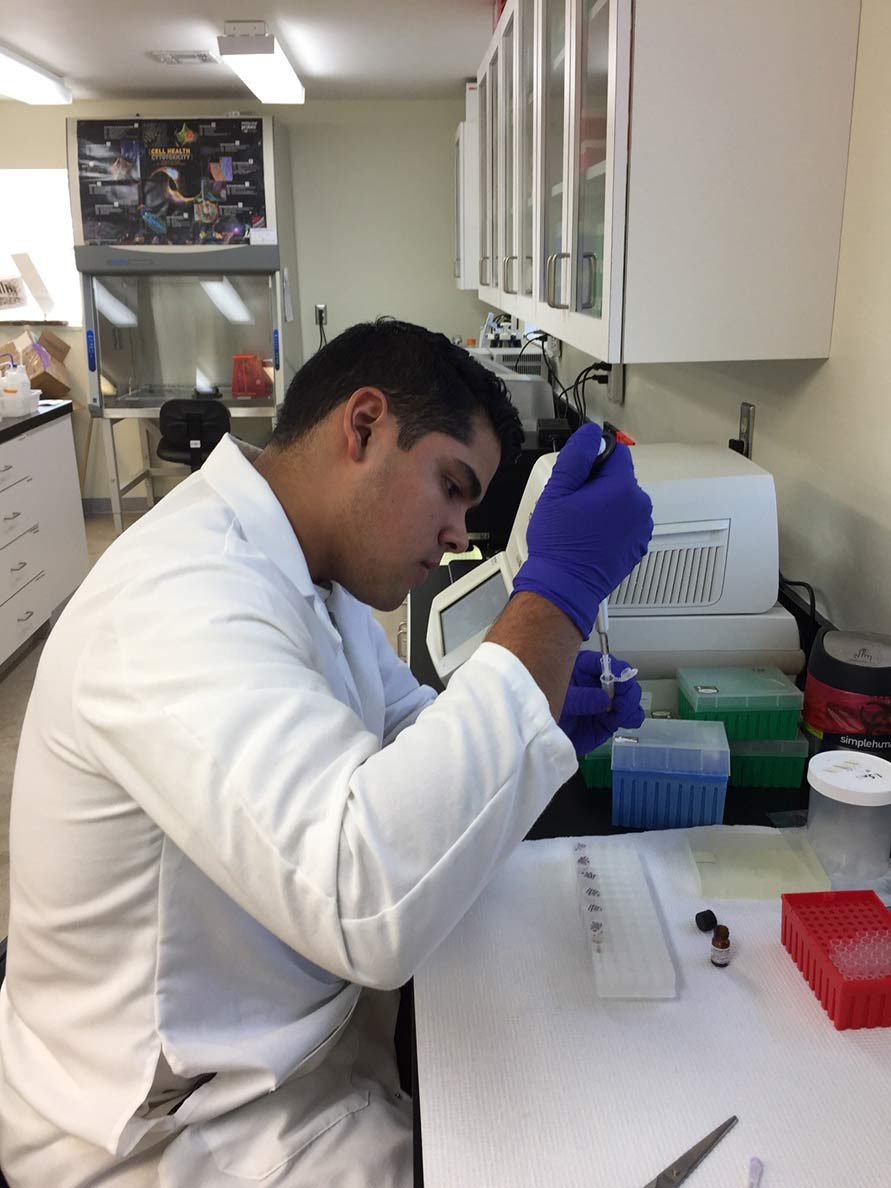 Hellen Chen
Title of project:  Incidence of Anaplasma marginale in cattle from 
Puerto Rico
Anaplasma marginale is an Alphaproteobacteria that infects red blood cells in bovine species, being the most common tick-borne pathogen of cattle. In addition, A. marginale presents co-infecting cattle with Bobine Babesias. The infection of this disease causes a major morbidity and mortality of cattle population, which decreases beef production and trade.  Estimates of annual lose due to Anaplasmosis for producers are at $300 million for just the U.S. alone. Anaplasma marginale causes an infectious disease that is carried by 17 different tick vector species. The symptoms of this disease are progressive hemolytic anemia, loss of milk production, abortions, and death. In the current study, samples collected in an endemic region in Puerto Rico were evaluated for the presence of A. 
marginale through polymerase chain reaction (PCR).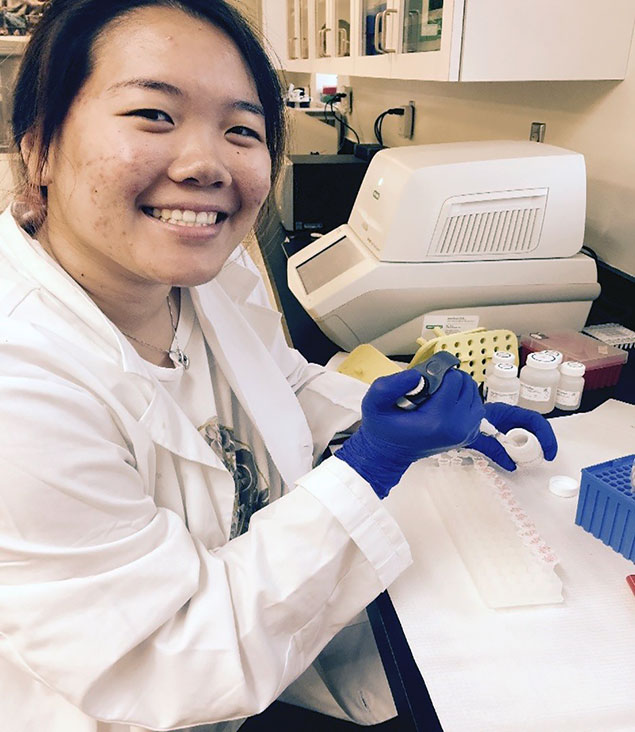 Hanna Moreno
AWARD WINNER: 3rd place abstract and poser presentation 71th Annual Meeting, Subtropical Agriculture and Environments Society.
Title of project: Amplification of acaricide target genes in Rhipicephalus (Boophilus) annulatus
Acaricide resistance complicates efforts to control or eradicate ticks of veterinary importance like the cattle tick, Rhipicephalus (Boophilus) annulatus which has recently developed resistance to pyrethroids. By comparison, Rhipicephalus microplus, a tick closely related to R. annulatus, has shown resistance to multiple acaricides that target different receptors in the central nervous system, including voltage-gated sodium channels, gamma-aminobutyric acid (GABA)-gated chloride channels, and octopamine receptors. Single point mutations were found in these genes that correlate to acaricide resistance in R. microplus. In this study, we are the first to sequence whole transcripts of these acaricide target genes in R. annulatus. We present the results of our research here.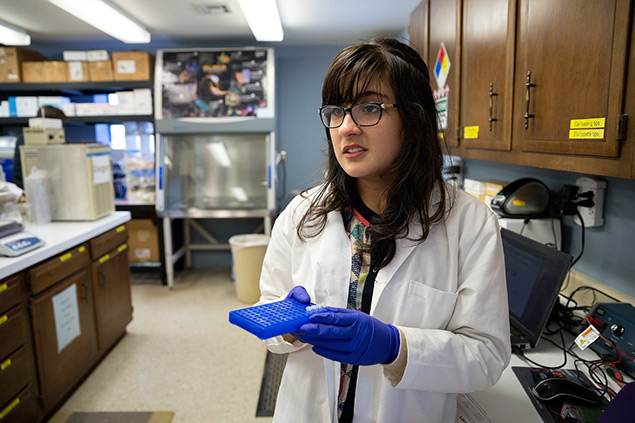 Daniela Sanchez
Title of project: Investigating multi-acaricide resistance mechanisms in the Cattle Fever Tick (CFT), Rhipicephalus microplus
The Cattle Fever Tick (CFT) (Rhipicephalus microplus) is the most economically important parasite of cattle in the world. Several classes of acaricides are available to control CFT, but the extensive use of these compounds have led to the development of resistance in several tick populations. Understanding the mechanisms involved in acaricide resistance is crucial to establish strategies to overcome this phenomenon. The objectives of this study were: 1) characterize phenotypic resistance to permethrin, coumaphos, fipronil, amitraz, and ivermectin in CFT colonies with laboratory bioassays; 2) search for single nucleotide polymorphisms in acaricide target-sites genes, Na-channel, octopamine receptors and GABA-gated chloride channel, associated with resistance to permethrin, amitraz and fipronil, respectively; 3) determine transcription levels of three genes coding multidrug transporters proteins (ABCb10, ABCc1and ABCc2) in multiple resistant strains. Four CFT strains were studied: Deutch (susceptible reference strain), YUC, SLU, and ELZ (multiple drug resistant strains). It was found that the YUC, SLU and ELZ strains, all resistant to permethrin, have high frequency of mutations in the Na-channel gene, previously associated with resistance to pyrethroids. SLU individuals also presented mutations in octopamine receptors that can explain its resistance to amitraz. ELZ individuals were highly resistant to amitraz and fipronil, however no mutations were found in its targets sites. High transcription levels for all the three ABC genes suggest a participation of multidrug transporters in resistance to amitraz and fipronil in this strain. Future functional studies will be conducted to clarify the participation of ABC transporters in multiple acaricide resistance phenotypes.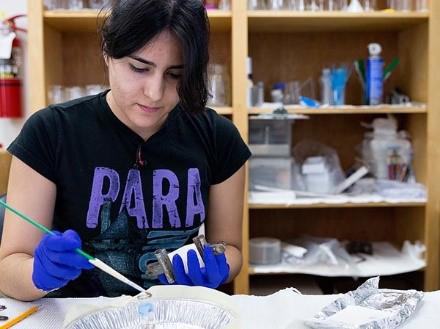 Gabriela Shanchez 
Toward a Better Understanding of Asian Citrus Psyllids (Hemiptera: Liviidae)
Host Selection Behavior.
AWARD WINNER: 1st place abstract and poser presentation 71th Annual Meeting, Subtropical Agriculture and Environments Society.
Factors controlling the Asian citrus psyllid (ACP), Diaphorina citri, host finding and selection are poorly understood.  ACP preferentially selects young expanding flush shoots for feeding and its reproduction solely occurs on these juvenile shoots.  Previous research has shown that young shoots are softer with light green color; had higher volatile organic compounds and contained more free amino acids indicating a nutritionally richer. To better understand the host selection behavior of ACP, young shoots of six known Rutaceae host plants were tested in a multiple choice assay. Flush shoots were inserted in an aquatube containing a hydroponic solution to maintain their turgidity, and disposed equidistantly on a circular tray for selection by ACP over a 48 h-period. A combination of visual and olfactory cues showed that ACP adults had a preference for grapefruit relative to three other citrus species namely sweet orange, lemon and lime, and two non-citrus Rutacae (curry leaf and orange jasmine). In a second trial, ACP were released in the desiccator containing four flush shoots of yellow sapote, a non-psyllid host. After a 24 h-period, similar numbers of grapefruit flush shoots were introduced in the arena. A high proportion of ACP adults (ca. 70%) moved from the non-host to suitable host flush shoots. In contrast, when flush shoots of a suitable host plant were introduced and flush shoots of another suitable host were added, settled ACP on first host plant rarely move. Taken together, the data provided valuable insight in ACP behavior while searching for a suitable host.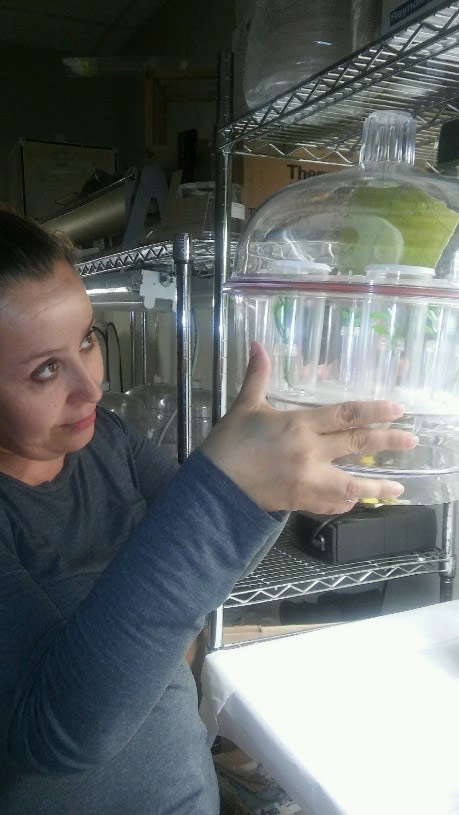 Ashley Matthew
Title of project: Temperature and precipitation perspective variations are an important determinant in the suitability for Cattle Fever Tick vectors in South Texas counties
Cattle fever ticks (Rhipicephalus (Boophilus) sp.), are vectors of the pathogens causing bovine babesiosis and anaplasmosis in cattle all around the world. In recent years there has been a dramatic increase in infestations north of the U.S.-Mexico Border, past the tick eradication quarantine area (TEQA). Tick eradication efforts are currently being focused on cattle along the border, but climate variation in the last decade suggests that a re-invasion in South Texas may be imminent. We investigated perspective areas of future distributions with regards to climate of cattle fever ticks. We used a spatially-explicit model (ArcGIS) to predict environmental suitability for Rhipicephalus (Boophilus) microplus based off of temperature and precipitation in South Texas. We specially focused on present day (2012) and 2050 climatic patterns in order to identify a viable habitat for these vectors. Through this spatial prediction we identified areas that would be satisfactory for tick infestations and climate parameters that would support these infestations. Our models indicate there is a possibility for range expansion of the vector species Rhipicephalus (Boophilus) microplus due to climate suitability in South Texas. This change in temperature and precipitation patterns increases the risk of reestablishment of cattle fever tick in areas outside the TEQA. Future applications to further research of the cattle fever tick would be studies regarding host/predator-landscape interactions based off of these climatic variables.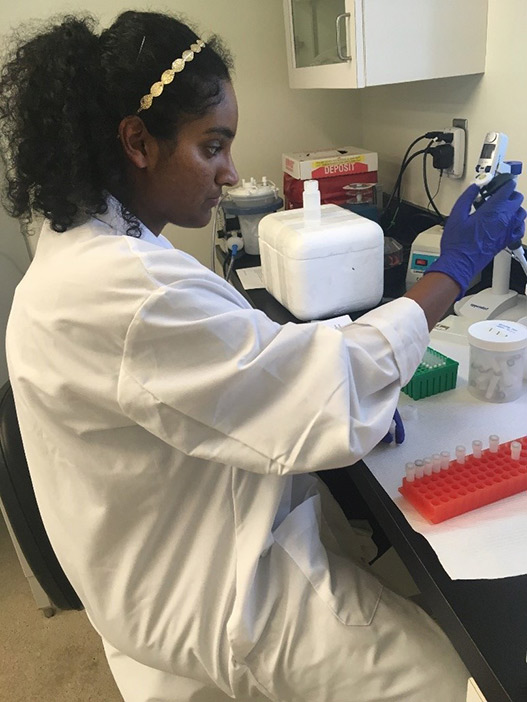 Joshua Mathew
Bioclimatic factors coincide with environmental pressures to spur the spread of the Asian Citrus Psyllid to northern Texas.
The Asian Citrus Psyllid (ACP) is the dominant vector of the disease Huanglongbing (HLB). HLB is a treacherous disease that decimates the vitality of citrus crops throughout regions of southern Texas and across the globe. There is no feasible cure to treat the disease that distorts and kills the citrus tree and its fruits. Many studies have shown that the spread of HLB cannot be suppressed, but only certain measures can be taken to limit the severity if the effects. A vast multitude of ACP geographic points have been accrued for the globe, and specifically in the Rio Grande Valley. Certain climatic variables have been shown to aggravate the spread of ACP, such as an increase in temperature. Additionally, impoverished regions of South Texas allow for ACP to pervade and multiply easier due to the habitant's unbeknownst to the predator in their neighborhood. By utilizing ArcGIS software to map the data points, I could visually depict the possible spread of ACP throughout the region of Texas. Multiple factors will be incorporated and layered to fully display the socio-environmental pressures aggregating ACP. The results can show possible areas of interest to investigate future ACP occurrences, and possibly hinder their effects upon the area. This module that would depict dispersion due to various factors could be applied to other impeding and harmful vectors.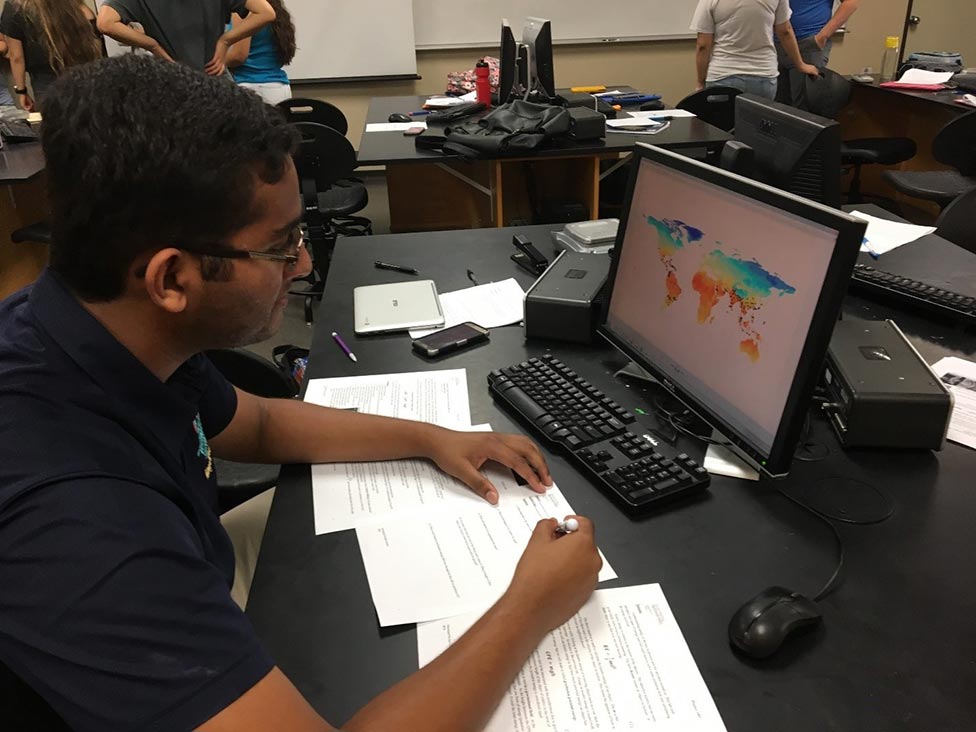 Idwin Casas
Development of a synthetic lure for monitoring Asian citrus psyllid, Diaphorina citri (Hemiptera: Liviidae) populations.
The invasive Asian citrus psyllid (ACP) is the vector of the deadly citrus greening disease. ACP was first reported in Texas 2001, but has spread and colonized all groves and residential citrus trees in South Texas. ACP control is recommended as an important strategy to mitigate the spread of citrus greening. Effective control requires the development of sensitive ACP monitoring tools. Currently, ACP populations are monitored using visual observations, tap sampling and unbaited sticky traps. Unbaited yellow or lime-green traps are the most effective methods, but these traps are not potent when ACP populations are low. Thus, there is a need to improve the attraction of these traps by baiting them with ACP lures. As ACP is attracted to young flush shoots of its host plants, we tested synthetic blends formulated from volatile organic compounds (VOC) detected in flush shoots after Gas Chromatography-Mass Spectrometry analysis. Three blends made of VOCs present in flush shoots common to all ACP host plants were formulated and labeled 'MS3', 'MS7' and 'MS8'. The attractiveness of these blends to adult ACP was tested in a controlled environment using baited and non-baited white and lime-green sticky cards in a desiccator. A four-way choice test was also conducted to simultaneously test these three blends versus the control. In single choice tests, MS3 attracted 56.5% more ACP relative to the control. In contrast MS7 and MS8 did not exhibit any preferential attraction relative to the control. In multiple choice tests, MS3 marginally attracted more ACP than MS7 and MS8 and the control. MS3 is composed of three terpenes β-phellandrene, β-caryophyllene and α-phellandrene, and shows promises for ACP attraction. Studies are underway to refine MS3 and determine its effectiveness in groves.
Luis Torres and Roxanna Lerma
Title of project: Biocontrol of the Asian Citrus Psyllid: Tamarixia wasp
The Asian Citrus Psyllid (ACP) is associated with the spread of Huanglongbing (HLB) also known as Citrus Greening Disease (CGD), being a major threat to the US Citrus production. Incidence of HLB has been on the rise in the Lower Rio Grande Valley (LRGV), representing a major threat for the citrus industry in this region. Biocontrol efforts are crucial to controlling the population of ACP in residential citrus plantings since ACP do not distinguish between commercially-planted and ornamental trees and conventional treatment options (e.g., chemical pesticides) in residential trees is often considered too invasive Production of the natural predator of ACP, Tamarixia radiata, is currently one of the main goals in the Texas citrus industries response to the CGD threat. Production of T. radiata is conducted in a greenhouse environment and orange jasmine (Murraya paniculata) is vital to this process. The T. radiata eggs are laid by the female wasp and undergo four stages before they emerge from an ACP nymph which takes up to 12 days until the cycle restarts. If left unchecked, HLB spread will cause fruit drop and tree death as it has in Florida, ultimately diminishing the Texas citrus industry's $200 million contribution to the state's economy. Increasing T. radiata production is currently the only strategy that the industry has for controlling ACP in residential areas. Preliminary results show that production rates in the greenhouse could be associated with temperature fluctuations. Future research could include the use of data loggers to monitor changes in greenhouse temperature.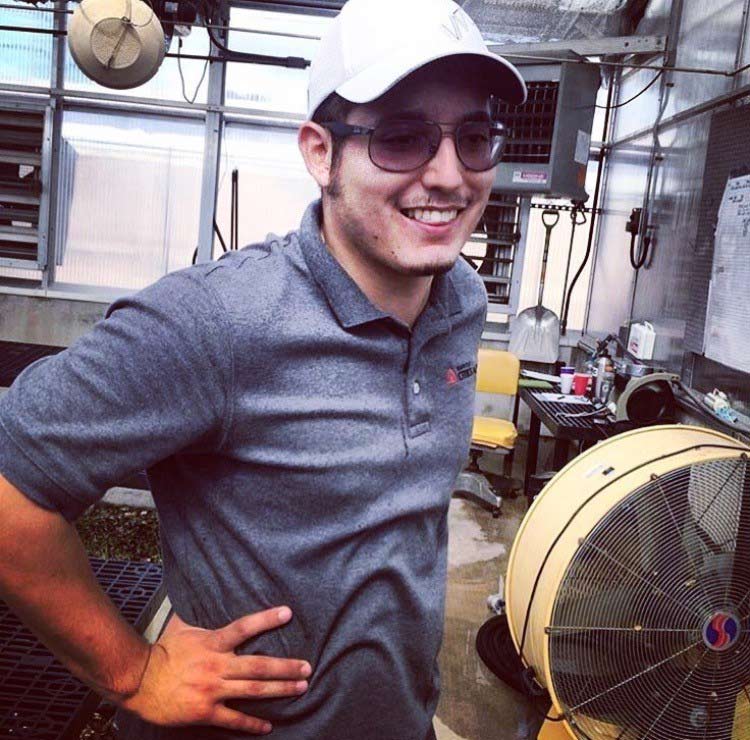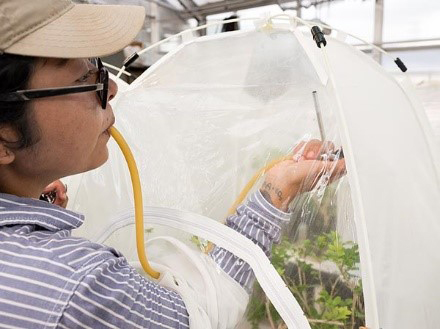 Bethany Olivarez
Title of project: Araneae as a Potential Bio Control Against the Rhipicephalus (Boophilus) microplus (Cattle Fever Tick)
The cattle fever tick Rhipicephalus (Boophilus) microplus, is an economically important arthropod because of their ability to vector Babesiosis (cattle fever). Although fever ticks spend up to 80 – 90% of their lives questing for a host, the primary control is via on-host methods. Thus leaving the need for an off-host biocontrol method. Research on the predator-prey relationship between Araneae and ticks is limited, resulting with the experimental idea to test Araneae as a potential predator in a laboratory setting.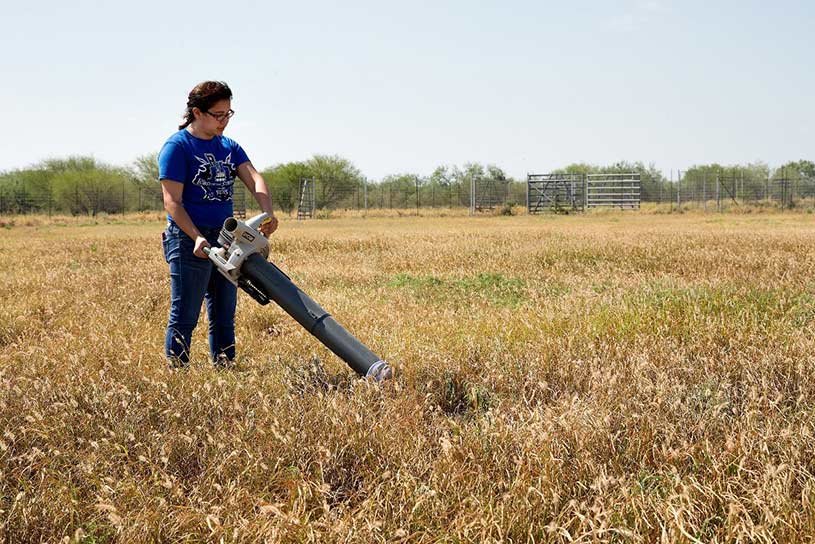 Meetings: 1st generation students!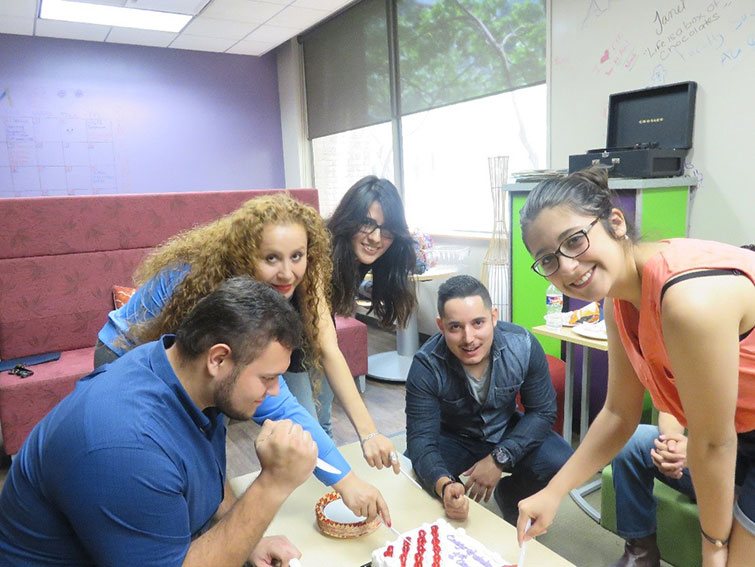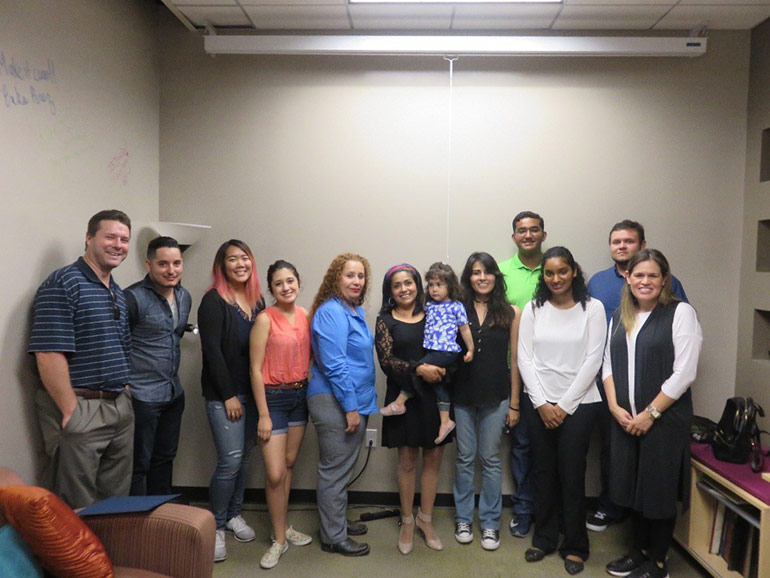 2nd and third generation students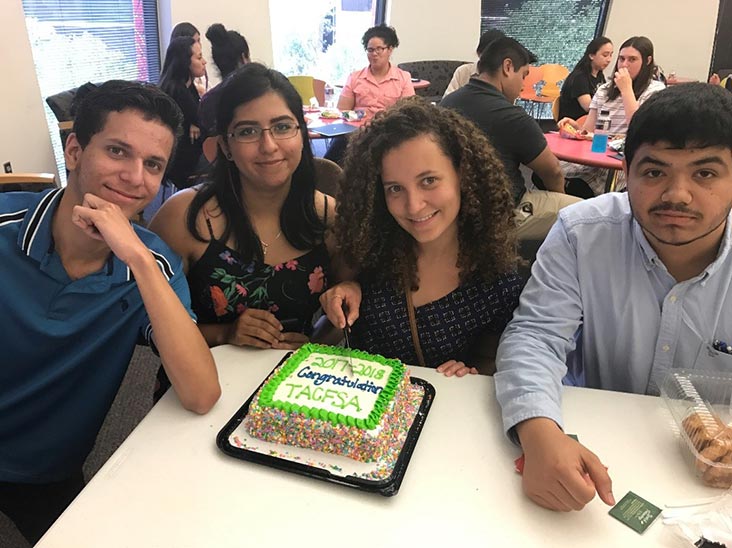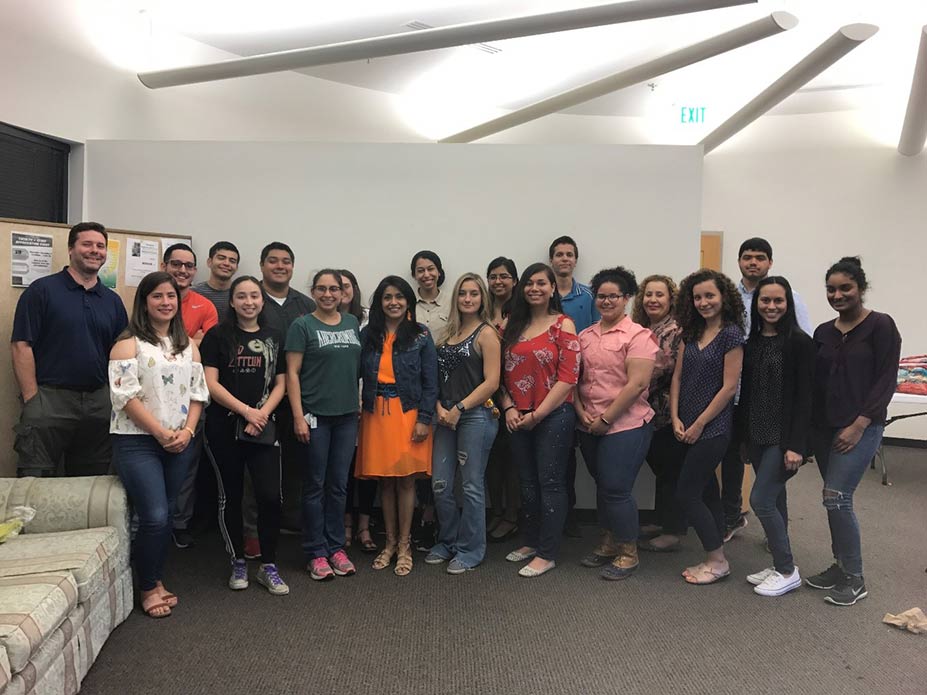 Students receiving awards 71th Annual Meeting, Subtropical Agriculture and Environments Society.