Tuesday, January 31, 2023
  Community
By Victoria Brito Morales
RIO GRANDE VALLEY, TEXAS – As the 88th Legislative Session gets underway, The University of Texas Rio Grande Valley hosted legislators from across the state on two stops of their Legislative Tour of the Rio Grande Valley. 
RGV Partnership welcomed elected officials to a tour of the Valley to help them get acquainted with the area. Elected officials and their staff members arrived Thursday, Jan. 26, for a four-day tour of the area. 
The tour officially launched on Thursday at the UTRGV Harlingen Collegiate High School, with a Healthcare Panel Discussion hosted by UTRGV.
Panelists included:
Dr. Michael Hocker, dean of UTRGV School of Medicine.
Leslie Bingham, senior vice president and hospital CEO of Valley Baptist Health System. 
Esmeralda Guajardo, Cameron County Public Health administrator.
Matthew Wolthoff, president of Driscoll Children's Hospital-Rio Grande Valley. 
Dr. Javier La Fontaine, DPM, dean of the UTRGV School of Podiatric Medicine.
Anabell Cardona, president and CEO of Valley Grande Institute.
AREA MEDICAL ACCESS: 'IT IS NOT OK'
Hocker told those gathered the UTRGV School of Medicine is filling a need for physicians in an underserved community. 
"We don't have enough physicians and we don't have enough specialists. I can go down the list of statistics," Hocker said. "But we are changing that through our School of Medicine."
Of 7,000 applications, 55 medical prospects are chosen annually to attend the UTRGV School of Medicine. The school provides one of the lowest tuition rates for medical schools in the country. Previously, prospects would venture north for a medical education.
And medical education is not the only reason people travel north, Hocker said. They also leave the Valley life-saving medical care and treatment for cancer patients.
"People with access, money, insurance – they're leaving the valley for healthcare. And then we have the population who doesn't have the means to do that, and they just go home and die," Hocker said. "And that is not OK." 
UTRGV recently broke ground on the UT Health RGV Cancer and Surgery Center in McAllen that will help fill that gap in healthcare, with oncology advisory services provided by The University of Texas MD Anderson Cancer Center, a world leader in cancer care and research.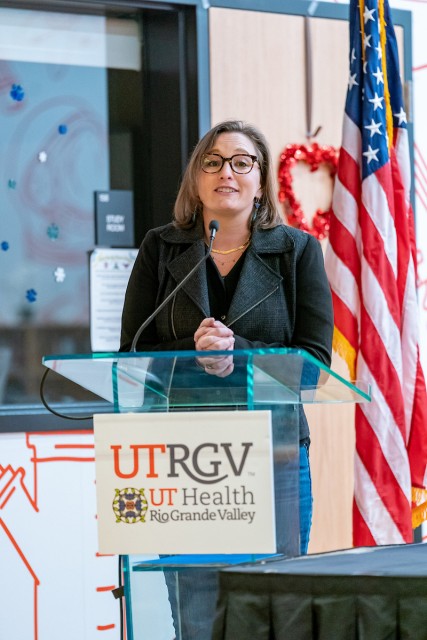 PREVENTION IS KEY
La Fontaine joined UTRGV this the summer as inaugural dean of the UTRGV School of Podiatric Medicine, the only school of podiatric medicine in Texas and one of just 11 in the country.
"We want to be a mecca for a center of excellence for podiatric care in Texas," he said. "We want people coming down here, and we will bring in and train the best students for leading research."
Podiatrists are key to the treatment of diabetes, a prevalent and potentially devastating disease among Valley residents.
"About 85 percent of amputations a diabetes patient gets start with ulcers to an extremity," La Fontaine said. 
CREATING VISABILITY AROUND SOUTH TEXAS
The opening reception was one of several stops on the Legislative Tour of the Valley, which concluded Saturday with a Workforce and Economic Development Ecosystem panel, held at the eBridge Center in Brownsville, to discuss border security, culture, tourism, education and workforce in the Valley. 
Ron Garza, associate vice president of Workforce and Economic Development, said the soon-to-be-open eBridge will play a vital role in the development and expansion of business enterprises across the region.  
"This facility expands UTRGV's footprint in Brownsville and will showcase the collaboration between the City of Brownsville, BCIC and UTRGV in fostering local economic development," Garza said. 
Newly elected Texas Sen. Morgan LaMantia (TX-27) said she wants her colleagues in the Legislature to see what the Rio Grande Valley really is, rather than imagining it the way mainstream media portrays border issues. 
"We are such a unique part of Texas," LaMantia said. "Unless you've actually been here and seen the Valley and talked to the people who live on the border, you don't really understand it. So, having all these other elected officials down to the border so they can see it for themselves – hopefully, it gives us so many more partners to help fight for what the border needs."
Veronica Gonzales, UTRGV's senior vice president of Governmental and Community Relations, said an opportunity like this is tremendous for UTRGV and the RGV community. 
"It's not often that UTRGV has an opportunity to engage with so many legislators and their Capitol staff at one time," Gonzales said. "This tour is providing us an opportunity to highlight our many wonderful assets and convey our needs to state lawmakers as they begin taking up legislation and the state budget."
The Texas 88th Legislative Session is scheduled to conclude May 29. 
For more information on the UTRGV 88th legislative session priorities, visit utrgv.edu/88th.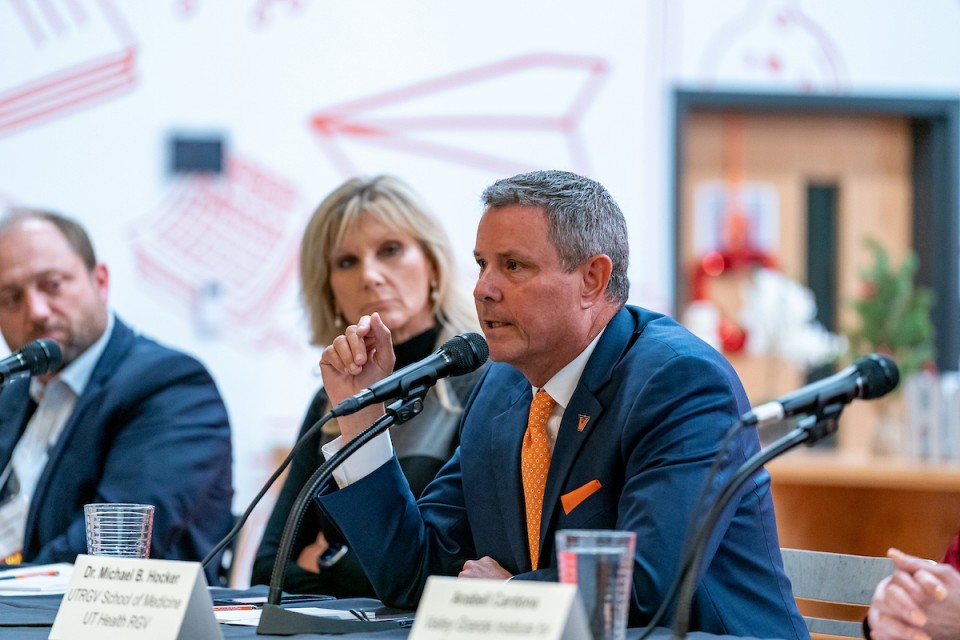 ABOUT UTRGV
The University of Texas Rio Grande Valley (UTRGV) was created by the Texas Legislature in 2013 as the first major public university of the 21st century in Texas. This transformative initiative provided the opportunity to expand educational opportunities in the Rio Grande Valley, including a new School of Medicine, and made it possible for residents of the region to benefit from the Permanent University Fund – a public endowment contributing support to the University of Texas System and other institutions.
UTRGV has campuses and off-campus research and teaching sites throughout the Rio Grande Valley including in Boca Chica Beach, Brownsville (formerly The University of Texas at Brownsville campus), Edinburg (formerly The University of Texas-Pan American campus), Harlingen, McAllen, Port Isabel, Rio Grande City, and South Padre Island. UTRGV, a comprehensive academic institution, enrolled its first class in the fall of 2015, and the School of Medicine welcomed its first class in the summer of 2016.