Friday, October 14, 2022
  Community
By Saira Cabrera
McALLEN, TEXAS – UTRGV and community leaders on Friday morning broke ground on the much-anticipated UT Health RGV Cancer and Surgery Center, centrally located in the 495 Commerce Center complex in McAllen. 
The 145,000-square-foot facility will include: 
UT Health RGV Cancer Center: Medical Oncology, Infusion, Radiation Oncology and Clinical Research Unit.
UT Health RGV Surgery Center.
UT Health RGV Diagnostic Imaging.
UT Health RGV Orthopedics.
UT Health RGV Rehab & Physical Therapy.
UT Health RGV Clinical Laboratory.
Conference, Education and Administrative Core. 
Cafe and Reflection Area.
The UT Health RGV Cancer and Surgery Center is part of the phase one development of UTRGV's McAllen Academic Medical Campus, which will spread across 38 acres at 1400 N. Commerce Center St. in McAllen.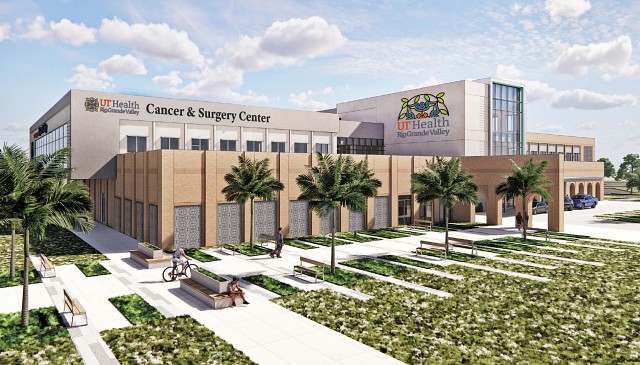 The University of Texas MD Anderson Cancer Center, world leader in cancer care and research, is providing oncology advisory services to the center, to help develop and launch the cancer program in the Rio Grande Valley. 
A DREAM WE'RE FULFILLING
UTRGV President Guy Bailey said the center is the fulfillment of a dream that has been in the works since 1947, when the first bill to create a medical school in the Valley was discussed by the Texas Legislature – a dream that will help provide long-needed and critical medical services in the region.  
"What we're doing today, this groundbreaking, is not a soon-to-be building but the realization of a dream," he told the crowd of dignitaries and well-wishers gathered under the shade of a large white tent. "Part of our dream is to provide treatment for people so they don't have to go elsewhere. They can do it here in the Valley, so people don't die of cancer. That's the dream we're breaking ground on today. So think about this: It's not a building, but a dream we're fulfilling for our community." 
Dr. Michael B. Hocker, senior vice president for Health Affairs and dean of the UTRGV School of Medicine, said it is exciting to have a facility like this one that will provide vital healthcare services and transform access to specialty care for patients of the Valley and beyond. The center, he said, will give the community what it has needed for so long.  
"But today is not about the facility. It's really about the community who fought for this," Hocker said. "Many folks in the Valley have had to leave to get high-quality cancer care, and it's an atrocity. And then there are the ones who don't have the means to travel to get care.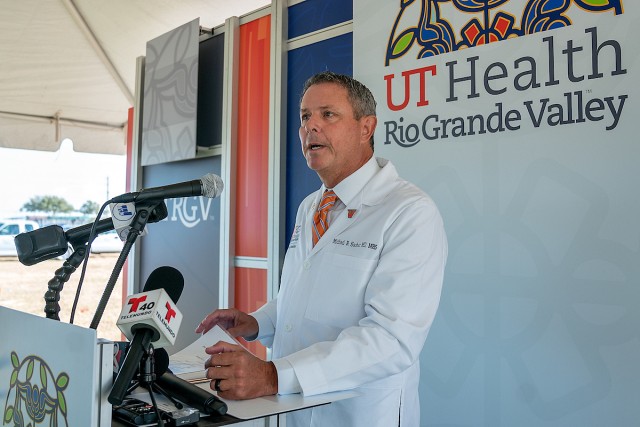 "At this facility, we will now be able to provide comprehensive, high-quality outpatient cancer care, medical radiation and surgical oncologists. We're going to be strategic, and we're going to focus on the cancers that are most prevalent in the Rio Grande Valley because that's why we're here – for our community."
AN IMPORTANT MILESTONE
Michael A. Patriarca, executive vice dean for the UTRGV School of Medicine and vice president for UT Health RGV, said the Cancer and Surgery Center groundbreaking is a milestone in a two-year journey, one that involved multiple players through collaborative work.
"So much has been done to get us to this point," he said. "Our journey as a project team started over two years ago. We worked with our MD Anderson advisors and our surgery center consultants to identify the gaps in care in our region, and put together the concept of having a cancer and surgery center in our area.
"The involvement and support of our MD Anderson advisory team has been invaluable. Thank you for your commitment to our region and for lifting us up on your shoulders," Patriarca said, addressing the four MD Anderson representatives in attendance. "Your daily support and guidance will continue to be invaluable as we transform healthcare for the Rio Grande Valley and beyond."
In addition to UTRGV, community leaders who spoke at the groundbreaking were: 
Dr. Nolan Perez, UT System Regent.

Texas Sen. Juan "Chuy" Hinojosa (District 20).

McAllen Mayor Javier Villalobos.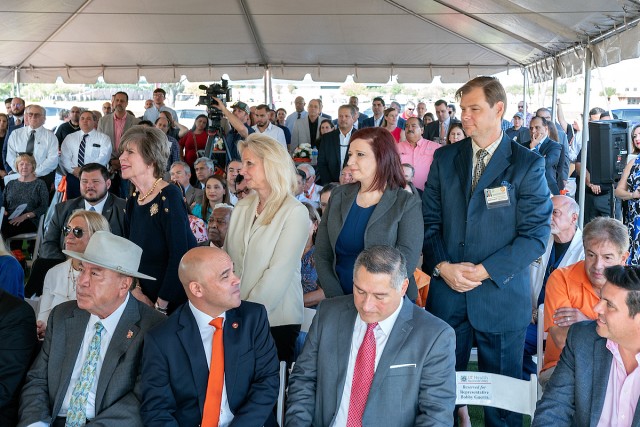 The UT System Board of Regents recently approved more than $145 million to help fund development of the facility, and the City of McAllen provided an additional $1 million in monetary funding toward the project.  
"When our people need specialized care (right now) … they have to go to Houston. They have to go to San Antonio. They have to go elsewhere," Villalobos said. "Well, I'm so happy that we're finally doing this. We will fulfill that commitment. We stand ready to help. This is what our city can do for our community."
VALLEY NATIVE CANCER SURVIVORS
Among the groundbreaking attendees were mother-daughter Valley natives, both cancer survivors and former MD Anderson patients.
"Today is a historical moment for the Valley," said Cassie Luevano, a UTRGV student and cancer survivor who traveled to Houston multiple times to receive cancer treatment at MD Anderson.
"To add to that, it's just a blessing after blessing, after blessing," said her mother, cancer survivor Sandra Luevano. " I'm so happy that we will have this here in McAllen now. Hopefully, many more families will be helped here in the Valley and be cancer free."
Construction on the UT Health RGV Cancer and Surgery Center is slated for completion in late 2024, with the center open to patients in early 2025.
ABOUT UTRGV
The University of Texas Rio Grande Valley (UTRGV) was created by the Texas Legislature in 2013 as the first major public university of the 21st century in Texas. This transformative initiative provided the opportunity to expand educational opportunities in the Rio Grande Valley, including a new School of Medicine, and made it possible for residents of the region to benefit from the Permanent University Fund – a public endowment contributing support to the University of Texas System and other institutions.
UTRGV has campuses and off-campus research and teaching sites throughout the Rio Grande Valley including in Boca Chica Beach, Brownsville (formerly The University of Texas at Brownsville campus), Edinburg (formerly The University of Texas-Pan American campus), Harlingen, McAllen, Port Isabel, Rio Grande City, and South Padre Island. UTRGV, a comprehensive academic institution, enrolled its first class in the fall of 2015, and the School of Medicine welcomed its first class in the summer of 2016.