Friday, May 13, 2022
  Around Campus
By Amanda Alaniz
EDINBURG, TEXAS – Noe Mendoza Jr., a UTRGV Master of Arts in Communication student, said that once he completed his final presentation and spoke with faculty, one phrase was playing in the back of his mind: "This is it for me as a student. I'm going to graduate." 

"I'm very proud of being able to walk the stage," Mendoza said. "Next, for me, is planning. I know the commencement ceremony lasts only a few hours. Then, it's always, 'What is next?'"   
So, what is next for the Weslaco native?  
Boxing. Of course. 
SUCCESS IN THE RING  
Mendoza won the 2021 USA Boxing National Junior Olympics and Summer Boxing Festival, in which he represented UTRGV and took the title in a bout against the U.S. Airforce Academy's Zackary Philips.
The sport comes second nature to Mendoza. He's been boxing since he was 8 years old, and he and his family have operated the Las Brisas Boxing Club in Weslaco, a community gym that teaches local youths how to box, for about a decade.  
After bringing home the big win, he jumpstarted Club Boxing at UTRGV. The club already has more than a dozen members and continues to grow, already marking a mark on the college boxing scene.  
Earlier this year, six team members, including Mendoza, competed at the U.S. Intercollegiate Boxing Association Nationals (USIBA) in Atlanta, Georgia. Three brought home national championships.  
Mendoza won the title in the 140-pound weight division.  
"This tournament really speaks volumes about the talent we have in the Valley. Everyone that went got experience and brought it back to the club," he said. "Now, I'm getting more people, parents and students in high school, calling asking about the boxing club."  
Mendoza once again will represent UTRGV in the upcoming USA Boxing National Junior Olympics, to be held in Wichita, Kansas, in the summer. And he will be training for the event and teaching at his family's gym in Weslaco.  
There was some chatter after last year's win, he said, about how a "small school" won such a significant title, and it made him proud to have been a spark for getting more people involved with collegiate boxing.   
"It took a spark, and I was that spark last summer. So, we're expecting a bigger turnout this summer. I am going to dedicate time for training," he said.  
Club Boxing at UTRGV will host summer training in Edinburg at UTRGV UREC on Tuesdays and Thursdays. It will be open to current members, as well as to students interested in the sport.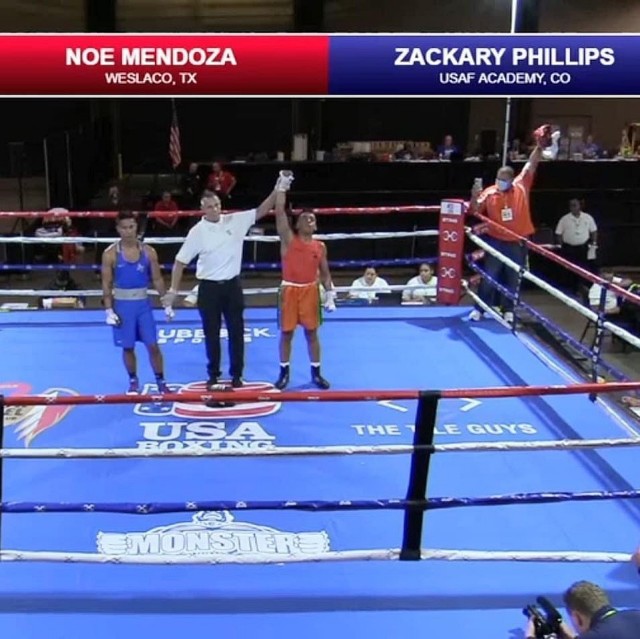 SUCCESS OUTSIDE THE RING  
Mendoza plans to continue helping the boxing club he founded at UTRGV. But, he already envisions himself going to law school.  
Looking back at his unique college experience at UTRGV, going from virtual learning to in-person, he said, he honed so many skills and gained confidence.  
"UTRGV has catapulted me to the next level of my professional development by providing the resources and the knowledge to be a leader," he said. "Not only as a student leader, but to carry over into every area of my life."  
His advice to future graduates is to get involved at UTRGV. There are so many programs, organizations and opportunities available inside the walls of the university, he said.  
"The school is on the rise and growing. There's plenty to be excited about," he said. "Be part of the growth." 
Mendoza will be taking part in Spring Commencement ceremonies on Friday, May 13, on the Main Lawn on the Brownsville Campus. 
For more information on Spring 2022 Commencement or to view the complete schedule, visit the website. 
ABOUT UTRGV
The University of Texas Rio Grande Valley (UTRGV) was created by the Texas Legislature in 2013 as the first major public university of the 21st century in Texas. This transformative initiative provided the opportunity to expand educational opportunities in the Rio Grande Valley, including a new School of Medicine, and made it possible for residents of the region to benefit from the Permanent University Fund – a public endowment contributing support to the University of Texas System and other institutions.
UTRGV has campuses and off-campus research and teaching sites throughout the Rio Grande Valley including in Boca Chica Beach, Brownsville (formerly The University of Texas at Brownsville campus), Edinburg (formerly The University of Texas-Pan American campus), Harlingen, McAllen, Port Isabel, Rio Grande City, and South Padre Island. UTRGV, a comprehensive academic institution, enrolled its first class in the fall of 2015, and the School of Medicine welcomed its first class in the summer of 2016.