Thursday, August 12, 2021
  Around Campus, Awards and Recognitions
By Amanda Alaniz
RIO GRANDE VALLEY, TEXAS – Jab.

Cross. Hook. Uppercut.

The bell rings: the match is over. The referee steps into the ring and raises the arm of the declared winner.

The champ is Noe Mendoza, a Weslaco resident and UTRGV communication graduate student who has been boxing since he was about 8 years old. He has a history of competing – and winning.

This most recent win was the 2021 USA Boxing National Junior Olympics and Summer Boxing Festival, in which he represented UTRGV and won, taking the title in a bout against the U.S. Airforce Academy's Zackary Philips.

He now carries the title of National Collegiate Champion.
"It was a tough win," Mendoza said. "Boxing itself isn't just brute force. A lot of it is knowing what combinations to set up, punch placements. It took months of preparation, like any other sport. The victory itself was won in the preparation, more so than inside the fight."

He was able to showcase winning techniques inside the ring that took him long days of training to prepare for, and he's grateful to his family for supporting him throughout the long process.

"My family seeing me work and sacrifice my time and the dedication I put forth in preparation – the whole family is proud, and everybody wants to celebrate," he said.

The celebration will be placed on brief pause because he wants to shift focus in his educational journey at UTRGV – he's working toward becoming a lawyer.
MORE THAN A SPORT
Boxing for Mendoza has been more than "just a sport." It has given him different skills, mindsets and outlooks on how to approach obstacles outside the ring.
"What I've learned from boxing is that you invite challenges. No challenge is bigger than the one you have in front of you at the moment. You take a challenge at a time," he said. "Life will throw challenges at you, but what's most important is how you see yourself accomplishing that challenge."
He's excited to see what comes next for the boxing scene at the university level and believes college boxing will continue to grow and develop. He helped jumpstart the boxing club at Texas A&M-College Station while he was an undergrad, and after graduation watched it be officially established.
Mendoza also has a more than passing familiarity with bringing his sport into a community. For about 10 years, he and his family have operated the
Las Brisas Boxing Club
in Weslaco, a community boxing gym that helps local youths get boxing lessons in exchange for sharing their passing report cards.
GOING TOE TO TOE: ACADEMICS AND BOXING
Mendoza had been drawing attention with his boxing skills long before they opened the community gym. He had won some local tournaments, including
Golden Gloves
, a prestigious national boxing tournament with local franchises around the state and across the country. He said the wins helped bring in sponsorships and donations, which helped them grow their small gym.
He and his family were able to extend their carport, hang boxing bags, and prepare to open to the community.
The purpose of the club was to teach local youths the sport, while motivating them to do well in school to earn free classes, he said. They wanted to stress to local children how important education is and create positivity in the community.
"The gym went from being our personal gym to a community boxing club where we offer boxing classes to kids in exchange for passing grades on their report cards," he said. "That's where my idea of academics and boxing merged. We could have an impact on the kids who were coming to us, and their families wouldn't have to provide a lot for the kids. We wanted to do away with monthly memberships and costs and provide this outlet for them."
HANGING UP THE GLOVES … FOR A BIT
Mendoza said he may stop boxing for a while to switch gears and focus on his educational journey. But that doesn't mean he will step away from boxing completely.
Starting boxing clubs is a forte for Mendoza, so naturally, he's dedicating time and effort to help expand the UTRGV boxing club.
Boxing taught him many lessons, he said, like discipline, motivation, and how to keep himself moving forward.
"Boxing has taught me the resilience that comes with overcoming the turnouts or outcomes that aren't in your favor," he said. "Respecting your coaches, respecting the others in the competition. Always showing respect – how to earn it and how to give it."
Mendoza knows boxing is a challenge and can be intimidating, but he wants others to know how much the sport did for him. It's a matter of personal responsibility for him.
"Right now, my responsibility is to garner more support and help other UTRGV students be exposed to the sport and benefit from the life lessons, the practical lessons that it has to teach," he said.
For more information about Club Boxing at UTRGV,
visit the club's VLink
.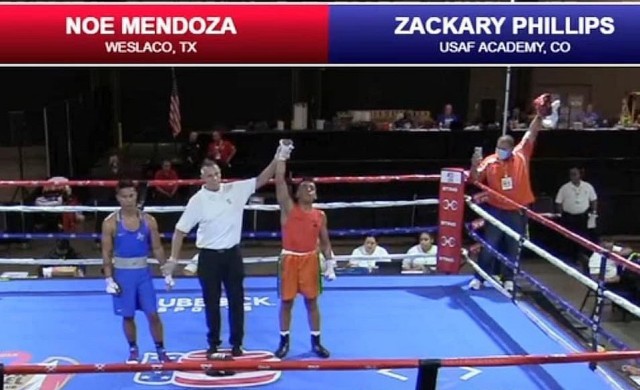 ABOUT UTRGV
The University of Texas Rio Grande Valley (UTRGV) was created by the Texas Legislature in 2013 as the first major public university of the 21st century in Texas. This transformative initiative provided the opportunity to expand educational opportunities in the Rio Grande Valley, including a new School of Medicine, and made it possible for residents of the region to benefit from the Permanent University Fund – a public endowment contributing support to the University of Texas System and other institutions.
UTRGV has campuses and off-campus research and teaching sites throughout the Rio Grande Valley including in Boca Chica Beach, Brownsville (formerly The University of Texas at Brownsville campus), Edinburg (formerly The University of Texas-Pan American campus), Harlingen, McAllen, Port Isabel, Rio Grande City, and South Padre Island. UTRGV, a comprehensive academic institution, enrolled its first class in the fall of 2015, and the School of Medicine welcomed its first class in the summer of 2016.