Friday, April 22, 2022
  Around Campus, Community
By Victoria Brito Morales
RIO GRANDE VALLEY, TEXAS – APRIL 22, 2022 – Have you ever looked in your yard and wondered, what purpose does this tree have?
For Earth Fest, hosted by the UTRGV Office of Sustainability from April 18 to 22, the university planted a tree native to the Valley that promotes pollination – a sideroxylon celastrinum, also known as a coma.
The small, native evergreen tree, flowers profusely in the spring and attracts pollinators, and does not drop all its leaves in the fall.
UTRGV, which is a certified Bee Campus USA university, hosted Pollinator Day on Friday at The Pollinator Cantina on the Brownsville Campus.
The planting, coordinated by the UTRGV School of Earth, Environmental and Marine Sciences, was intended to encourage people to plant native trees or other plants that provide food for pollinators.
Dr. Julie Mustard, associate professor of Biology, said that in urban areas like the Valley, the main source of pollen for bees comes from trees, which is essential for supporting the local pollinators important to food production.
"Strawberries, citrus, almonds, watermelon and cucumbers all require pollination to produce fruit or seeds," Mustard said. "The whole point of pollination is to allow two plants to exchange genetic material, which is essential for maintaining a population with diverse genetics. It's an important part of plant reproduction and, of course, without plants, we would really be in trouble."
Dr. Alejandro Fierro Cabo, associate professor of SEEMS, said sexual reproduction in flowering plants is a successful strategy in plant evolutionary pathways, and that is achieved through pollination.
"The large majority of plants – perhaps even more in the tropics and subtropics – need animals for that pollen transfer. That is pollination," Fierro Cabo said. "It's a very widespread, important process for plant evolution, plant life at large. Pollination is a key interaction between plants and animals, serving specifically to transfer pollen from one flower or flower part to another. In exchange, animals get rewards, such as nectar and pollen."
Mustard said the UTRGV Brownsville Campus has marked plants and trees that are good for pollinators with signs, so people can recognize and choose plants that help support local bees, butterflies and other pollinators.
For more information on The Pollinator Cantina, visit utrgv.edu/pollinatorcantina.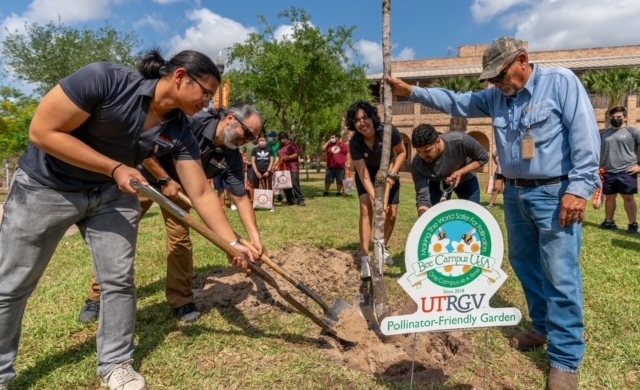 ABOUT UTRGV
The University of Texas Rio Grande Valley (UTRGV) was created by the Texas Legislature in 2013 as the first major public university of the 21st century in Texas. This transformative initiative provided the opportunity to expand educational opportunities in the Rio Grande Valley, including a new School of Medicine, and made it possible for residents of the region to benefit from the Permanent University Fund – a public endowment contributing support to the University of Texas System and other institutions.
UTRGV has campuses and off-campus research and teaching sites throughout the Rio Grande Valley including in Boca Chica Beach, Brownsville (formerly The University of Texas at Brownsville campus), Edinburg (formerly The University of Texas-Pan American campus), Harlingen, McAllen, Port Isabel, Rio Grande City, and South Padre Island. UTRGV, a comprehensive academic institution, enrolled its first class in the fall of 2015, and the School of Medicine welcomed its first class in the summer of 2016.