About the Butterfly Garden
The Pollinator Cantina was established in the Spring of 2018 with support from a Transforming Our World grant from the Office of the Provost as part of the UTRGV Strategic Plan. The garden is located on the Brownsville campus between the LHSB and BioMed buildings, next to the resaca.
UTRGV is now a certified Bee Campus USA!
The purpose of the garden is three-fold: 1) the conservation of butterflies and other pollinators, 2) to act as a platform for experiential learning and research projects for students, and 3) to engage the community by providing information on the importance of pollinators and what they can do to help conservation efforts.
In the spring of 2018, construction of the garden was begun on the Brownsville campus. The initial planning of the garden layout was done in consultation with the UTRGV facilities staff.
A plant layout plan was made for each bed in consultation with Silvia Barr from Quinta Mazatlan. This included taking in to account the amount of sun or shade each bed received, and the final size of the plant.
Compost was layered on top of the turf in the areas that would become the planting beds. The compost was then tilled into the soil.
Students then made borders for each bed with two layers of bricks glued together with construction adhesive.
The beds are not deep because the plants can grow roots into the existing soil. Mainly the bricks are acting as an edge to reduce invasion of the beds by grass and to prevent the soil from being washed away.
Next, drip lines to provide water were installed in each bed. Trenches were dug behind each bed for the main lines, and then three perforated drip lines were extended into each bed.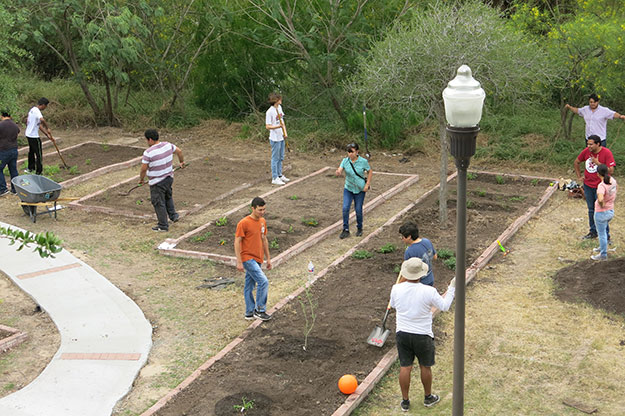 On 30 March 2018 students and members of the wider community came together to plant the garden.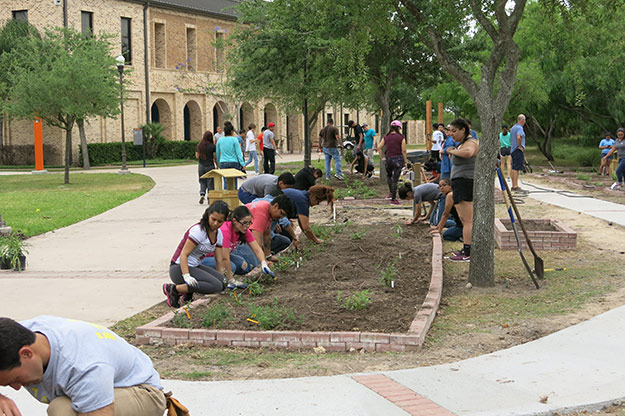 Student volunteers from the Ecology 3409-02S and Biology 1407 courses, as well as the wider community were involved. Students: Jessica Solis, Manny Campos, Carlos Perrez, Damaris Antonio, Porfirio Pelaez, Bryan Villarral, and Oliver Salander played a big part in building the garden.