Thursday, March 3, 2022
  Community
By Karen Villarreal
RIO GRANDE VALLEY, TEXAS – It wasn't your average Saturday morning.
Destiny Salinas, a junior from La Joya Juarez Lincoln High School in Mission, was busy cramming her own brain with information about the brain – not for an exam, but for a competition.
"I feel pretty confident," Salinas said before the UTRGV School of Medicine's Brain Bee competition, which challenges high school students and tests their knowledge of neurology.
"I've always liked science, so I have some prior knowledge about psychology and brain conditions ­– but so much is still a mystery," Salinas said.
Dr. Michael Dobbs, professor and chair of the Department of Neurology at the UTRGV School of Medicine, before the competition began told the 25 high school students – from La Joya, Edinburg and Brownsville – that there is still so much left to discover about brain health and commended them for their interest in the field.
"The 1990s was the decade of the brain, and a lot has been discovered since I left medical school," said Dobbs, whose research as a student contributed to finding dopamine receptors in rat brains in the study of addiction and Parkinson's disease.
"So, these quiz questions are hard," he said. "There are some I don't know!" 
MOTIVATED TO LEARN
Hours after the initial quiz – a daunting verbal grilling from a panel of judges – the early confidence paid off for Salinas. She went home with a first-place trophy, and the renewed motivation to follow through on her medical school aspirations.
Second place went to Pablo Berrones from Lopez Early College High School in Brownsville.
Eida Aguirre, a junior from Economedes High School in Edinburg, took third place.
"I was inspired by the speakers," Salinas said.
Those speakers included professors and medical students from the UTRGV School of Medicine and one of its student organizations, the Student Interest Group in Neurology, or SIGN which led the efforts to organize the second-annual Brain Bee competition. The School of Medicine and SIGN collaborated with UTRGV GEAR UP to give the students the chance to explore this area of the healthcare field.  
"I saw that they're giving back to the world in a way that I want to," Salinas said. "My parents gave me the world, and I want to make them proud by giving as much as I have received."
Salinas' next step is to prepare for the USA National Brain Bee, which will be held virtually.
Michael F. Meriano, a second-year student at the UTRGV School of Medicine and president of UTRGV's SIGN, discovered his interest in neurology during his master's studies at the University of Houston-Clearlake. He said seeing the high school students learn about neurology takes him back to when he was in their shoes. 
"I wish I had this opportunity when I was younger," he said. "Now I know that I want to learn as much about this as I can, so it would have been really cool to be exposed early on."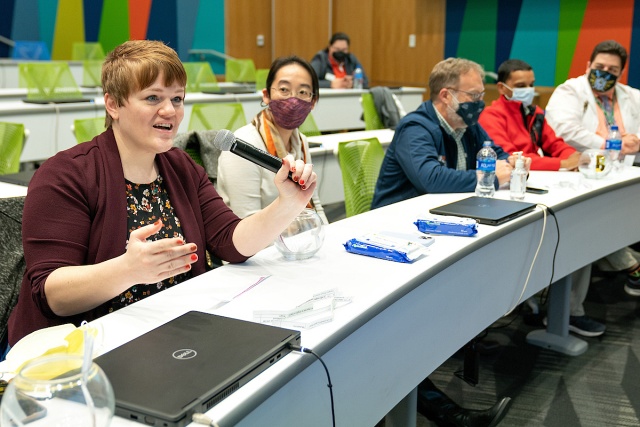 ABOUT UTRGV
The University of Texas Rio Grande Valley (UTRGV) was created by the Texas Legislature in 2013 as the first major public university of the 21st century in Texas. This transformative initiative provided the opportunity to expand educational opportunities in the Rio Grande Valley, including a new School of Medicine, and made it possible for residents of the region to benefit from the Permanent University Fund – a public endowment contributing support to the University of Texas System and other institutions.
UTRGV has campuses and off-campus research and teaching sites throughout the Rio Grande Valley including in Boca Chica Beach, Brownsville (formerly The University of Texas at Brownsville campus), Edinburg (formerly The University of Texas-Pan American campus), Harlingen, McAllen, Port Isabel, Rio Grande City, and South Padre Island. UTRGV, a comprehensive academic institution, enrolled its first class in the fall of 2015, and the School of Medicine welcomed its first class in the summer of 2016.