UTRGV hosts first neuroscience competition for RGV high school students

  Thursday, April 30, 2020
  Community, Science & Technology
By Maria Elena Hernandez
RIO GRANDE VALLEY, TEXAS – Construction is underway for the new UTRGV Institute for Neuroscience in Harlingen, but the university already is introducing neuroscience to students in high school.
UTRGV hosted the first Brain Bee in the Rio Grande Valley at its Edinburg Campus in February, with 30 students attending from six high schools across the Valley.
"It's an international question-and-answer competition for high school students about neuroscience," said Dr. Upal Roy, coordinator of the event and an assistant professor at the UTRGV Department of Health and Biomedical Science. 
Roy is a member of the Society for Neuroscience, which is the world's largest organization focused on understanding the brain and nervous system. A chapter recently opened in the Rio Grande Valley, and SfN chapters host Brain Bee competitions around the world.
"We were excited to bring this program, which has national and international recognition, to the Valley in February, so we could showcase our students from the Valley," Roy said.
SPARKING INTEREST EARLY 
To prepare for the competition, students studied a 60-page booklet titled "Neuroscience: Science of the Brain."
Roberto De La Garza, a UTRGV senior in biomedical sciences from Brownsville, was one of the students who helped with the event. The booklet provided just the right amount of information to get students interested in the subject, he said.
"If I had this as a high school student, it would have sparked my interest a lot more and would have led me to pursue neurology earlier on, rather than pursing it junior year in college," he said.
MEETING WITH MEDICAL STUDENTS 
The competition itself was a written quiz, with top scorers advancing to a live question-and-answer session. The day-long event at UTRGV also included lectures, research lab tours, a panel discussion with UTRGV School of Medicine students, and CPR demonstrations.
"It's great to see them learn and try new things, ask questions," said Matthew Parvus, a second-year UTRGV medical student from Vero Beach, Florida.
He also shared advice with participants about how they could prepare now if they're planning to attend medical school.
Irma Duncan, a second-year UTRGV medical school student from Laguna Vista, said working with the students was fun and a good experience.
"The Valley is very underserved for neurology and psychiatry, so we're hoping that students will gain interest in those fields," she said.
BUILDING EXCITEMENT FOR SCIENCE 
Evangelina Blanco, a UTRGV GEARUP academic content coach, said that, after the first round, students were excited to continue.
"They loved everything they saw, from the medical demonstrations to the research labs and all the presentations by the professors," she said.
At the end of the event, Wendy Garcia, a La Joya ISD student from Juarez-Lincoln High School, placed first in the competition. In addition to a trophy, she won funding to compete in the USA National Brain Bee. The bee had been scheduled for late March at Northeast Ohio Medical School, but now has been postponed due to COVID-19; a new date remains pending.
To learn more about the UTRGV Institute for Neuroscience, visit https://www.utrgv.edu/school-of-medicine/departments/institute-for-neuroscience/index.htm.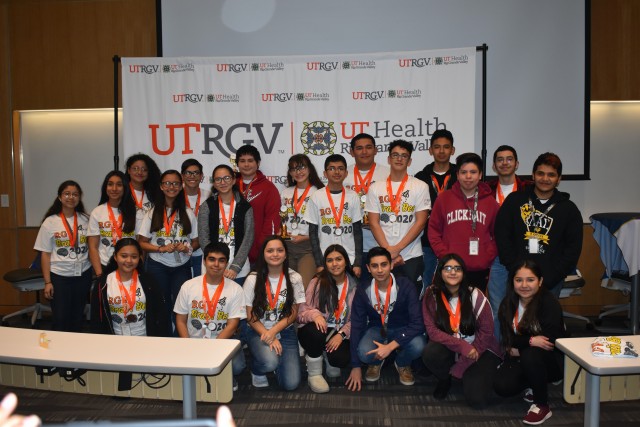 ABOUT UTRGV
The University of Texas Rio Grande Valley (UTRGV) was created by the Texas Legislature in 2013 as the first major public university of the 21st century in Texas. This transformative initiative provided the opportunity to expand educational opportunities in the Rio Grande Valley, including a new School of Medicine, and made it possible for residents of the region to benefit from the Permanent University Fund – a public endowment contributing support to the University of Texas System and other institutions.
UTRGV has campuses and off-campus research and teaching sites throughout the Rio Grande Valley including in Boca Chica Beach, Brownsville (formerly The University of Texas at Brownsville campus), Edinburg (formerly The University of Texas-Pan American campus), Harlingen, McAllen, Port Isabel, Rio Grande City, and South Padre Island. UTRGV, a comprehensive academic institution, enrolled its first class in the fall of 2015, and the School of Medicine welcomed its first class in the summer of 2016.