UT Health RGV professionals reflect on life since COVID-19

  Friday, December 17, 2021
  Community, Around Campus
By News and Internal Communications
RIO GRANDE VALLEY, TEXAS – The Rio Grande Valley has been through a lot since COVID-19 first hit the area in early March 2020. But today, after administering almost 97,000 vaccines in the last year, the university's frontline workers say they know the pandemic is certainly not over, but they can see glimmers of hope.  
Last year at this time, the immediate priority was preventing the virus from spreading, and UT Health RGV played a key role in that effort. UT Health RGV, the clinical arm of the UTRGV School of Medicine, was the first health institution to administer the COVID-19 vaccine – Pfizer – in the Valley. 
Some of the UTRGV medical professionals on the front lines talked recently with The Newsroom at UTRGV about just how different their lives are today. They're still masked, still giving and getting vaccines and boosters, still being careful – but now, with the availability of vaccines, they feel they can take a breath, look to the future … and have hope for a return to some normalcy.  
'It was an incredibly overwhelming response of wanting to serve'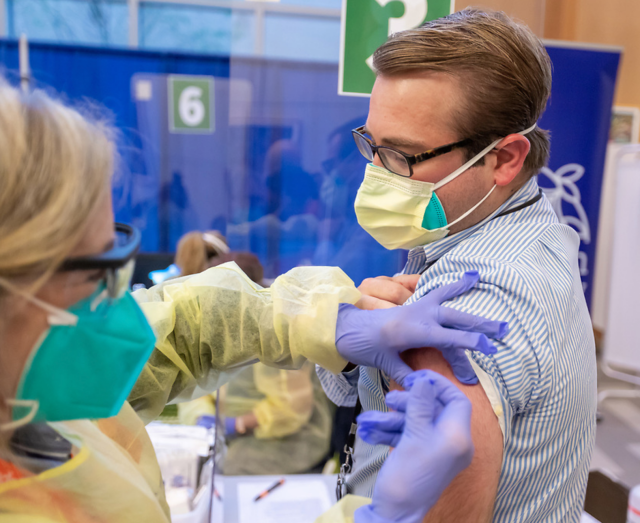 Dr. Brandon Cantazaro, program director for UTRGV's Internal Medicine Residency Program at DHR, was among the first individuals at UTRGV to be vaccinated against COVID-19 in December of last year. 
"I've done really well with the vaccine. I haven't had COVID... and we've been seeing patients every day," Cantazaro said.
For Cantazaro, the memories remain of a time when the hospital changed overnight and looked like a warzone in the summer of 2020. He recalls how residents were placed in the emergency department as it became a critical COVID-19 unit where residents took care of more than 76 COVID patients.
"I've never seen the emergency department so overwhelmed in such a short period of time. And people were so sick, and the volume that we saw was incredible. The residents that we trained, and our faculty did such a phenomenal job to band together as a team," Cantazaro said.
Today, though, Cantazaro looks around the same emergency department and sees a team of individuals who know, firsthand, just how impactful their actions are in the community, and mentions how they're still not finished... just yet. 
"The response by those residents and our faculty was phenomenal. They wanted to be there to serve our community. They would ask me, 'Please let us go to the COVID unit, we want to take care of these patients. We want to serve the community.' It was an incredibly overwhelming response of wanting to serve."
'For me, it was life-changing'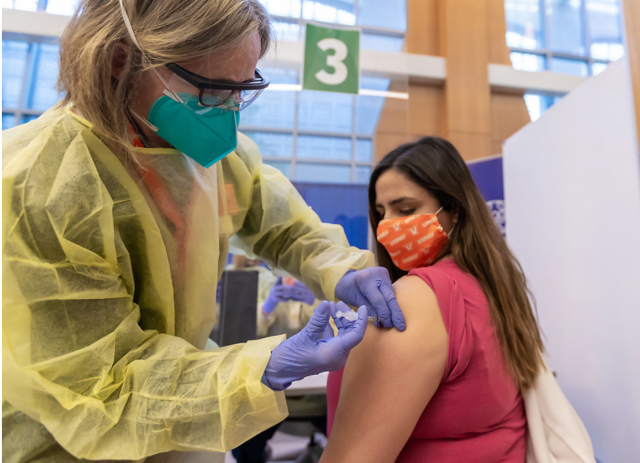 One of the UTRGV frontline medical professionals who helped lead the charge against COVID-19 was Dr. Linda Nelson, senior director of Clinical Operations for UT Health RGV and the UTRGV School of Medicine.  
For her, the holidays this year aren't bleak like they were last year. She and her husband will be able to travel to Florida to see their children for Christmas. Last year, she stayed in the Valley, where she knew the people needed her the most. 
After months in sweltering tent clinics, covered head-to-toe in protective equipment all day, Nelson vividly remembers the feeling when she finally got her first COVID-19 vaccine. 
"It was hope. What can I say? It was hope for me," Nelson said. "Every morning that I would leave home at 5:30 in the morning to drive to Edinburg, I would pray on the way that I wouldn't die from COVID, that I would see my children again."
Nelson, who administered the first COVID-19 vaccine in the Valley, said the medical professionals she works with all went through the fear and sometimes despair, but never gave up.
"There was such joy in even injecting even one person, and there was so much thankfulness from the Valley. From everyone that came through the line, they would bless us, pray for us and thank us for giving them the vaccine," Nelson said. "It fills your heart with goodness to know that people appreciate what we're doing. For me, it was life-changing."
'I have a lot of hope that things will get better'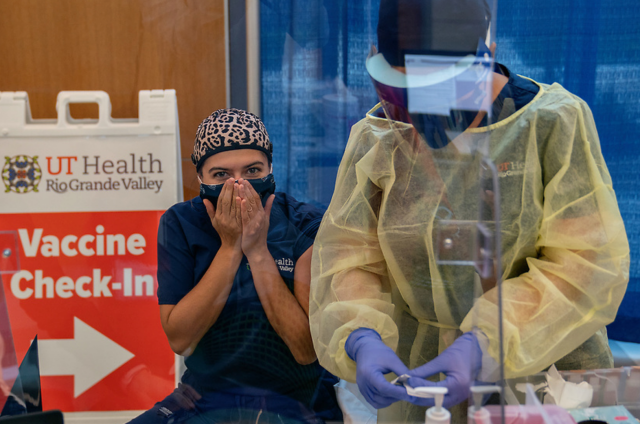 UT Health RGV's testing and vaccination efforts also took a heavy toll on Daniela Garza, an Edinburg native and a physician assistant with Unimóvil, the university's mobile clinic, which travels to rural and underserved communities in the area. She said the hardships of the Valley community, which she loves, were heartbreaking.
"I proudly served my community out in the tents for 13 months and it was just some of the toughest 13 months that I've had as a medical provider. Being in the sun in full PPE, or in the cold in full PPE, was really different and it sometimes feels like it was a dream slash nightmare," Garza said. "And now coming back to the clinic and communities that I serve at, seeing, to them, how much the pandemic has affected them is really daunting and it's very heavy to hear as a provider.
"I have a lot of hope that things will get better, I have a lot of faith that things will get better," she said.
All three of these UTRGV frontline heroes have this in common: They each continue to do what they can to serve the Valley community... no matter the obstacles ahead.
"We really banded together as a team and I think that's what kept me motivated and kept me going everyday was the comradery, the motivation from the residents and the faculty and the desire to serve this population and so many people who were so sick. I've never seen anything like it in my life," Cantazaro said.
ABOUT UTRGV
The University of Texas Rio Grande Valley (UTRGV) was created by the Texas Legislature in 2013 as the first major public university of the 21st century in Texas. This transformative initiative provided the opportunity to expand educational opportunities in the Rio Grande Valley, including a new School of Medicine, and made it possible for residents of the region to benefit from the Permanent University Fund – a public endowment contributing support to the University of Texas System and other institutions.
UTRGV has campuses and off-campus research and teaching sites throughout the Rio Grande Valley including in Boca Chica Beach, Brownsville (formerly The University of Texas at Brownsville campus), Edinburg (formerly The University of Texas-Pan American campus), Harlingen, McAllen, Port Isabel, Rio Grande City, and South Padre Island. UTRGV, a comprehensive academic institution, enrolled its first class in the fall of 2015, and the School of Medicine welcomed its first class in the summer of 2016.