UTRGV's Linda Nelson, frontline leader and first to administer vaccine in Valley, gets her vaccine – and some peace of mind

  Friday, December 18, 2020
  Around Campus, Community
By Amanda Taylor
RIO GRANDE VALLEY, TEXAS – Dr. Linda Nelson was among the first to conduct COVID-19 testing in the Rio Grande Valley, leading the effort to organize UTRGV's testing sites and working on the front lines herself to administer the tests.
Earlier this week, she stood waiting eagerly to welcome the UPS truck as it arrived with UTRGV's 1,950 COVID-19 vaccines, designated for the university's frontline workers. She administered the first COVID-19 vaccine in the Valley that same afternoon.
Today, Nelson herself got the long-awaited shot – and some much-awaited relief from months of worry for herself and her family.
"Getting to give the first vaccine in the Valley was incredible," said Nelson, a Doctor of Nurse Practice (DNP), RN, pediatric nurse practitioner and senior director of Clinical Operations for the UTRGV School of Medicine and UT Health RGV. "Everyone has been so appreciative. And, while a bit fearful, I think people are more afraid now of not getting the vaccine than getting it."
As soon as she saw the boxes filled to the brim with vaccines, Nelson said, she felt an instant wave of relief.
"It was emotional experience, unloading all those boxes from the trucks," she said. "We have been waiting and waiting for this vaccine. And then you're standing there holding these boxes, and you can't help but think, 'This is finally it.' It's really our only hope right now."
Nelson, along with her team working at UT Health RGV's drive-thru COVID-19 testing sites and throughout UTRGV labs and clinics, has worked tirelessly over the past nine months to help keep the community safe, even as the pandemic continues to surge.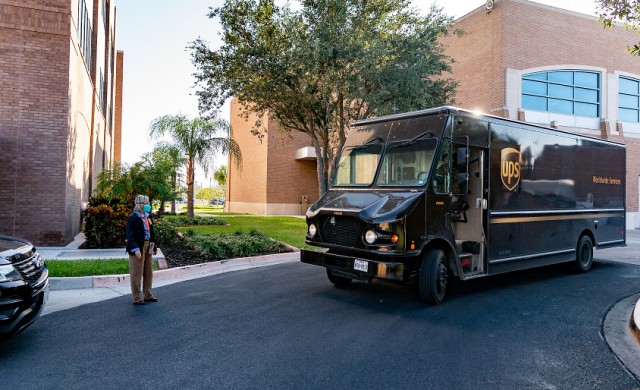 Instead of any trepidation about receiving the vaccine, Nelson felt more than ready for the injection.
"I am so excited, and I can't wait," she said the night before her appointment to be inoculated. "Instead of worrying about contracting the virus by working on the front lines, now I just feel relief."
Nelson on Tuesday administered the very first vaccine to Dr. Michelle Lopez, UTRGV School of Medicine associate program director and assistant professor of Internal Medicine. Nelson said that overall, the vaccination process has been an extremely moving experience for everyone involved.
"People have been so excited and even want their photos taken to commemorate this historic event," Nelson said. "We are very lucky to have received the Pfizer vaccine and I'm proud that we are part of it. I'm excited about this vaccine and what it means for our community."
After getting her vaccine on a Friday – so she would have the weekend to ride out any of the minor flu-like symptoms common with the vaccine – she plans to get right back to inoculating more frontline workers come Monday.
"There is a chance of flu like symptoms for up to 48 hours, so I planned it right before the weekend," she said. "This doesn't mean that I'm going to let my guard down, however. Everyone needs to continue to wear masks and practice social distancing. My fear is that people will get the vaccine and think they don't have to be precautious anymore."
Nelson, previously featured in UTRGV's series UTRGV On the Front Lines, has been recognized for her work at the COVID-19 testing sites. She typically deflects accolades to her team, saying she is proud of them and that they are just as relentless in their work as she is.
"I am so proud of all of our UTRGV frontline workers," said Nelson, voice wavering with emotion. It was an unusual revelation in a woman known for her calm demeanor and stalwart strength. "They are all role models.
"If, through our example, we can make a difference for just one family, it's all been worth it," she said.
ABOUT UTRGV
The University of Texas Rio Grande Valley (UTRGV) was created by the Texas Legislature in 2013 as the first major public university of the 21st century in Texas. This transformative initiative provided the opportunity to expand educational opportunities in the Rio Grande Valley, including a new School of Medicine, and made it possible for residents of the region to benefit from the Permanent University Fund – a public endowment contributing support to the University of Texas System and other institutions.
UTRGV has campuses and off-campus research and teaching sites throughout the Rio Grande Valley including in Boca Chica Beach, Brownsville (formerly The University of Texas at Brownsville campus), Edinburg (formerly The University of Texas-Pan American campus), Harlingen, McAllen, Port Isabel, Rio Grande City, and South Padre Island. UTRGV, a comprehensive academic institution, enrolled its first class in the fall of 2015, and the School of Medicine welcomed its first class in the summer of 2016.