Wednesday, December 15, 2021
  Community
By News and Internal Communications
McALLEN, TEXAS – In a fun, holiday-themed collaborative effort to promote literacy, the UTRGV Office of Community Engagement and the UTRGV Staff Senate partnered to read books to elementary school students at Roosevelt Elementary School in McAllen on Dec. 14.
The activity was designed to help uphold one of UTRGV's core priorities – community engagement.
Students formed small groups to listen to stories filled with holiday turkeys, gingerbread people and other festive characters. A small discussion was held after each story, to get the children's reactions to the books and to answer questions.
After the stories, UTRGV handed out university swag to the students after the stories, including stress balls and pencils for them to use in their classrooms.
Noelynn Gillamac Llasos, UTRGV Staff Senate president, said the event was a great way to spread holiday cheer and college spirit to potential future Vaqueros.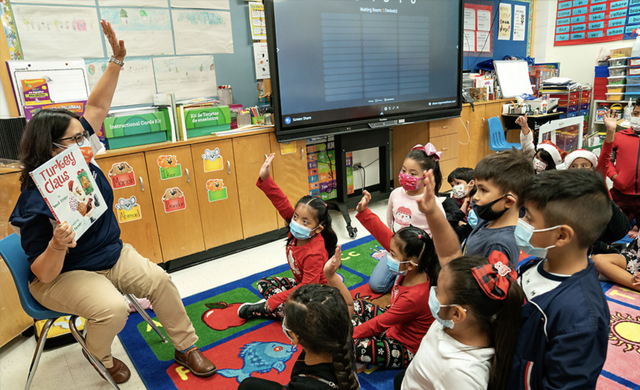 "Community engagement was one of the priorities that had to take a back seat last year due to the pandemic," Llasos said. "But this year, with safety precautions in place, we felt we were in a better situation to do this." 
Doris Mendiola, director of Community Engagement within the Division of Governmental & Community Relations, said it is important for the UTRGV community to start to reengage with the Valley community. And for young students, it's important to realize there is a university close to them that they should aspire to attend.
"It's never too late to talk to children about college and what that's about, so we're very excited for the opportunity to talk to the students," Mendiola said. "Not only to read to the students, but to also talk to them about UTRGV and the opportunities of aspiring to go to college."
Albert Irlas, principal of Roosevelt Elementary, said it's important for students to realize that reading is a lifelong activity and can lead to a successful future.
"Right now, especially with the pernicious effects of the pandemic, it's really vital for us to continue the fact that literacy across the continuum is extremely important, not just in the classroom, but outside of the classroom, as well," Irlas said.
"Establishing a continuum between us and the university can show children that we continue to read through elementary, middle school and high school, college, and of course after college, as well, to truly establish a world learner and a world leader."
Getting involved with elementary students is key for encouraging them to go to college, Llasos said. Something as simple as reading a story can help a child develop early connections to the university and help lead them to success. 
"We want them to know that they have a wonderful university available to them here in the Valley," Llasos said. "We want them to know they can dream big and make those dreams into a reality. At UTRGV, there are people who will help them do that."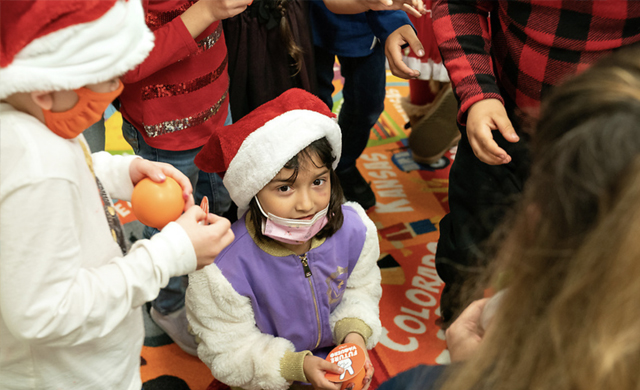 ABOUT UTRGV
The University of Texas Rio Grande Valley (UTRGV) was created by the Texas Legislature in 2013 as the first major public university of the 21st century in Texas. This transformative initiative provided the opportunity to expand educational opportunities in the Rio Grande Valley, including a new School of Medicine, and made it possible for residents of the region to benefit from the Permanent University Fund – a public endowment contributing support to the University of Texas System and other institutions.
UTRGV has campuses and off-campus research and teaching sites throughout the Rio Grande Valley including in Boca Chica Beach, Brownsville (formerly The University of Texas at Brownsville campus), Edinburg (formerly The University of Texas-Pan American campus), Harlingen, McAllen, Port Isabel, Rio Grande City, and South Padre Island. UTRGV, a comprehensive academic institution, enrolled its first class in the fall of 2015, and the School of Medicine welcomed its first class in the summer of 2016.