Class of 2020 returns to UTRGV for in-person commencement

  Saturday, May 15, 2021
  Around Campus
By Amanda Alaniz
RIO GRANDE VALLEY, TEXAS – More than a year ago, the COVID-19 pandemic robbed UTRGV's Class of 2020 of the opportunity to celebrate their graduation day in person with a true ceremony and their loved ones. This weekend, UTRGV made up for it by inviting the graduates back to their alma mater to commemorate their milestone with in-person ceremonies.
More than 1,800 certified Spring, Summer, and Fall 2020 graduates participated in the three-day event, May 13-15.
The Class of 2020 is a unique class that had to learn to adapt to a rapidly changing world, especially when UTRGV shut down and moved classes online to ensure the health and safety of the university community in March 2020. That also forced the university to host virtual commencements where the graduates celebrated and watched their big day from home.
Even though forecasted inclement weather moved the outdoor ceremonies indoors at both UTRGV Brownsville and Edinburg campuses, that did not deter graduates from walking the stage to receive their diplomas as family and friends snapped photos and watched from a short distance.
The Commencement ceremonies kicked off in Brownsville on Thursday at the PlainsCapital Bank El Gran Salon, while the UTRGV Fieldhouse hosted graduates and their families in Edinburg on Friday and Saturday. The ceremonies remained limited to the graduates and four guests with all attendees following the COVID-19 campus guidelines, including physical distancing and wearing masks.
The original festivities' plans may have altered, but the significance of walking across the graduation stage in the regalia didn't waver for the graduates.
'BIG STEP FOR ME'
Yareli Hernandez, a 2020 graduate from Mission, was happy when she learned about the opportunity to walk across the stage. Hernandez earned her master's degree in public affairs through the accelerated online program. 
"I was excited because it's a big milestone to earn your master's and Latinas make up the smallest percentage of those who get master's degrees," she said. "I felt it was a very big step for me, so I'm very happy and excited we can have in-person graduation."
She is currently a program specialist of business and program development for the UTRGV Division of Health Affairs where she oversees the COVID-19 vaccine distribution, various programs, and clinics. Earning her degree in public affairs, she said, will help her grow professionally and gain more intel to help with her job.
"The MPA program was fast-paced and what I needed for my development because I'm already in an administrative role. So I was, 'How can I do this quickly and receive a quality education,'" she said.
Hernandez said having her family at commencement means a lot and she hopes she has made them proud. She said the three people who inspired her educational journey are her grandmother, mother, and sister.
She recognizes her mother made a lot of scarifies for her and her siblings, so getting her degree is a personal thank you to her mom. Her grandmother passed away in 2019, but she still wants her to know that she is working to help the family keep moving forward.
Before attending the ceremony, Hernandez did have a special request for her attendees to make sure they were all vaccinated. 
'THEY CAN ACHIEVE ANYTHING'
Dr. Brenda I. De La Garza, the special education coordinator at Region One Education Service Center, holds education so dearly. She said her family was the support she valued as she continued her UTRGV journey during the pandemic.
De La Garza, a Harlingen resident, earned her doctorate in Education in Curriculum and Instruction. She did participate in the virtual ceremony last year but having the opportunity to physically walk across the stage this weekend made it special for her.
A mother of three children, between the ages 14 to 9 months old, De La Garza was excited they could see her dressed in her cap and gown, and finally receive her degree in person.
"It is important for me to have my girls see their mom walk across the stage. I want them to know they can achieve anything. Being part of the less than one percent statistics for Hispanic women to achieve a doctoral degree is huge," she said.
"For me, I had to juggle full-time work that requires travel, being a mother and wife as well as the rigor of the work that a doctoral degree requires. So, walking across the stage is the culmination of all the sacrifices and the joys of getting this degree."
CONTINUING A LEGACY
This weekend, Norma Ochoa Urban-Palomarez, her husband, Mario Palomarez, and daughter, Elvia Palomarez, all from North Texas, finally fulfilled their promise to each other to complete their degrees, graduate, and walk together.
"For many people, walking is a rite of passage. UTRGV didn't let the pandemic steal the rite of passage from those people who have earned it. I can't be prouder of attending a school where education and the work that students put into graduating is valued and celebrated," said Norma, a UTRGV Master of Educational Technology 2020 graduate.
All enrolled in UTRGV accelerated online programs to earn their master's degrees around the same time not too long ago. Mario and Elvia were both in the Master of Science in Health Sciences with a concentration in Health Care Administration Online Program.
However, due to the COVID-19 pandemic and cancellation of in-person events, Norma and Elvia did not get the chance to walk and instead were honored in a virtual ceremony in December. Mario was slated to complete his degree in May 2021. Before the pandemic, the family was in talks with the university to possibly cross the stage together when he graduated.
The family said they were elated when they learned about the in-person ceremonies but were more excited when they heard about the inclusion of 2020 graduates.
"The university has done everything in its power to ensure those who wanted to walk, would walk. A lot of universities, they're not going back to last year, they're going forward. For them to have done this, it's pretty cool," Mario said. "Students should feel very proud about the university, what they've accomplished, and the fact that the university they attended made this possible."
The family of three cherished getting the opportunity to begin their education journeys together; they hadn't expected to complete it at the same time. However, they were thrilled when it seemed things were beginning to fall into place for them. They were able to find ways to carry on a meaningful familial educational legacy. 
Mario grew up in a family of migrant farmworkers, and his mother, who earned her degree in Mexico, made sure her children never stopped learning. He is very proud that he has earned his master's degree, and seeing his daughter continue with her studies, he sees his mother's legacy live on. 
"I'm excited to do this for my grandma. But also, for my brother's kids. This will be the first time they'll get to see me graduate," Elvia said. "I'm excited to see them and show them not only can your tia (aunt) do it, but your nana and your grandpa can do it, too."
Norma reflected on their educational journey leading up to graduation. She said it was something they did separately, but together. Elvia was balancing working at a pharmacy and schoolwork and Norma teaches eighth-grade English Language Arts and Reading at DeLay Middle School.
"I'm very grateful to have the opportunity to walk together. We'll be standing together as a family to celebrate education, celebrate milestones, and what the future holds for us," she said.
After graduation, Norma is continuing her educational journey by completing her doctorate, Elvia will start her health care journey by applying to the UTRGV School of Medicine, and Mario will take steps to get into the workforce. 
The family's words of encouragement to current and future UTRGV students – "Don't give up."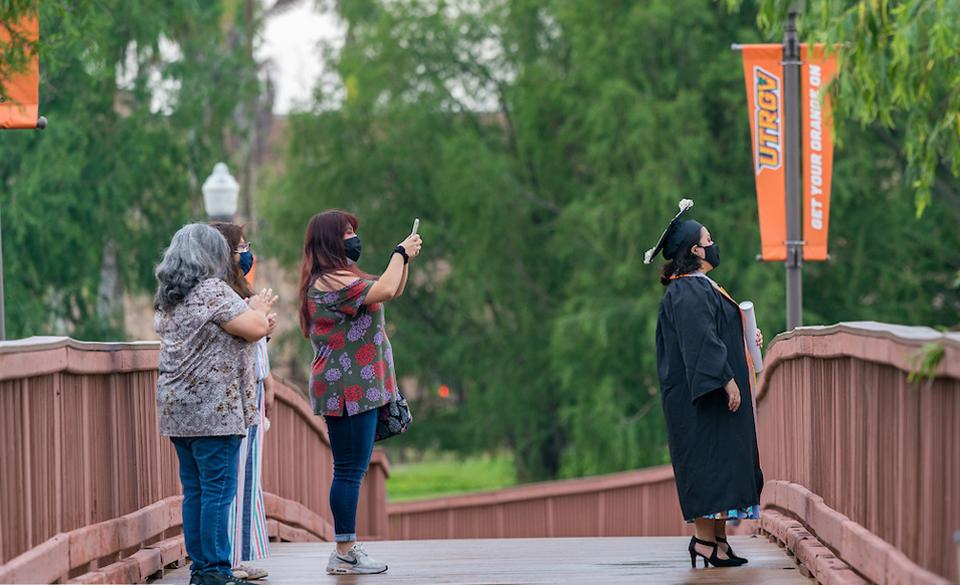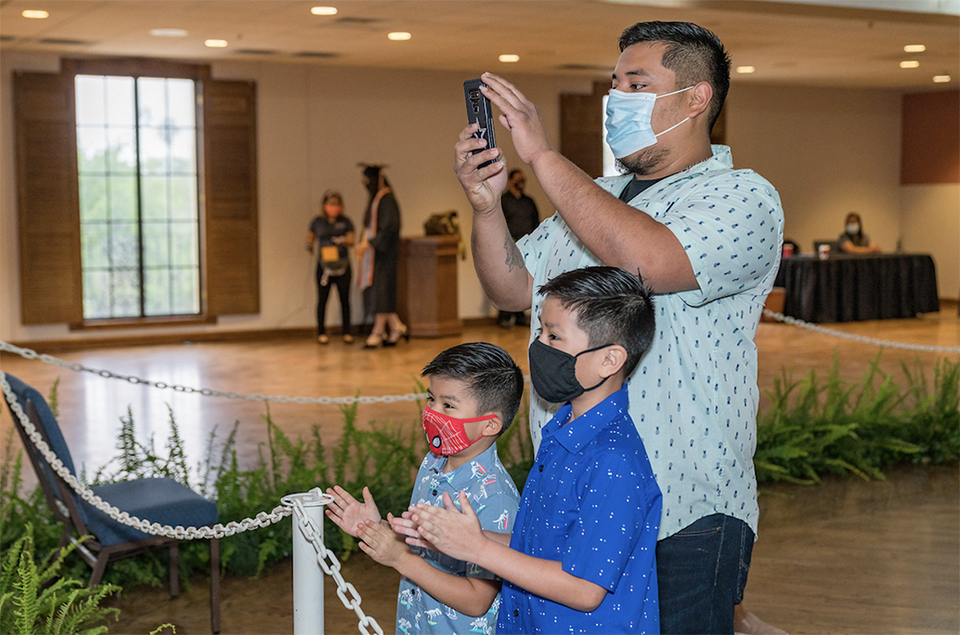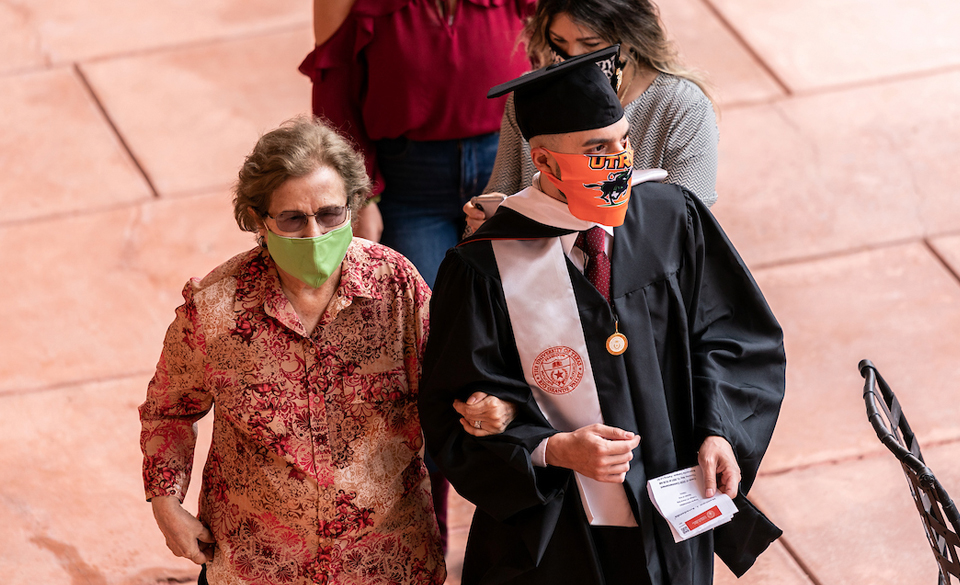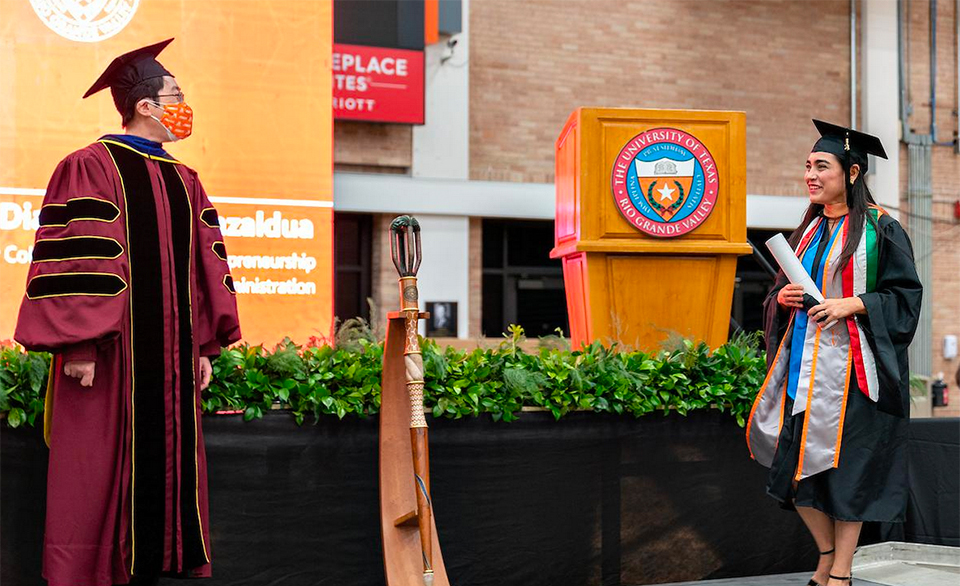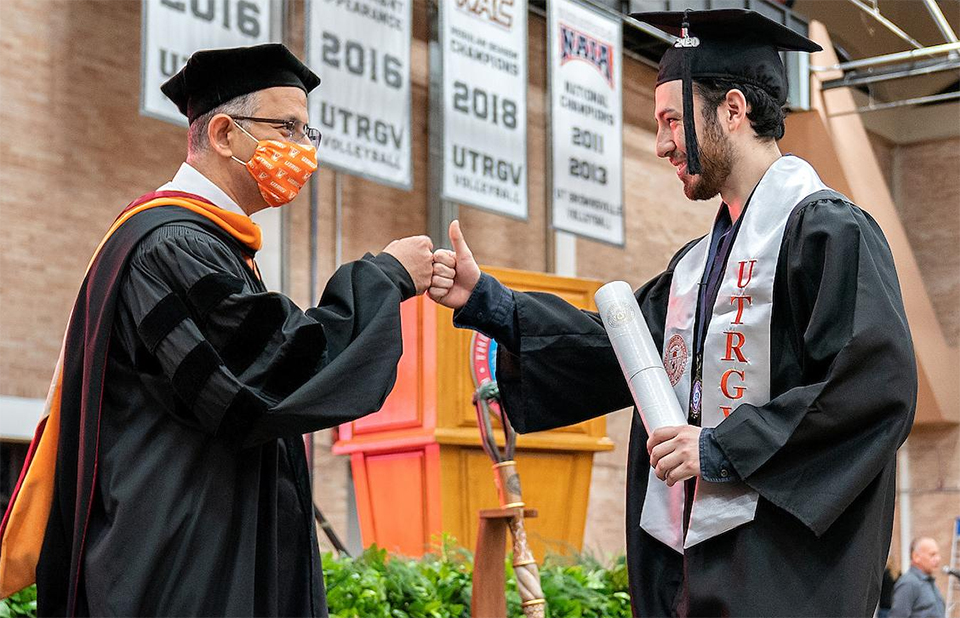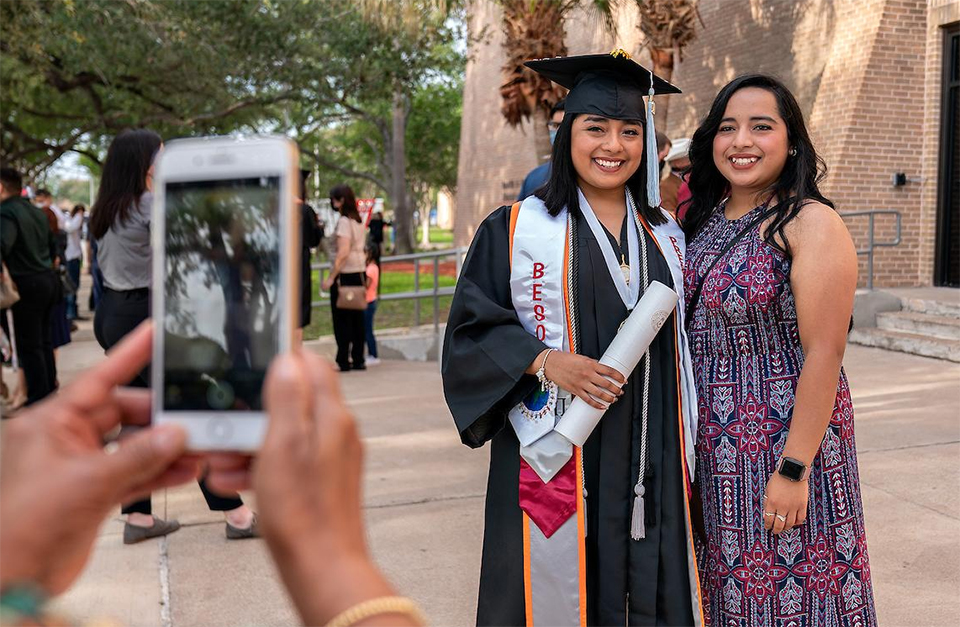 ABOUT UTRGV
The University of Texas Rio Grande Valley (UTRGV) was created by the Texas Legislature in 2013 as the first major public university of the 21st century in Texas. This transformative initiative provided the opportunity to expand educational opportunities in the Rio Grande Valley, including a new School of Medicine, and made it possible for residents of the region to benefit from the Permanent University Fund – a public endowment contributing support to the University of Texas System and other institutions.
UTRGV has campuses and off-campus research and teaching sites throughout the Rio Grande Valley including in Boca Chica Beach, Brownsville (formerly The University of Texas at Brownsville campus), Edinburg (formerly The University of Texas-Pan American campus), Harlingen, McAllen, Port Isabel, Rio Grande City, and South Padre Island. UTRGV, a comprehensive academic institution, enrolled its first class in the fall of 2015, and the School of Medicine welcomed its first class in the summer of 2016.