Saturday, December 12, 2020
  Around Campus
By Melissa Vasquez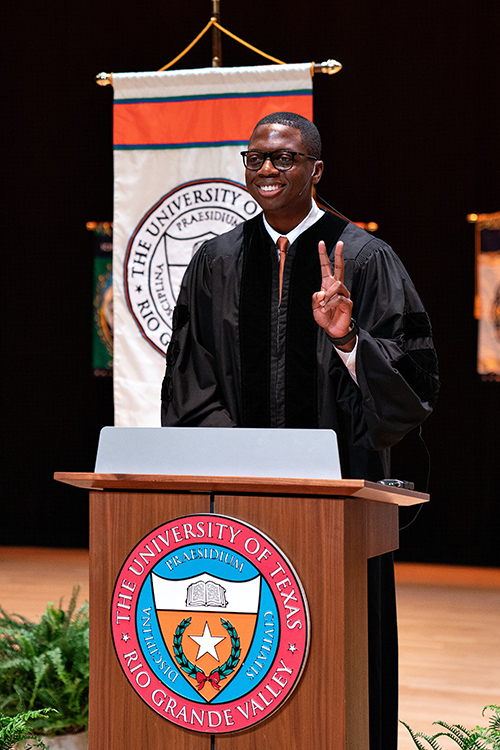 RIO GRANDE VALEY, TEXAS – Before saying goodbye to a challenging year, UTRGV celebrated a bright spot Saturday by honoring more than 2,700 graduates during the Fall 2020 Virtual Commencement. 
Forever a one-of-a-kind class, UTRGV's Class of 2020 pushed forward to get to this day, despite the challenges of the COVID-19 pandemic. The biggest challenge was that students had to continue their studies online when UTRGV followed CDC safety protocols and, in March, moved to virtual instruction to ensure the health and safety of the university community.
"You have just graduated from college, and what an achievement that is, especially in these times," UTRGV President Guy Bailey said in his address to the graduates. "I have always been proud of our graduating classes, and I am really proud of you. But I have to tell you I have never admired a graduating class more. You have persisted through some of the most difficult times in our history."
Bailey congratulated the graduates via video and encouraged them to celebrate their achievement with their families, but to do so safely.
"Without precedent you have persisted, you've moved forward. This has disrupted your life, but it has not disrupted your education," he said. "It has not deterred you from your goal, and I can't tell you how much I admire you for that."
Also joining in on the celebration was keynote speaker Patrick Ojeaga, a fourth-year medical student at the UTRGV School of Medicine who was appointed by Texas Gov. Greg Abbott to serve as the first student regent from UTRGV.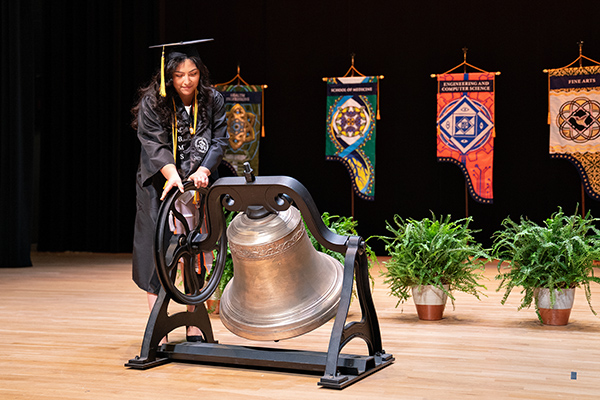 Sharing words of encouragement with the graduating class, Ojeaga applauded their tenacity and never-give-up attitude during this interesting year.
"My advice this year to our new medical students was to not be discouraged by the pandemic. I wanted them to know they still were able to learn and make an impact," Ojeaga said. "I believe that message applied to all of us – especially all of you. You have bounced back, marched forward and are now ready to take your diploma and make your own impact on the world."
CHALLENGING YEAR, SPECIAL DAY
One graduate who hopes to make an impact on the world is Jennifer Brouwen, a single mother of three – 17, 7, and 6 – who earned her Bachelor of Science in Exercise Science (Occupational Therapy).
Brouwen said her 17-year-old son's diabetes and metabolic syndrome condition was one reason she pursued a degree. In addition, she said, the support and encouragement of Dr. Juan Gonzalez, associate professor in the Department of Health and Human Performance, kept her motivated to continue with her education.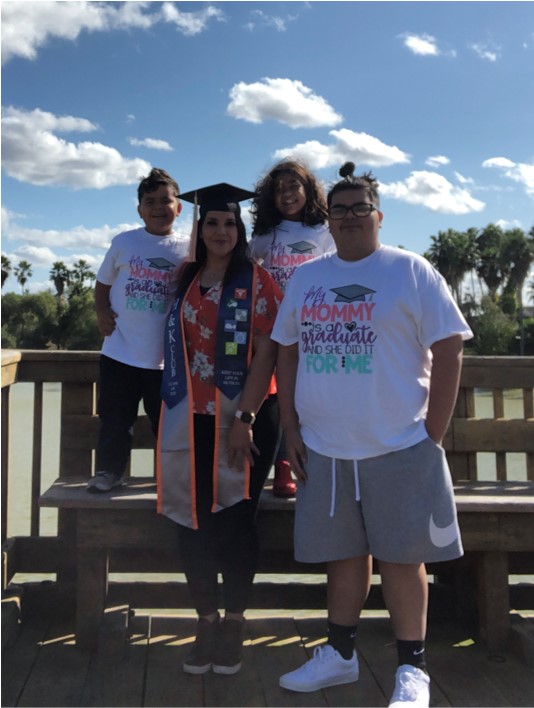 "If it were not for him caring about students and preparing us for the master's program, I would not have continued," Brouwen said. "He even went to the extent of giving our class, one semester, the opportunity to get hands-on training by using my son as our patient in a Pediatric Exercise Physiology class." 
The Edinburg native said her dream is to pursue a medical degree in family medicine. She hopes to take the MCAT, and one day make the cut to study at the UTRGV School of Medicine.
This year, she found herself having to adjust to going to school online not only for herself, but also for her children, who were learning from home. As if that weren't enough, her oldest son tested positive for COVID-19 but was asymptomatic. She admits it was not an easy year but is proud that she persevered and completed her degree.
To add to the excitement of the day, Brouwen said her brother, David Oscar Cardenas Jr., also will graduate with a business degree.
"I am very happy and grateful that we are graduating together because this is big accomplishment for both of us," she said. "We will be celebrating today with my brother cooking his famous BBQ and, of course, my children making sure I wear my regalia all day."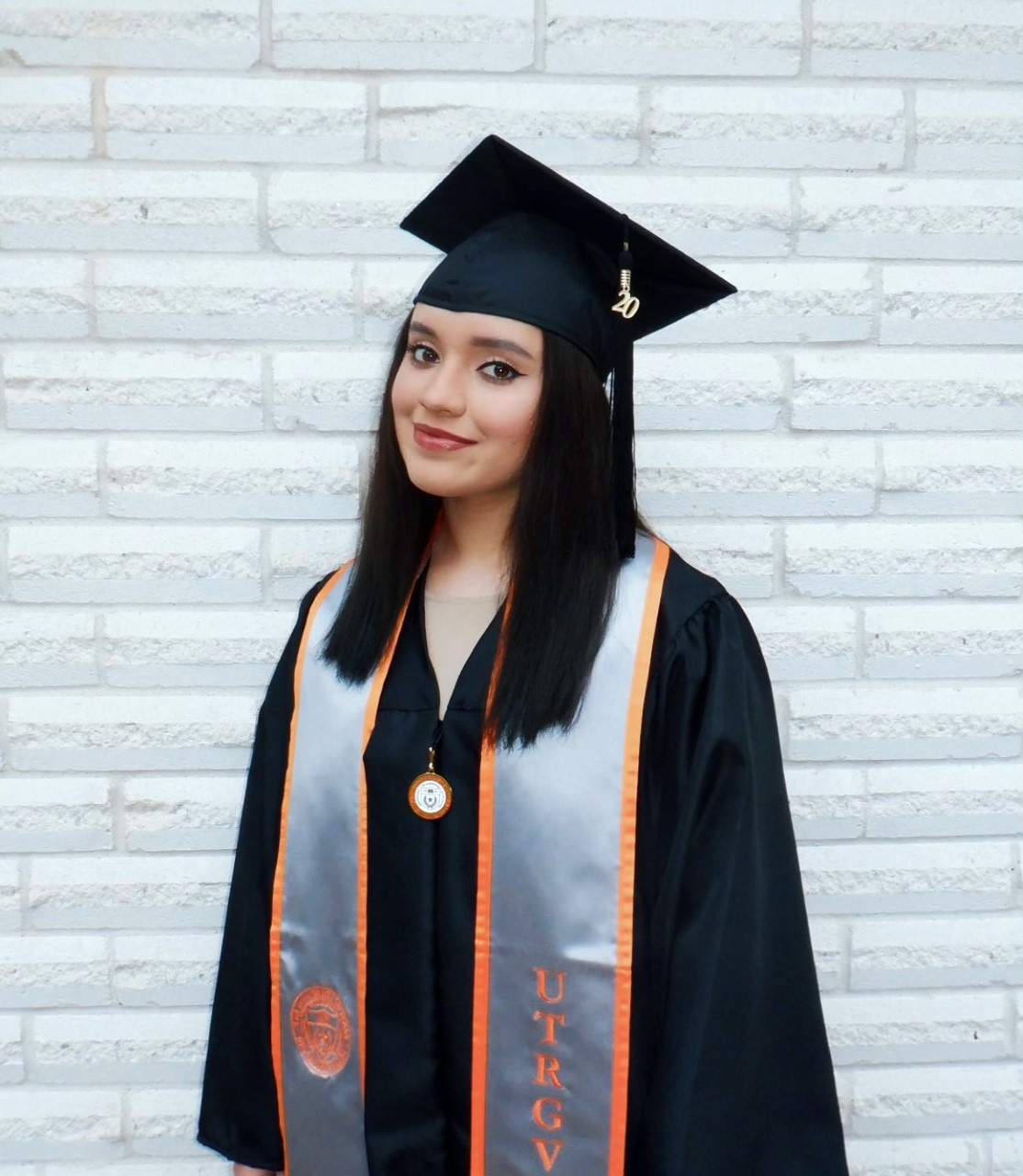 GAME DAY
Hoping to make a splash in the gaming industry is Clarissa Caballero, a self-proclaimed gamer who earned a Bachelor of Business Administration in Marketing degree with a minor in Graphic Design. She is hoping her skills will land her a marketing job with a top gaming company.
"Nowadays, companies need great marketing to stand out from the competition, especially in the gaming industry," she said. "I plan to use my degree to help these companies reach their goals in any way that I can. Which is why I wanted to learn more about graphic design and decided to minor in it. I believe that graphic design and understanding digital marketing will help me achieve any goals I have in the gaming industry."
Caballero, who was born and raised in McAllen and plays video games during her free time, said she owes the love of gaming to her family.
"I grew up in a family that bonded by playing video games. I was about 5 years old when I played my first game, Banjo-Kazooie on the Nintendo 64 console, and that was the start of my favorite hobby," Caballero said. "I also grew up with the quote by Mark Twain, 'Find a job you enjoy doing, and you will never have to work a day in your life.' Therefore, I plan to pursue this industry." 
Caballero wanted to stay close to her family during college, so UTRGV was the perfect place to do that.
"Attending UTRGV was the best option for me, as it offered an opportunity to stay close to home. Family is very important to me and I was able to continue and finish my education due to their support," she said.
As for how she will celebrate the big day – with her family of course. A small dinner. And maybe, some video game action.
TO WATCH THE CEREMONY: A recording of UTRGV's Virtual Commencement Ceremony is available at www.utrgv.edu/commencement.
Once safety and health regulations permit, the university plans to conduct in-person events, and invite Fall 2020 and Spring 2020 graduates back to participate in the traditional in-person commencement ceremony.
ABOUT UTRGV
The University of Texas Rio Grande Valley (UTRGV) was created by the Texas Legislature in 2013 as the first major public university of the 21st century in Texas. This transformative initiative provided the opportunity to expand educational opportunities in the Rio Grande Valley, including a new School of Medicine, and made it possible for residents of the region to benefit from the Permanent University Fund – a public endowment contributing support to the University of Texas System and other institutions.
UTRGV has campuses and off-campus research and teaching sites throughout the Rio Grande Valley including in Boca Chica Beach, Brownsville (formerly The University of Texas at Brownsville campus), Edinburg (formerly The University of Texas-Pan American campus), Harlingen, McAllen, Port Isabel, Rio Grande City, and South Padre Island. UTRGV, a comprehensive academic institution, enrolled its first class in the fall of 2015, and the School of Medicine welcomed its first class in the summer of 2016.