Saturday, May 30, 2020
  Community, Around Campus
By Melissa Vasquez
RIO GRANDE VALLEY, TEXAS – COVID-19 may have crashed the in-person graduation ceremonies for UTRGV, but that did not stop the university from celebrating Saturday morning with its more than 3,000 Spring 2020 graduates, during its first ever Virtual Commencement event.
UTRGV's Class of 2020 will forever be a one-of-a-kind class that deserves a distinct virtual event to celebrate this major milestone – even if it meant watching from the comfort of their own homes with their family and loved ones.  
This unique class had to learn to adapt to a rapidly changing world, especially when UTRGV in March had to shut down and move classes online to ensure health and safety of the university community. It was the best way to practice social distancing during the ongoing coronavirus pandemic, but the transition was not without its challenges.
UTRGV President Guy Bailey spoke to the class via big and small screens everywhere, letting them know how proud he was of them for having "adjusted this spring to the most disruptive semester in the history of American higher education."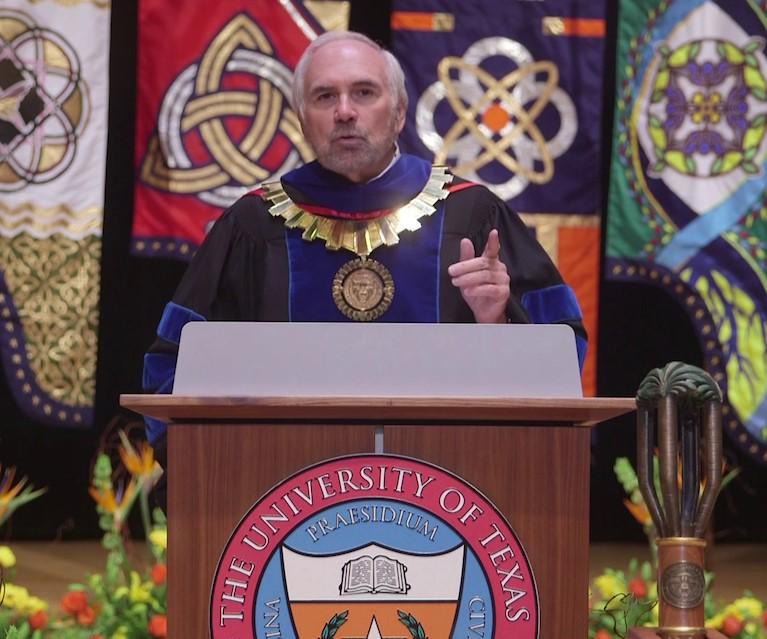 "I've been in higher education 41 years and I have never seen anything like this," Bailey said. "And, I can't tell you how proud I am of you for the way you've adjusted, for the way you have met this challenge, and of the way you've conquered."
Bailey also told students what they have learned in the past few weeks – resiliency, adjusting and adapting to change on the fly, and dealing with hardship – is just as important as what they have learned throughout their entire education.
"I know it's been hard. I know it's been difficult, but you have blazed a trail, and you will blaze that trail for the rest of your lives. We're very proud of you and for what you have achieved," he said.
RINGING IN A NEW CHAPTER
Briana Cortez is one UTRGV student who refused to let the pandemic rain on her parade. 
The Brownsville resident was chosen to serve as the first Virtual Commencement Bell Ringer. She rang the ceremonial commencement bell toward the end of the ceremony, a tradition at every UTRGV commencement that signifies a rite of passage from one stage in life to a new and distinguished stage.  
Cortez, who earned a Bachelor of Science in Biomedical Sciences with a minor in Biology, celebrated her summa cum laud honors with a morning, socially distanced watch party with her family. 
Her celebration had begun days in advance when her parents surprised her with front yard signs displaying congratulatory messages, and a car parade where friends and family drove past her house throwing confetti and holding posters and balloons. 
She also was surprised with a Tik Tok video featuring her cousins virtually dressed in caps and gowns while they relayed a diploma that led to her receiving the diploma at the end.
"I am so grateful to my family and friends for making me feel so special and loved," Cortez said. "They did not allow the pandemic to cast a cloud on one of the most significant events in my life. I am eternally grateful and appreciative for their efforts in trying to make up for this untraditional commencement ceremony."
Cortez said she was lucky the pandemic did not affect her undergraduate education or career plans because she previously had taken online classes, so she knew what to expect. 
"I am pursuing the physician assistant profession and the pandemic has only strengthened my desire to enter the medical field," Cortez said. "I am blessed to say I have been accepted to multiple physician assistant (PA) programs and have chosen to attend UTRGV's PA Program - Class of 2022." 
Cortez said she is a proud Vaquero and loves her alma mater for all they did for students during this experience.
"I commend UTRGV for their efforts to make students feel safe and presenting us with valuable resources," she said. "Additionally, it makes me happy to see that many students are taking advantage of the Summer, Fall, and Spring Tuition Relief Packages. This is one of the many reasons I decided to pursue my graduate degree at UTRGV," she said. 
"I consider us a family, I am proud to be called a Vaquero, and UTRGV continues to go above and beyond for their students."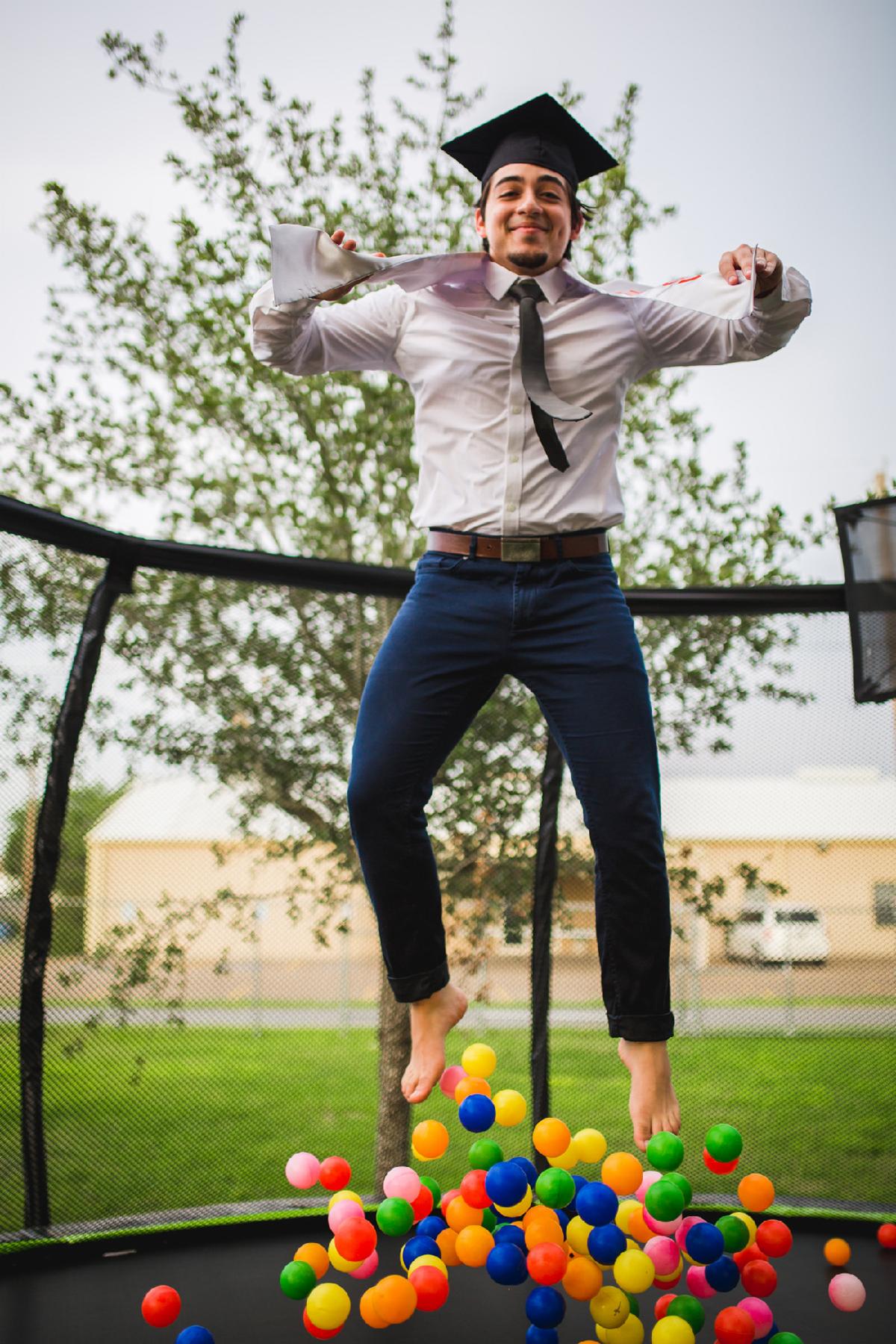 ONE FOR THE HISTORY BOOKS
For Silver Salas, who earned a Bachelor of Science in Criminal Justice, this year will be the one he tells his children and grandchildren about. 
"I can honestly say I will never forget my last semester as an undergraduate student. This was and continues to be a monumental year that will go down in the history books," Salas said. "As unfortunate as the events are, these are the times that we will tell our children and grandchildren about. I feel it is important to acknowledge all the hardships we have faced together as a class and as people, to do better not only for us, but for generations to come."
The Mission native said that his plans to travel may have changed a bit due to the pandemic, but that is not going to deter him from pursuing a career as a photographer in the military. 
"I am currently deciding between the Navy and the Air Force, since both of these branches will require travel. I think this will be a great opportunity not only to expand my knowledge, but also to get the experience I need to enter into my career field," Salas said.
Salas said he watched the ceremony with his immediate family, who have been his rock throughout his college career, during a brunch graduation party to celebrate his achievements. 
"My family meets up weekly for Zoom meetings just to check in on everyone and stay sane during these unfortunate times," he said. "This week was no different, except now we had a big reason to celebrate. The ceremony was virtual, and so was the celebration with my family. Many of them are not able to go out much at the moment, so that didn't stop the party."
Salas said his time at UTRGV was special, and expressed gratitude for his extended family at UTRGV who helped him realize his full potential.
"Working for UTRGV's Marketing and Communications department was one of the best opportunities I could have ever received," Salas said. "They saw what I was capable of and never let me settle for less. I owe them all my past, present and future successes in my career as a photographer."
LESSONS LEARNED
Having taken a few classes online in past semesters, Cinthia Monsivais, of La Feria, said she was not prepared to take all her classes online. It proved to be an unexpected challenge for her last semester, but she managed to make it work and graduate with a degree in mass communications.  
"COVID-19 was unexpected for everyone, and it affected me and many other students in the sense that we had to quickly adjust into full online learning," she said. "Graduating in the midst of a pandemic has been difficult, but it was comforting to know there are many others who were going through this with me."
Monsivais said she plans to hold off on her career plans as a writer for a print publication until fall, as she knows the job market is tough due to the major hits the U.S. economy and employment have taken.
"I eventually will pursue my career as a print writer, and I also plan to return to UTRGV in the next year or two to pursue my master's degree," she said.
Monsivais commemorated her graduation day with a small celebration dinner with immediate family. Once it is safe to gather again, she said, she is planning a big joint graduation bash with her cousin, a recent high school graduate.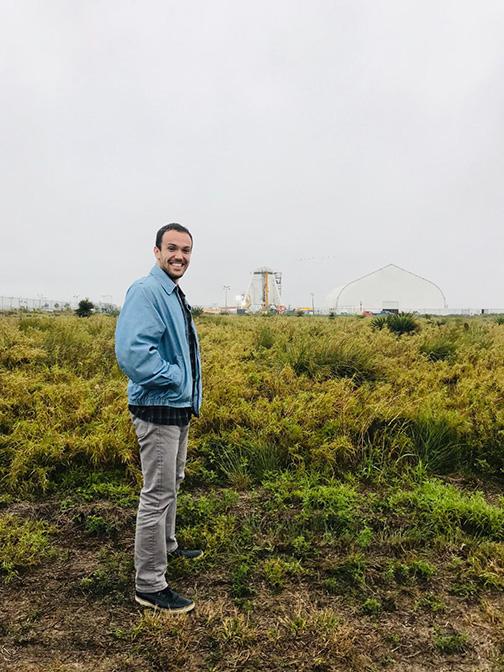 "This pandemic has taught us many lessons – one of them being to always be prepared for obstacles in life, but also be ready to handle them as best as you can," she said. "And, that no matter how difficult things can get, your goals are not impossible because there are always people who are willing to help you succeed."
TAKING FLIGHT
In 2016, Richard Camuccio left his family and friends, packed up his car and drove from Philadelphia, Pennsylvania, to the Rio Grande Valley to study at UTRGV. 
On Saturday, he got a Master of Science degree in physics. 
"I definitely feel like it was worth it, and I feel much stronger as a student and scientist for it," he said. "There were a lot of struggles and other factors along the way that I never foresaw. But I persevered and it was entirely worth it."
Camuccio watched the commencement ceremony with his family on a video chat. After, the ceremony, he said, he had plans to be part of a watch party to witness the historic Space X –NASA launch that will send two astronauts into space, if weather allowed.
"My goal since I can remember has been to become an astronaut, and seeing this launch is having a profound impact on me," Camuccio said. "This event is also significant for SpaceX, being their first manned flight, and for NASA and the United States, as this is first American launch since 2011. 
"I do intend to become an astronaut. It hasn't left my mind. It has been the primary motivating force behind every career decision I have ever made."
In August, Camuccio will be back on the road. He has been accepted into the doctoral program in physics at Texas Tech University in Lubbock.
"I want to be the type of person who gets chosen to go into space," he said. "That type of person is well-trained, highly motivated, and in complete acceptance of all risks inherent to the job. So, every day, I try to get a little better at my job, learn something new, continue practicing and honing my skills, and building my confidence to be the type of person who gets chosen to become an astronaut."
TO WATCH THE CEREMONY: A recording of UTRGV's Virtual Commencement Ceremony is available at https://utrgv.news/2TVYG49.
Once safety and health regulations permit, the university plans to conduct a traditional commencement, with all spring graduates invited to take part in that ceremony, as well.
ABOUT UTRGV
The University of Texas Rio Grande Valley (UTRGV) was created by the Texas Legislature in 2013 as the first major public university of the 21st century in Texas. This transformative initiative provided the opportunity to expand educational opportunities in the Rio Grande Valley, including a new School of Medicine, and made it possible for residents of the region to benefit from the Permanent University Fund – a public endowment contributing support to the University of Texas System and other institutions.
UTRGV has campuses and off-campus research and teaching sites throughout the Rio Grande Valley including in Boca Chica Beach, Brownsville (formerly The University of Texas at Brownsville campus), Edinburg (formerly The University of Texas-Pan American campus), Harlingen, McAllen, Port Isabel, Rio Grande City, and South Padre Island. UTRGV, a comprehensive academic institution, enrolled its first class in the fall of 2015, and the School of Medicine welcomed its first class in the summer of 2016.