Friday, April 3, 2020
  Around Campus, Community
By Amanda Alaniz
EDITOR'S NOTE: As of April 6, 2020, all UTRGV Library locations are now closed. Anyone who has questions can contact the Library via email, Facebook, Instagram or Twitter. UTRGV continues to make modifications to services offered on campus in response to the evolving changes related to COVID-19 (Coronavirus).
 PHOTO GALLERY by Paul Chouy
RIO GRANDE VALLEY, TEXAS – APR. 3, 2020 – The UTRGV Library has always been a constant resource for students looking for a nook to study or a meeting spot for group projects.
However, to help protect those important patrons during the COVID-19 pandemic, the library made adjustments in the building to create a safe environment for the UTRGV community.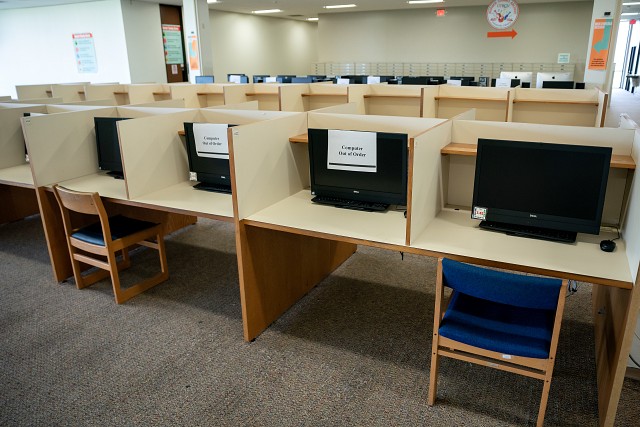 The library has eliminated seating by placing caution tape around the areas, and has closed off study rooms. They still have computers available, but have made sure every other computer was removed to create safe distances between workstations. 
Paul Sharpe, dean of libraries, said they have put the safety recommendations into practice to help make sure everyone is safe. In addition, they have adjusted staff schedules so there aren't too many people in the library, and have given staff the opportunity to work remotely.
"We're doing all we can in terms of cleaning, and our own social distancing," Sharpe said of library staff. "We're working alternating schedules to give staff some level of comfort. They might come in one day to work, and have the next day off or work from home. We've employed a lot of strategies. Some employees have taken projects home to work on or are participating in webinars."
What is Social Distancing?
Social distancing, or physical distancing, is an effort to maintain distance between yourself and others.
How do you practice social distancing?
Avoid large gatherings.
Stay at least 6 feet from other persons.
Avoid contact with people who are ill.
Current distancing practices are not the social climate libraries usually encourage, which is group collaboration, he said. But during this time, it is critical to keep people safe. 
Even though limited resources – such as Wi-Fi and computers – continue to be available to students, Sharpe said, foot traffic has been minimal and he already has spoken with his staff about being ready to make any changes, if needed.
"We're trying to be very nimble and assess the needs of students as we go along," he said. "We've told our staff to make sure they're able to shift and change things from day-to-day, as we watch the Cameron and Hidalgo counties take their actions, in terms of shelter-in-place or quarantine orders, because we need to be prepared to make changes to our schedule."
The library in Edinburg is open from 8 a.m. to 8 p.m. Monday through Friday.
In Brownsville, it is open 8 a.m. to 5 p.m., Monday through Friday.
If you have questions, call (956) 665-2005 (Edinburg) and (956) 882-8221 (Brownsville).

OTHER SOCIAL DISTANCING MEASURES AT UTRGV
UTRGV is following the Centers for Disease Control and Prevention (CDC)'s recommendations for social distancing to help mitigate the spread of COVID-19 (coronavirus). 
UTRGV Classes are now online.
Resources for faculty, staff, and students are available online.
The university has extended campus Wi-Fi hotspots in parking lots.
Departments remaining open on campus have created boundaries for visitors to follow.
Offices have placed signs to create distance between individuals, such as tape lines stating, "Please Wait Here."
Be sure to visit utrgv.edu/coronavirus for more information about campus operations and updates.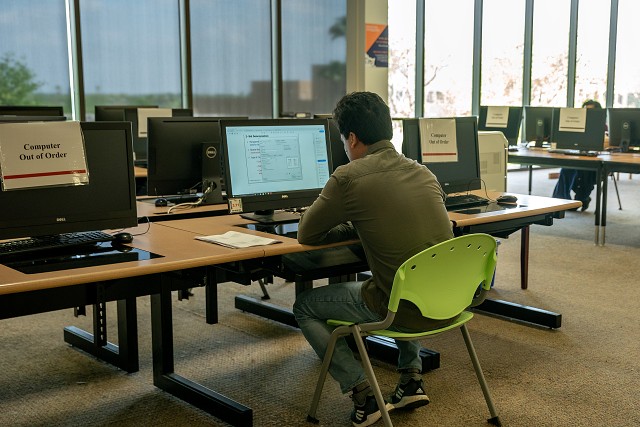 ABOUT UTRGV
The University of Texas Rio Grande Valley (UTRGV) was created by the Texas Legislature in 2013 as the first major public university of the 21st century in Texas. This transformative initiative provided the opportunity to expand educational opportunities in the Rio Grande Valley, including a new School of Medicine, and made it possible for residents of the region to benefit from the Permanent University Fund – a public endowment contributing support to the University of Texas System and other institutions.
UTRGV has campuses and off-campus research and teaching sites throughout the Rio Grande Valley including in Boca Chica Beach, Brownsville (formerly The University of Texas at Brownsville campus), Edinburg (formerly The University of Texas-Pan American campus), Harlingen, McAllen, Port Isabel, Rio Grande City, and South Padre Island. UTRGV, a comprehensive academic institution, enrolled its first class in the fall of 2015, and the School of Medicine welcomed its first class in the summer of 2016.