Resources for Working Remotely - Students
---
UTRGV Information Technology provides online resources as part of UTRGV's business continuity plan to support learning, teaching, and working remotely. As part of the continuity plan, students may need to complete the following tasks to prepare computers and equipment in order to participate and access university resources from off-campus on their personal computer and mobile devices.
Personal Computer and Mobile Devices
What will I need
?
Test Audio / Visual Equipment - Conduct a remote test to ensure that your remote internet, webcam, speakers, and/or microphone are working properly and that you can connect to UTRGV resources.

 

When participating in conference calls through Zoom or Skype, if you do not have a microphone or webcam, please call into the conference call numbers provided using your land or mobile phone. 

You can also host or join a Zoom Meeting using your mobile phone using the camera and headphones.
Install Software Updates - Be sure to apply any updates to operating systems, software, and antivirus and security monitoring applications.
Install Software - These

 applications may be installed on personal devices
Move SchoolWork Files Online - 

We highly recommend using 

Microsoft OneDrive

 

to access work files from any location.
UTRGV Online Resources
Communication and Video Conferencing Resources 
Learning Resources
Collaboration & Storage Resources  
Microsoft 

Office 365 Apps
Creativity and Productivity Resources 
Research Resources  
Connectivity
The UTRGV campus Wi-Fi (eduroam) is accessible from all locations including:
Computer Labs from 8am to 5pm
All Building Lobbies from 8am to 6pm
Edinburg Academic Services Building from 8am to 9pm
Libraries Brownsville, Edinburg and Harlingen
Edinburg Parking Lots E3, E6, E9, E12, E14, and E16. See Edinburg map
Brownsville Parking Lot B1, which surrounds the BINAB building. See Brownsville map
EDINBURG MAP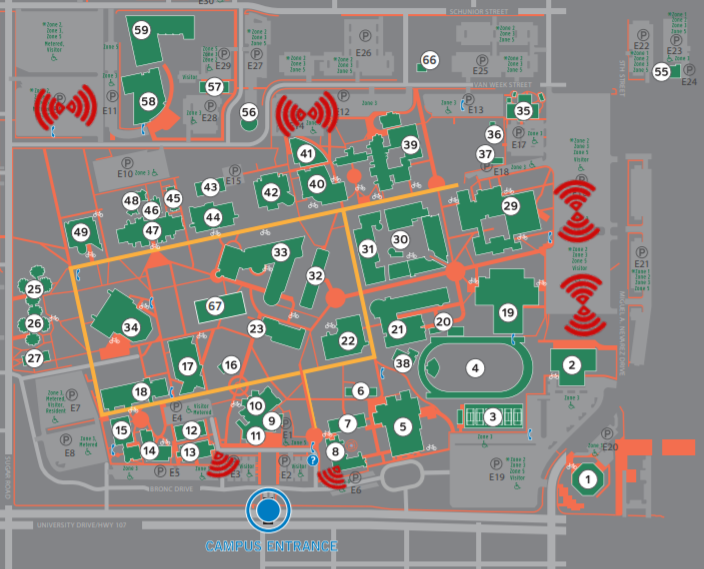 BROWNSVILLE MAP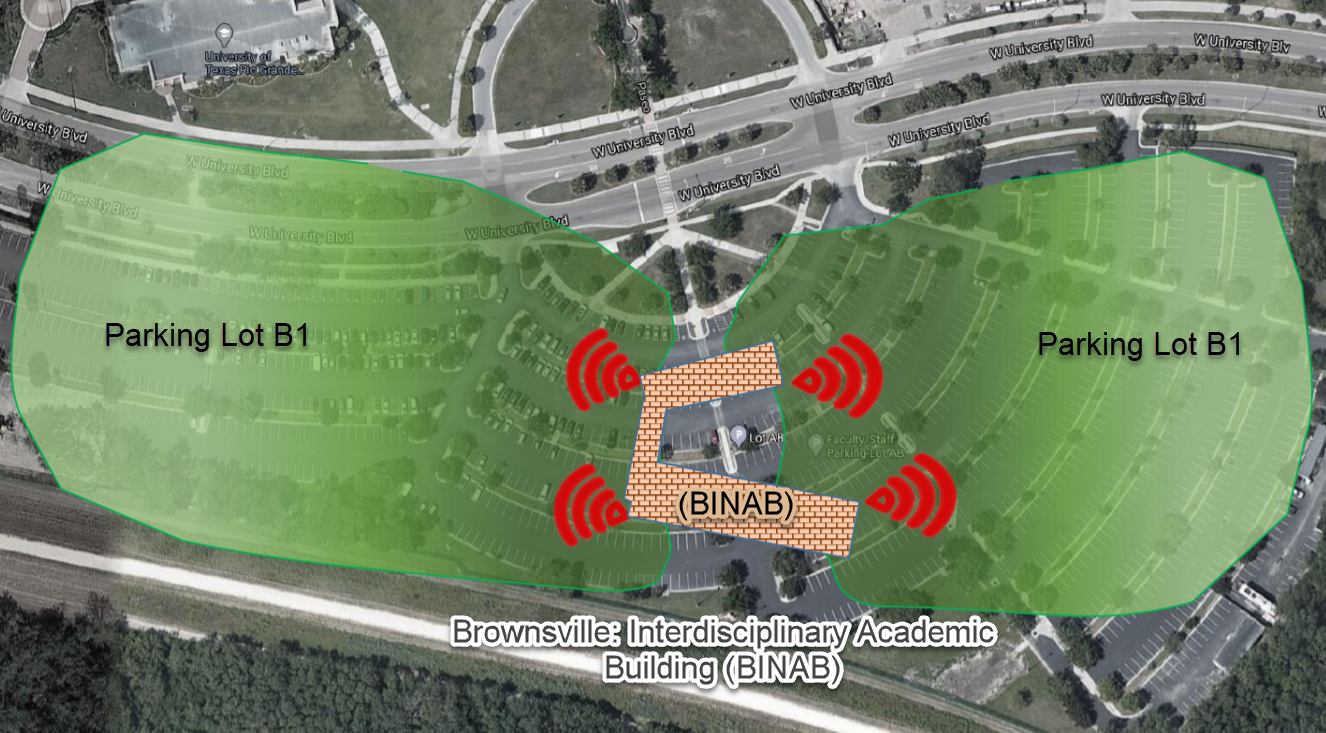 Keep Americans Connected Pledge 
The Federal Communications Commission (FCC) introduced the "Keep Americans Connected Pledge."
The FCC chairman, Ajit Pai, issued a press release in Washington on March 13th where he stressed the importance of keeping Americans connected as a country as the country experiences serious disruptions caused by the Coronavirus 2019 (COVID-19) Pandemic. To ensure that broadband and telephone connectivity are not lost due to consumers' extraordinary circumstances, he has specifically asked service providers to take the Keep Americans Connected Pledge, which reads as follows:
Given the coronavirus pandemic and its impact on American society, [[Company Name]] pledges for the next 60 days to:
(1) not terminate service to any residential or small business customers because of their
inability to pay their bills due to the disruptions caused by the coronavirus pandemic;
(2) waive any late fees that any residential or small business customers incur because of their
economic circumstances related to the coronavirus pandemic; and
(3) open its Wi-Fi hotspots to any American who needs them.
According to the press release, the Chairman also called on broadband providers to relax their data cap policies in appropriate circumstances, on telephone carriers to waive long-distance and overage fees in appropriate circumstances, on those that serve schools and libraries to work with them on remote learning opportunities, and on all network operators to prioritize the connectivity needs of hospitals and healthcare providers.

Moreover, Chairman Pai also continued the Commission's ongoing discussions with service providers regarding their efforts to ensure that changes in usage patterns occurring during the pandemic do not impair network performance, as well as their plans to ensure network resiliency.
Service Providers
Several major service providers took the pledge less than 24 hours after the Chairman's call. A list of these service providers is included in the press release. Check with your service provider for their policies and services, and to see what they are doing in response to COVID-19.
• AT&T
• Cricket Wireless
• Spectrum
• Sprint
• T-Mobile
• Verizon
Work from Home Tips & Etiquette
Find an area where you will have minimal distractions
-- If you have a study area, this is probably ideal, but make sure family members know you're "in class or studying" and not available for random taskings
-- If you don't have a study area, find an area off the beaten path (bedroom may be a good choice)
-- Think out of the box. A laptop and a chair on the front or back porch may be the quietest spot around.
Set a schedule. Get up at a regular time; take lunch at a regular time; wrap up when the class assignments are complete and your tasks are finished.
Don't sit in one position for more than 30 minutes. At the very least, stand up and stretch or walk around the room. Eye strain is a thing.
You have several means of communicating (Skype for Business, Zoom, Microsoft Teams, and Email). 
Never underestimate the value of talking on the phone to someone. It may be old fashioned, but one 10 minute phone call can easily replace 30 minutes of text chat
Based on Source: Educause Email 2020
Teleconference Do's and Don'ts. This goes for video and audio conferences both:
Mute your microphone unless you are actively talking
"Mute" or disable video if not absolutely needed (bandwidth reduction)
Assume you are always on camera and that you are always audible (even if you think you're muted or video-disabled)
Avoid side-conversations if you are physically next to someone. Cross-talk is especially annoying and distracting to remote participants.
Be careful not to talk over others. Politely wait your turn and if you are talking for more than a minute at a stretch, pause to let others ask questions or seek clarification.
Avoid tapping pencils, moving papers around, rattling ice, setting coffee cups down on table-tops, tapping on keyboards, and other seemingly innocuous sounds. They are unbelievably loud and annoying to others on the call.
If conducting a video teleconference, warn your family members not to wander through; some home-attire may not be safe for others 🙂
Make notes on what you want to say before the conference starts. Take notes on "assignments" during the online class whenever you are asked to work on something.
Don't ramble on; be succinct and short. If it is a question that can be worked "offline" then do that.
Source: Educause Email 2020
Computer Lab Hours of Operation
Computer labs will be available to provide internet and computer access to students who do not have access to a computer or internet service at home.
Computer lab cleaning practices will be enhanced and computer shared spaces will be wiped down to keep the surfaces clean.
Computer Lab Availability
Computer Lab Availability

| | |
| --- | --- |
| Monday - Thursday | 7:30 am - 10:00 pm |
| Friday | 7:30 am - 5:00 pm |
| Saturday (Only EACSB 2.106) | 1:00 pm - 5:00 pm |
| Sunday | Closed |

List of Labs available to students
EDINBURG: See Edinburg Computer Labs Map
EACSB 2.106 *open lab, 2.110, 2.120, 2.146, 2.148, 2.150, 2.158, 2.160, & 2.164

ENGR 1.220 & 2.268
EMAGC 2.202
ECOBE 217 & 219
EHABW 1.260
ELABS 140 & 142
EVABL 1.226* open lab
See Edinburg Computer Labs Map
BROWSVILLE: 
BMAIN 1.312, 1.504, 1.508, 1.514, 2.518 & 2.526
See Brownsville Computer Labs Map
NOTE: Computers will automatically shut down 15 minutes prior to closing.
Virtual Labs
Virtual Labs are also available 24/7 at https://virtuallab.utrgv.edu. Please log in using your UTRGV email address and password.
Service Desk Hours of Operation
IT Service Desk service hours have changed to those listed below until further notice. 
Call and Chat Service Desk
Open 24 Hours / 7 Days a Week
Walk-Up Service Desk
CLOSED